Welcome to the Vance Center eNotes, where you can read about our organization's latest news and developments.

Vance Center Hosts Panel on Preventing Conflict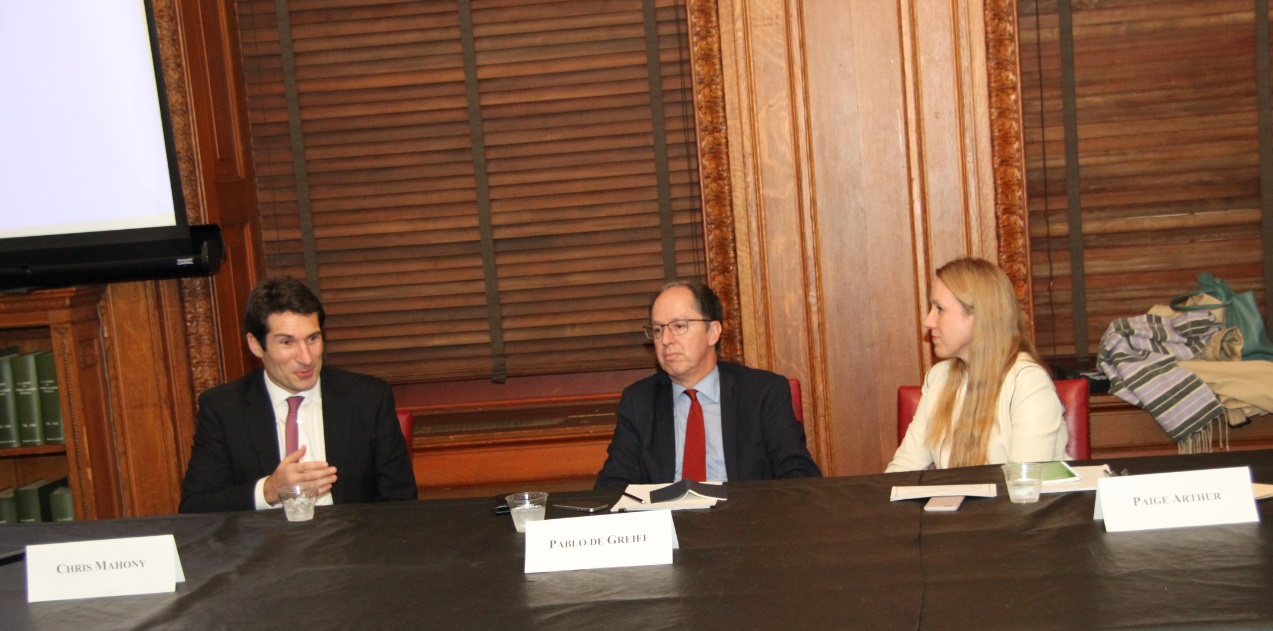 Photo Credit: Catherine Favorite

The Vance Center and the American Society of International Law hosted a panel discussion on "Pathways for Peace: Inclusive Approaches to Preventing Violent Conflict" at the New York City Bar Association. The event featured the results of a new study on Conflict Prevention and Guarantees of Non-Recurrence, conducted as a part of a larger joint World Bank-United Nations research project, "Sustaining Peace: Making Development Work for the Prevention of Violent Conflict". The study presents a statistical testing of the relationships between post-conflict policy, including new constitutions, human rights institutions, and transitional justice processes, and conflict reoccurrence. Panelists included Chris Mahony, Research Fellow at the Centre for International Law Research and Policy who conducted the study, Pablo de Greiff, the United Nations Special Rapporteur on the Promotion of Truth, Justice, Reparation, and Guarantees of Non-Recurrence, and Paige Arthur, the Deputy Director of New York University's Center on International Cooperation.
Mahony first presented the conclusions of his study, highlighting the importance of the adoption of new constitutions and the trials of perpetrators of violence as possible ways of avoiding violent conflict recurrence in post-conflict societies. He described a particularly interesting finding suggesting that the prosecution of lower-level perpetrators predicts a reduced likelihood of conflict recurrence, but that the prosecution of higher-level perpetrators predicts an increased likelihood of conflict recurrence.
The panelists then engaged in a lively discussion facilitated by Ms. Arthur, a transitional justice expert herself. Pablo de Greiff noted that the issue of non-recurrence is particularly complex and largely under-theorized, calling for further research.
The panelists also discussed the issue of prosecutorial strategies to prevent violent conflict. De Greiff emphasized that, since every wrongful act cannot be prosecuted, it is essential from a pragmatic perspective that prosecutors prioritize certain cases, though such strategies present a variety of challenges and legal questions. De Greiff also pointed out that, although some transitional justice scholars have alleged that justice and peaceful reconciliation cannot coexist, Mahony's research suggests that trials of specific perpetrators not only does not conflict with peace-building, but that it actually supports it.
This discussion comes at a critical time, with conflict increasing throughout the world, along with unprecedented transitional justice contexts. As the international community seeks to understand better what does and doesn't "work" for transitional justice and peace-building, empirical studies such as Mahony's will be important.

Vance Center and Latin Lawyer Publish 2017 Pro Bono Survey

Photo Credit: Latin Lawyer
The Vance Center and Latin Lawyer have partnered for the sixth consecutive year to conduct an annual survey of pro bono practice in Latin America evaluating the quantity and quality of pro bono work locally and regionally, as well as the infrastructure in place to institutionalize pro bono practice. Over 130 law firms from more than 20 countries participated in this year's survey.
The 2017 survey indicates promising growth in pro bono practice in the region. Law firms are focusing their efforts on implementing policies, having pro bono committees (63%) and coordinators (75%), recognizing the pro bono work of their lawyers (over 70%), and measuring the numbers and impact of their pro bono hours. There also has been an important uptick in partner involvement with pro bono work. The number of law firms whose partners reach or surpass the 20-hour benchmark set by the Pro Bono Declaration for the Americas has doubled. Partner supervision of projects has also increased to 85%. "That's a key statistic", Vance Center Committee Co-Chair and White & Case partner Sabrena Silver explained to Latin Lawyer. Indeed, engaged partners who lead by example play a key role in changing the pro bono landscape.
The main grounds for optimism in this year's survey are the new pro bono clearinghouses that have emerged, expanding pro bono work within law firms and internationally. As Vance Center Executive Sub-Committee member and Shearman & Sterling partner Antonia Stolper explained to Latin Lawyer, "In the 12 years I have been working with the Vance Center, we have gone from almost nothing to quite a large Americas-wide mission. We now have 13 pro bono clearing houses in the region and more about to open. I don't know if the survey data really capture that institutionalization."
Bolivia, Guatemala, Nicaragua, Panama, and Uruguay are all in the process of setting up pro bono initiatives. Countries like Argentina and Colombia, pioneers in pro bono work, are launching offices and initiatives to expand it outside of the main cities, and are striving to reach the smaller law firms and NGOs. Spain also is about to launch its first broad-based clearinghouse, with the support of the Vance Center.
The survey captures different ways in which the clearinghouses are adapting to each country's particular societal, legal, and political circumstances, overcoming the main bottleneck to pro bono progress: the lack of a pro bono "culture". In Guatemala, for instance, the lawyers who lead the clearinghouse project saw the need for a professionalized and systematized pro bono platform, in the light of the individualized approach to pro bono matters. In Mexico, for pro bono to extend to in-house lawyers, smaller firms, and lawyers who are bar members, Ivette Montero launched Centro Mexicano Pro Bono, the new Mexican clearinghouse that complements the work of the two existing clearinghouses: Appleseed and Fundación Barra Mexicana.
Indeed, identifying and adapting to the country's key pro bono stakeholders is crucial. As Vance Center Committee member and Allen & Overy partner David Flechner explained, "One minute an institution like a university might be your principal stakeholder, and the next it could be law firms. You need to be attuned to that." In that sense, having the support of global platforms like the Vance Center to mobilize and help lawyers of all sectors towards collaborating to launch these clearinghouses has been significant.
The Pro Bono Network of the Americas, which has now become the institutional home of the main pro bono clearinghouses in the Americas, also has been key to pro bono development in the region, by coordinating cross-border initiatives and sharing best-practices in mobilizing pro bono efforts. As the survey describes, the Network's main focus in 2017 has been the organization of the Pro Bono Network Forum, scheduled for March 2018 in Mexico City, as the inaugural annual Latin American conference on pro bono practice. The work on this forum denotes increasing interest regionally in strengthening the engagement of the legal profession with academia and the NGO community in pro bono and social justice initiatives, as well as in developing cross-border initiatives and strategies geared towards meeting that goal.
In spite of areas of progress, the survey also shows evidence of persisting challenges to pro bono practice development. Clearinghouses express difficulties in becoming self-sustaining, and frustration at the lack of government support for their efforts. Latin American law firms, for their part, face the challenges of relatively low headcounts and revenues compared to U.S. firms, which translate into fewer resources for in-house and national pro bono programs and initiatives. In any case, as Vance Center Executive Sub-Committee member and Simpson Thacher partner Todd Crider explained "culture takes time to change." "Lawyers need to have the experience of doing pro bono, feel it was time well spent and be willing to do it again." He added that becoming actively involved with the board of NGOs and local clearinghouses can be a way to be part of this change.
The Vance Center and Latin Lawyer are indebted to the Comisión de Trabajo Pro Bono in Argentina, Brazil's Instituto Pro Bono, the Fundación Pro Bono in Chile, the Fundación Pro Bono Colombia, the Costa Rican Comisión Pro Bono, the Dominican Republic's Fundación Pro Bono, Centro Mexicano Pro Bono, Fundación Barra Mexicana and Appleseed in Mexico, CIDSEP in Paraguay, the Alianza Pro Bono in Peru and ProVene in Venezuela, for their commitment to, and involvement with, the survey. Also due thanks are JP Morgan and BTG Pactual for their generous support of the survey.

Vance Center Joins in Women in the Profession Chapter Events
Photo Credit: Gestion G
Three national chapters of the Vance Center's Women in the Profession program held events commemorating their founding, with Vance Center Committee members participating in two of them. There now are nineteen WIP chapters in Latin America, supporting women lawyers with mentoring and other programs, as well as vulnerable women with pro bono projects.
In Costa Rica, more than ninety women from the country's main law firms, companies, and other organizations gathered to celebrate the incorporation of Asociacion WIP Costa Rica. The "Empower and Inspire" event included Vance Center Executive Sub-Committee member and Shearman & Sterling partner Antonia Stolper. Participants and the firms where they work committed themselves to promote the professional development of women lawyers in the country.
The WIP chapter in Peru held the "First Leadership Congress 3.60 "with one hundred and thirty women lawyers from different companies and law firms attending. The event included a "Speed ​​Networking" program, an integration cocktail, and a leadership workshop followed by a panel of experts. The event aimed to promote the visibility and leadership of women lawyers through three initiatives: i) creating a network of in-house and law firm attorneys ii) training women lawyers to be better leaders, identifying opportunities for visibility, growth, and professional development; and iii) learning from the experiences of those who reached management positions in their respective organizations.
The Peruvian publication "Gestion G", reported on the event in an article featuring interviews with attorneys involved in the event, including Vance Center Committee member and Morrison & Forester partner Carrie Cohen, who contributed a note highlighting the work done by the Vance Center and the significance of the steps undertaken by the Peruvian chapter.
In El Salvador, over thirty women lawyers and law students attended a conference by the Escuela Superior de Economia y Negocios Leadership Center on "Rediscovering the Essence of Leadership: Service-Based Leadership" Morena Zabaleta from the WIP Chapter in El Salvador explained that the conference covered issues related to the importance of team work and positive leadership.
Vance Center Focuses on South Africa and Independent Journalism

Photo Credit: GIJC2017
Executive Director Alexander Papachristou traveled to Johannesburg to meet a range of Vance Center partners and attend several events.
He met with five alumni of the African Legal Fellows program to discuss strengthening the South African alumni network and continuing its mentoring and other activities: Tholinhlanhla Gcabashe (2008-9); Nontuthuzelu Made (2005-6); Thabang Masingi (2010-11); Mathai, Masizakhe(2002-3); and Diyashen Pillay (2014-15). The group agreed to survey all 45 alumni on their current and past professional positions and to gather information on how the alumni so far have collaborated on mentoring and other activities.
The Vance Center has worked regularly on pro bono projects for South African clients with ProBono.org, South Africa's pro bono clearinghouse, and Papachristou met with its national director Erica Emdon, as well as Fatima Laher, the pro bono director of Bowmans. The Vance Center has teamed up with that firm in pro bono projects in Kenya and Uganda, as well as South Africa.
Papachristou also attended board meetings of two Vance Center clients: the Media Development Investment Fund; and the International Consortium of Investigative Journalists. These meetings coincided with the 10th Global Investigative Journalism Conference, which gathered approximately 1,200 journalists from 130 countries over 5 days of plenary and panel presentations on issues of ethics, technology, methods, and legal risk. Papachristou moderated the panel "Bulletproofing Your Story". The Vance Center's Good Governance Program provides pro bono representation to many nonprofit journalism organizations, including the Organized Crime and Corruption Reporting Project.
Vance Center Welcomes Associate Executive Director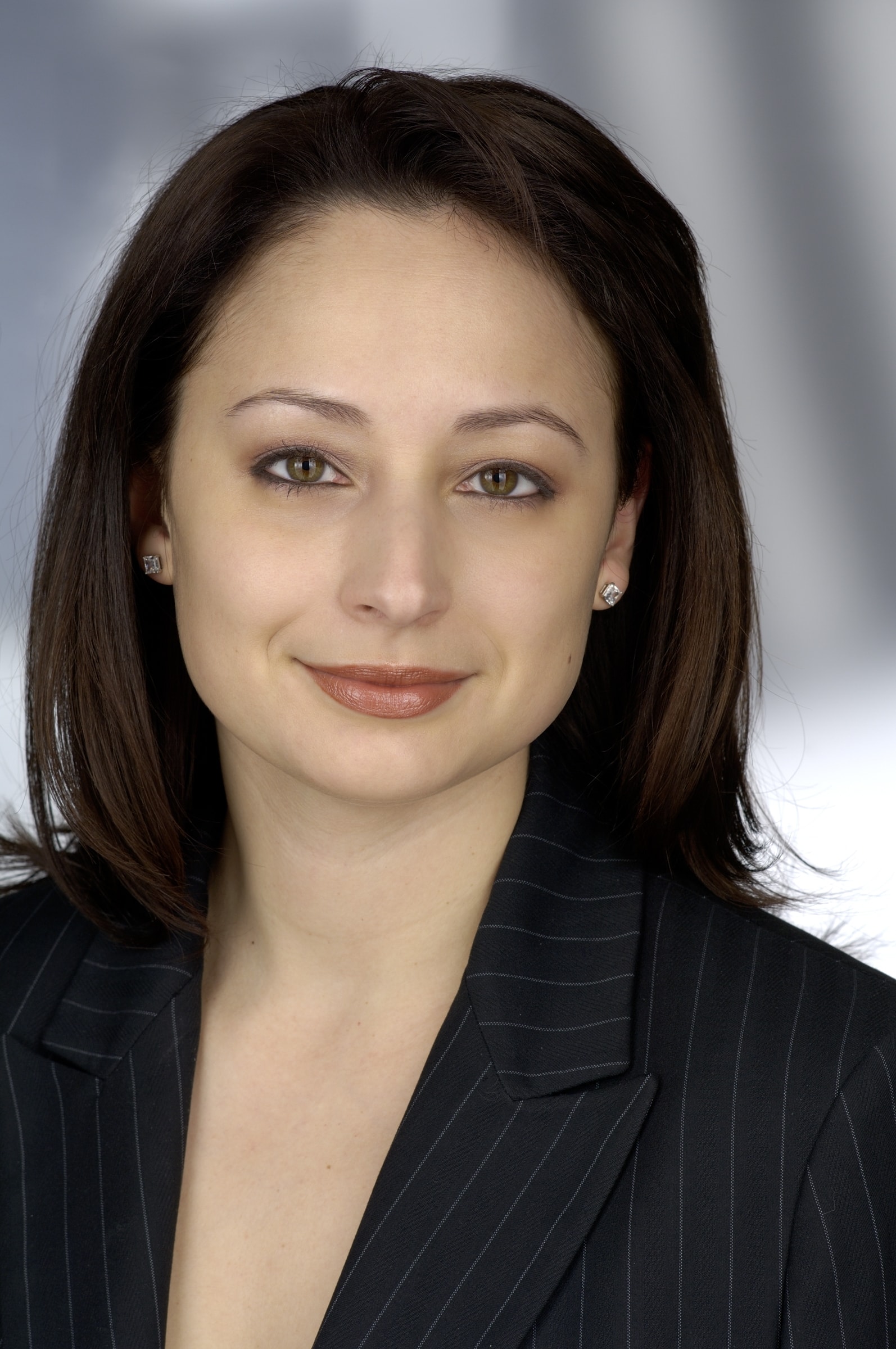 Linda Maria Wayner
Linda Maria Wayner has joined the Vance Center in the new position of associate executive director. She will manage the Lawyers Council for Civil and Economic Rights, advise the Women in the Profession program, and support other Vance Center projects and initiatives. She is fluent in Spanish and has basic proficiency in French.
Wayner brings experiences in a range of sectors: a five-year litigation associate at Skadden, she then served for seven years in the New York City Mayor's Office for International Affairs, five as general counsel, and then became the executive director of the Latino Institute for Human Rights at New York University School of Law. She has taught international arbitration and related subjects for over a decade at the Elisabeth Haub School of Law at Pace University and most recently served as Interim Global Head of Diversity at Cadwalader Wickersham & Taft.