Welcome to the Vance Center eNotes, where you can read about our organization's latest news and developments.

Vance Center Co-Sponsors Mexico City Conference on Pro Bono Practice in the Americas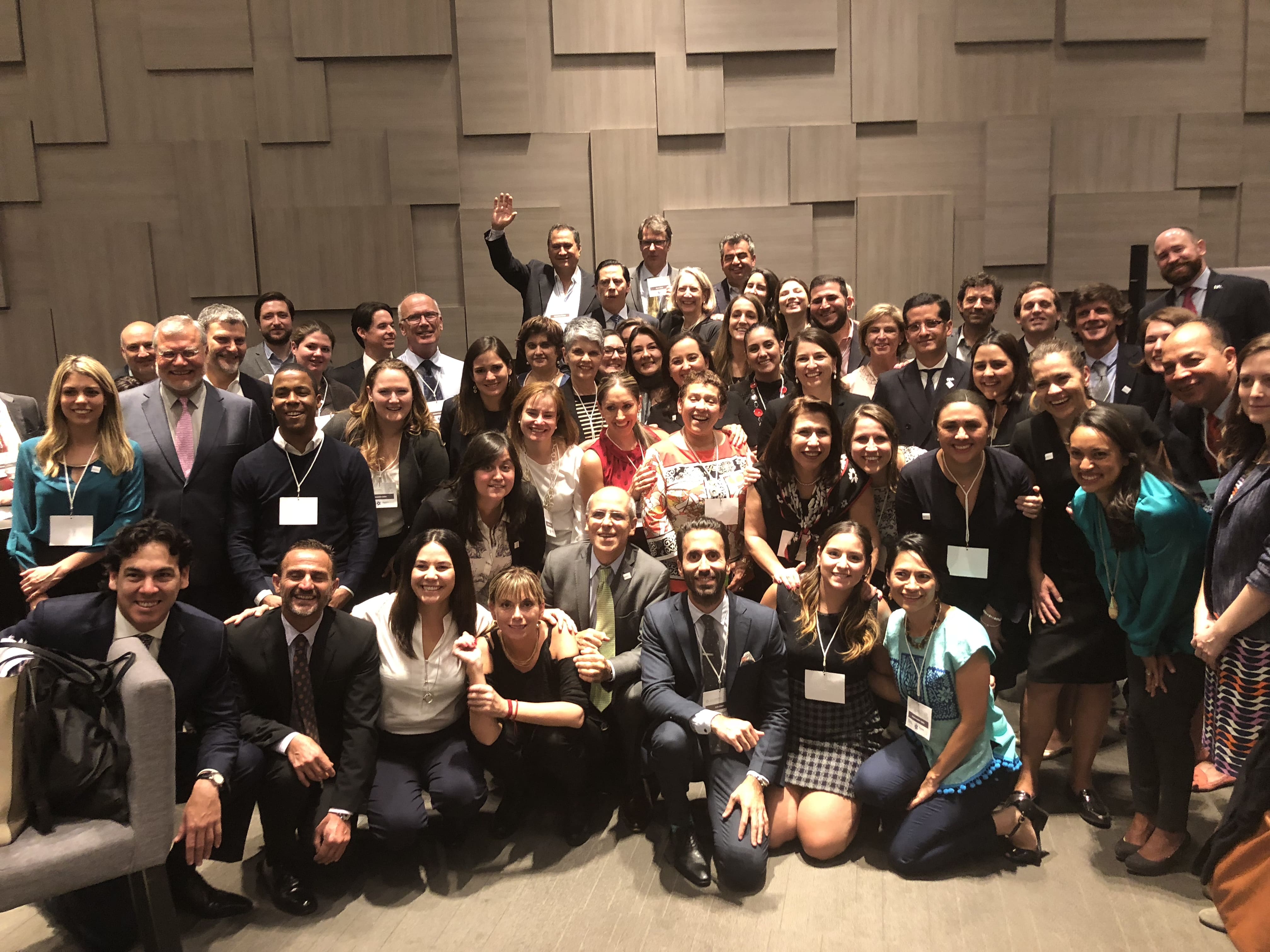 Photo Credit: Karina Benzaquen

More than 150 law firm practitioners and NGO representatives from all over the Americas participated in the 2018 Conference on Pro Bono Practice in the Americas, convened in Mexico City by the Vance Center, the Pro Bono Network of the Americas, Appleseed Mexico, Centro Mexicano Pro Bono, and Fundacion Barra Mexicana. The conference focused on how the legal profession working collectively can secure the rule of law and fundamental human rights amidst the current tumultuous times in the Americas.
The Conference began with welcoming remarks by Centro Mexicano Pro Bono Executive Director Ivette Montero, Appleseed Mexico president and Sanchez Devanny partner Gerardo Prado, Fundacion Barra Mexicana president and Larrea Serrano Siles Abogados managing partner Juan Jose Serrano, SURA Mexico Executive Director of Legal Compliance Viviana Alvarado, and Pro Bono Network of the Americas co-chairs Ciro Colombara, Rivadeneira Colombara Zegers partner and director of Fundacion Pro Bono Chile, and Todd Crider, Vance Center Committee executive sub-committee member and Simpson Thatcher partner.
Crider set the stage for discussion by asking: in times of rising nationalism, weakening democratic institutions, questioning of universal values, and increasing challenges to human rights, can private lawyers act to re-enforce commitments to the rule of law? What role can the legal profession play in addressing the threats from ever-spreading populism?
Participants addressed these questions over the two-day conference at panel discussions and workshops on: integrating human rights in business transactions; strengthening civil society; enhancing law firms' pro bono programs and pro bono clearinghouses' sustainability; protecting vulnerable populations; combating corruption and encouraging ethical practice; and deploying extraordinary mechanisms of accountability.
The conference sought to stimulate the development of strategic initiatives to promote the use of pro bono legal services to confront challenges to political, economic, and social rights, as well as to build partnerships to advocate collectively for vulnerable populations. Conference participants expressed a consensus that intensified collaboration is essential for pro bono practice to meet the current challenges. They recognized the critical need for lawyers to rebuild trust with civil society and vulnerable populations, which political structures and changes have undermined over past years and continue to weaken. Specific priorities for pro bono work today are combating corruption, using better models for accountability to fill the gaps that the public sector cannot or will not address, and defending the LGBTQI community and people in migration. The relatively new focus on business and human rights entails encouraging businesses to take into account human rights on a holistic level.
Summarizing the conference's discussions and conclusions were Creel, García-Cuéllar,Aiza y Enriquez, S.C. partner and Appleseed Mexico and Centro Mexicano Pro Bono board member Carlos del Rio, Bufete de Buen administrative director Claudia de Buen Unna, Winston & Strawn partner and Vance Center Committee member Julissa Reynoso, Fundacion Pro Bono Chile board member Marcela Fajardo, and Appleseed Mexico executive director Maru Cortazar. According to del Rio, the way forward is using the Pro Bono Network's unique position to increase collaboration among lawyers, civil society, governments, and other stakeholders to address the challenges and limitations within the region. De Buen opined that lawyers should confront injustice in a transparent way. Julissa Reynoso closed by encouraging partnerships with the Vance Center: "We are here to work together. We may not have the truth, but we have a lot of tools to deal with what is happening today."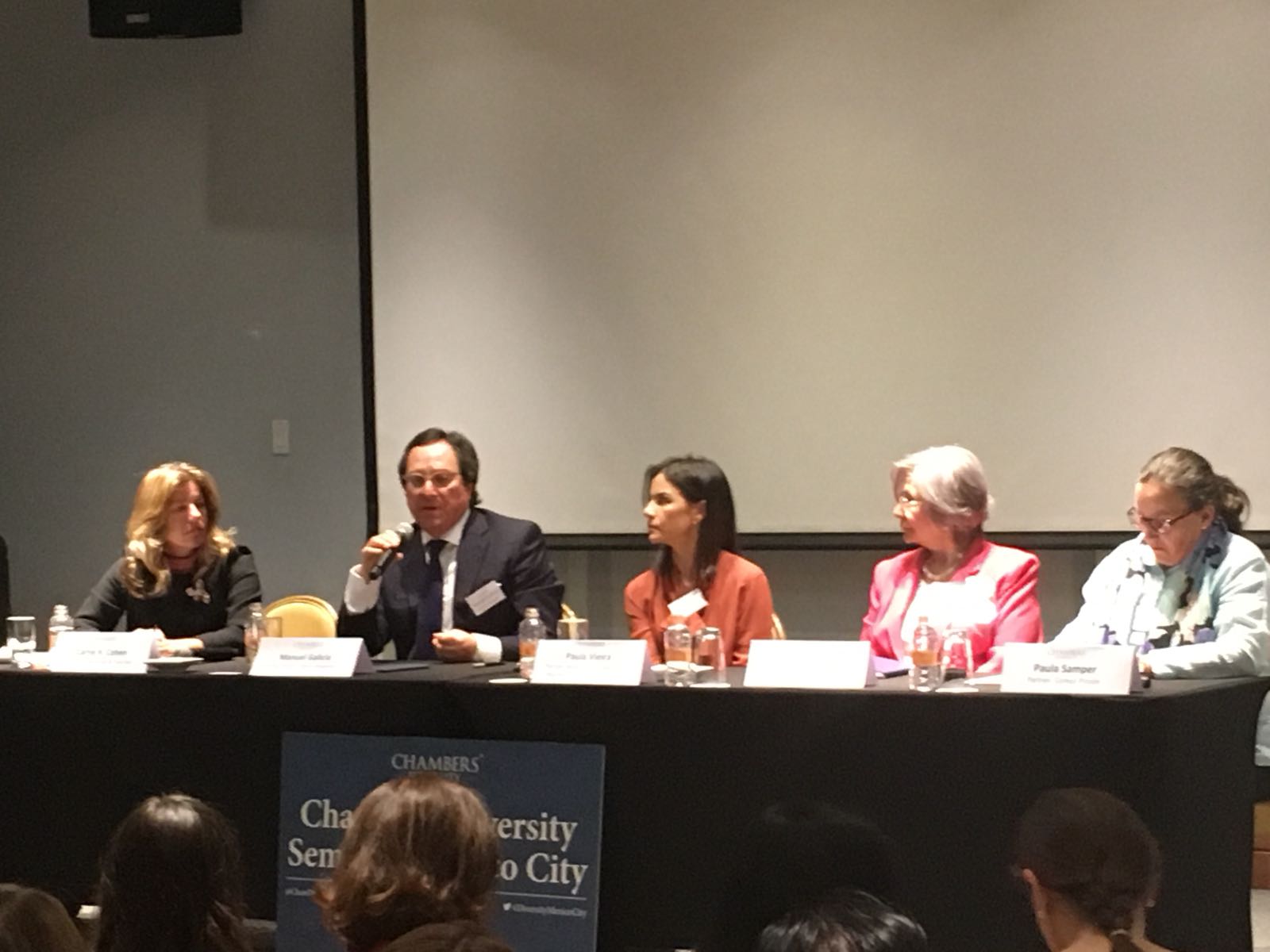 Photo Credit: Linda Maria Wayner
Many sponsors and benefactors supported the conference, including members of the Vance Center Committee. A full list of panelists, presentations and materials, and photos of the conference are available at vancecenter.org. A conference report is forthcoming.
Immediately following the conference, Vance Center programs held meetings to chart their courses forward.
Representatives of the clearinghouses that comprise the Pro Bono Network of the Americas held a day-long meeting to review 2017 achievements and plan this year's activities. Having promoted pro bono practice quite widely and sustanably, the Network can focus on developing regional projects. Such projects can replicate successes at the national level: the Pro Bono Challenge (Peru); "Ayuda Legal Chile"; the legal profession's response to the 2010 earthquake; and the "Red Federal Pro Bono" (Argentina), an initiative to expand pro bono work outside the capital.

The Vance Center's Women in the Profession program's Mexican chapter, AbogadasMX, cohosted a diversity seminar focused upon gender equity in the legal profession. Of 200 participants, more than half represented WIP chapters throughout the America. Vance Center Committee member and Morrison & Forester partner Carrie Cohen and Colombia's WIP chapter president and Gomez Pinzon partner Paula Samper participated in a panel on barriers to advancement, and Vance Center Committee executive sub-committee member and Shearman & Sterling partner Antonia Stolper spoke on the value of diversity from an organizational and marketing perspective. AbogadasMX president and Honeywell Latin America general counsel Valeria Chapa gave closing remarks on the growing impact of women throughout the Latin American legal profession.
After the seminar, the WIP International Steering Committee held its annual meeting, with participation from 14 countries: Mexico, Brazil, Chile, Panama, Ecuador, Costa Rica, the Dominican Republic, Argentina, Colombia, Bolivia, Peru, Honduras, Guatemala and Nicaragua. Each chapter leader presented on programs and pro bono efforts in their respective countries, and the committee discussed opportunities for collaboration, fundraising, incorporation of chapters, and a 2019 conference in Santiago, Chile.
The Lawyers Council for Social and Economic Rights convened its annual in-person session, with nine members present from eight countries: Argentina, Colombia, Chile, Costa Rica, the Dominican Republic, Mexico, Peru, and the United States. The Council discussed areas of focus for the duration of 2018, and members agreed to host Council events in their respective countries to feature the Council's work. Members also discussed potential avenues of collaboration with local universities and civil society organizations to develop programming. Finally, the Council contemplated an international event in New York to convene thought leaders to consider the Council's achievements.

Vance Center Organizes Workshop on Business and Human Rights in Haiti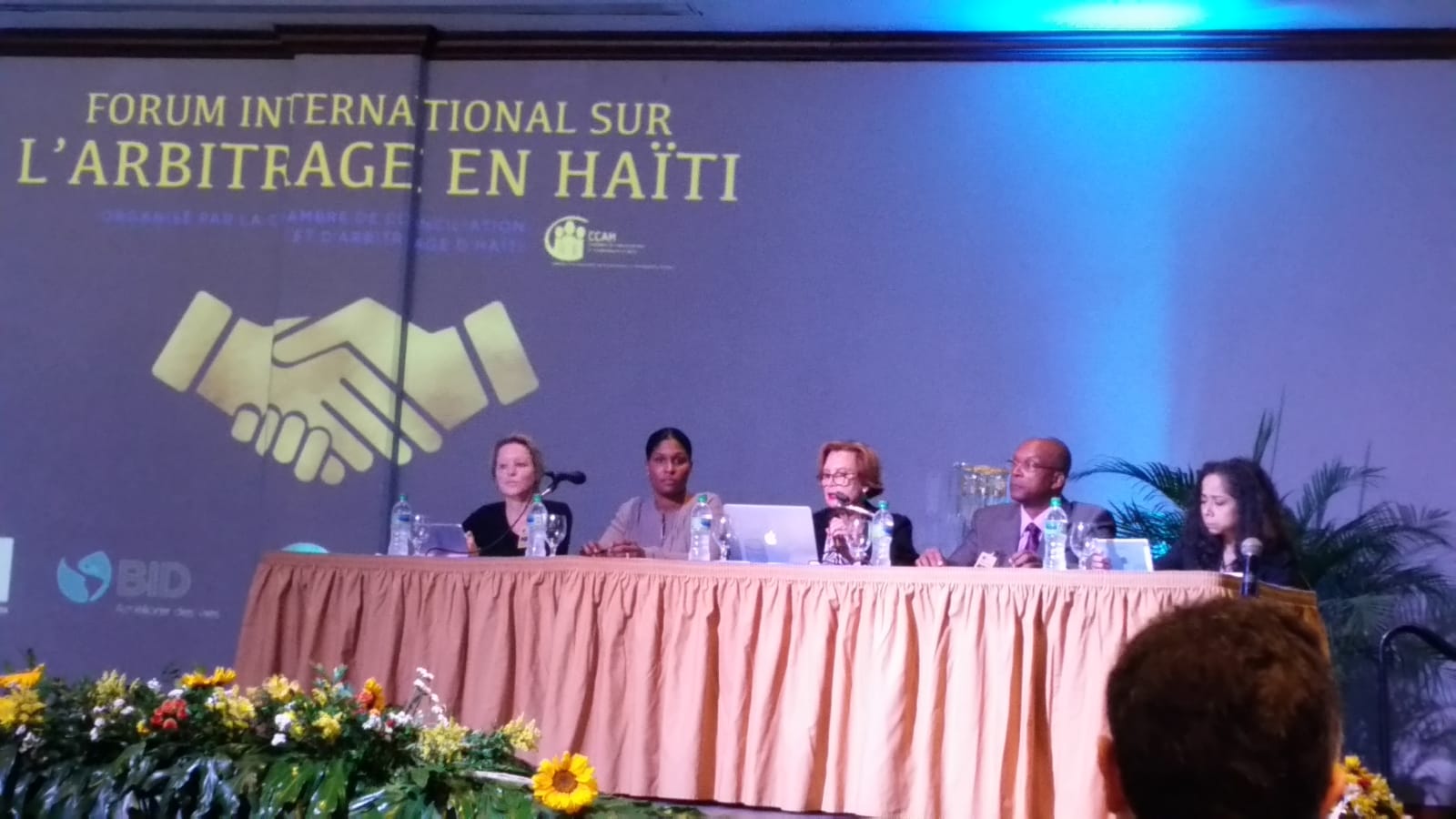 Photo Credit: Marie-Claude Jean-Baptiste
Vance Center Programs Director Marie-Claude Jean-Baptiste and Romain Zamour of Debevoise & Plimpton LLP led a workshop in Port-au-Prince, Haiti on "Business and Human Rights: A Role for Alternative Dispute Resolution Mechanisms?" The workshop was part of the first International Forum on Arbitration in Haiti hosted by the Chamber for Conciliation and Arbitration of Haiti.
Jean-Baptiste began with an overview of the evolution of the concept of business and human rights and the trend towards greater regulation of corporate conduct threatening human rights. She described the origins of the United Nations Guiding Principles on Business and Human Rights, developed by Special Representative of the U.N. Secretary General John Ruggie and endorsed by the United Nations Human Rights Council in 2011.
Jean-Baptiste then presented the first two of the Guiding Principles' three pillars: the State's obligation to protect its citizens against human rights abuses, including by third parties; and the corporate responsibility to protect human rights. She introduced participants to ways to shape the business and human rights agenda, including by interacting with the U.N. Working Group on Business and Human Rights, and discussed the ongoing negotiations towards a binding treaty on business and human rights.
Zamour began by presenting the third pillar: the victims' right to an effective remedy in cases of human rights abuses caused by business activities. He mentioned both judicial and non-judicial mechanisms, including "operational-level grievance mechanisms". He then analyzed the Guiding Principles' legal status, noting that, although voluntary and aspirational, they enjoy growing international recognition, as business voluntarily adopt them, litigants and courts rely on them, and States adopt legislation to further them. Finally, Zamour discussed the potential role of alternative dispute resolution mechanisms, in particular international arbitration, in solving business and human rights disputes, focusing on the example of the recently-settled, arbitrations under the Bangladesh Accord on Fire and Building Safety.
More than 20 participants attended the two-hour workshop, including lawyers, judges, and representatives of the business sector. In a lively discussion after the presentations, participants raised questions on the application of the UN Guiding Principles to the Haitian context.
This workshop comes at a critical time for Haiti. Recent governments have engaged in an aggressive campaign to attract local and foreign investments under a "Haiti is open for business" campaign. The country as a result has seen a significant increase in investments especially in the tourism, construction, and mining sectors which are particularly susceptible to human rights violations if not managed properly. There is little recourse in the formal judicial system for those who may suffer harm as a result of these activities: the system faces a significant backlog; judges and prosecutors do not have adequate training to handle these sorts of disputes; and relevant laws, which have not been updated, are ill-suited to resolving such disputes. Alternative dispute resolution mechanisms, including arbitration, may be the only viable route for those seeking resolution and reparations for harms caused by business activity.
The workshop represents part of a larger effort by Haitians, with the support of partners like the Vance Center, to improve access to justice and the rule of law in Haiti, so that economic development does not come at the expense of human rights and social cohesion.
The Vance Center's Human Right and Access to Justice Program has a special focus on business and human rights, working with organizations in the United States and around the world. It hosted last month the New York City Bar Association's first continuing legal education program on business and human rights, "Business and Human Rights – What Do They Mean for Lawyers?" In 2016, it co-sponsored a conference "Business and the Bar: Lawyers, Rights and Remedies" in Geneva on the Third Pillar of the UNGPs, access to remedies, addressing the role that lawyers, law firms, bar associations, and companies can play in ensuring access to remedies when people are harmed by business activities. The Vance Center is also a part of a working group examining how the New York City Bar Association can engage more effectively with the UN Guiding Principles.

Vance Center Contributes to Environmental Rights Reports to the UN Human Rights Council
Photo Credit: Purino / Shutterstock
United Nations Special Rapporteur on the Environment and Human Rights Professor John Knox, a long-time client of the Vance Center Environment Program, presented his final set of reports on human rights and the environment to the UN Human Rights Council. All of Prof. Knox's reports can be accessed here.
The new reports, representing six years of research, regional consultations, expert meetings, and public consultations with civil society and governments, address children's rights and the environment and urge the United Nations to recognize the human right to healthy environment. Prof. Knox has pioneered examination of the precise legal relationship between human rights and the environment and promotion of the realization of these human rights obligations.
The Vance Center Environment Program and the international law firm Cleary Gottlieb assisted Prof. Knox with the recent reports. The law firm undertook a major research effort on the rights of children and future generations with respect to the environment, focusing on international human rights law, international environmental law, and some domestic environmental laws. The effort proceeded in two phases:
1.updating Prof. Knox's 2014 mapping report on the UN Committee on the Rights of the Child, surveying other international human rights bodies about the rights of children and future generations and the environment, and locating relevant statements set forth in international environmental instruments, along with a review of primary and secondary sources addressing the delayed nature of environmental harms; and
2.researching procedural and substantive children's rights, along with the jurisprudence on numerous rights, such as the right to information, the right to participate, and access to remedies.
The report recommends that States improve their development and dissemination of information about environmental hazards, facilitate the participation of children in environmental decision-making, and, most important, ensure that the best interests of children are a primary consideration in all environmental decision-making. A child-friendly version of the report, ChildUserFriendly, was prepared by children at the Rathmore Grammar School in Belfast, Northern Ireland.
According to Prof. Knox, Cleary Gottlieb's significant contribution to the report was ensuring that he could have confidence in his characterization of the law, based on the firm's research. Prof. Knox anticipates a series of seminars and conferences to share good practices on the protection of children from environmental harm.
The Human Rights Council also directed Prof. Knox to provide practical guidance, based on his six-year effort, on the implementation of the human rights obligations relating to the enjoyment of a safe, clean, healthy and sustainable environment. To fulfill this mandate, Prof. Knox presented a report, Framework Principles, which sets forth 16 principles on human rights and the environment. These reflect the fundamental interdependence of human rights and the environment. The report is intended to encourage the UN member states to support the recognition of the human right to a healthy environment in a General Assembly resolution or other global instrument.
Vance Center African Legal Fellows Present to Law Firms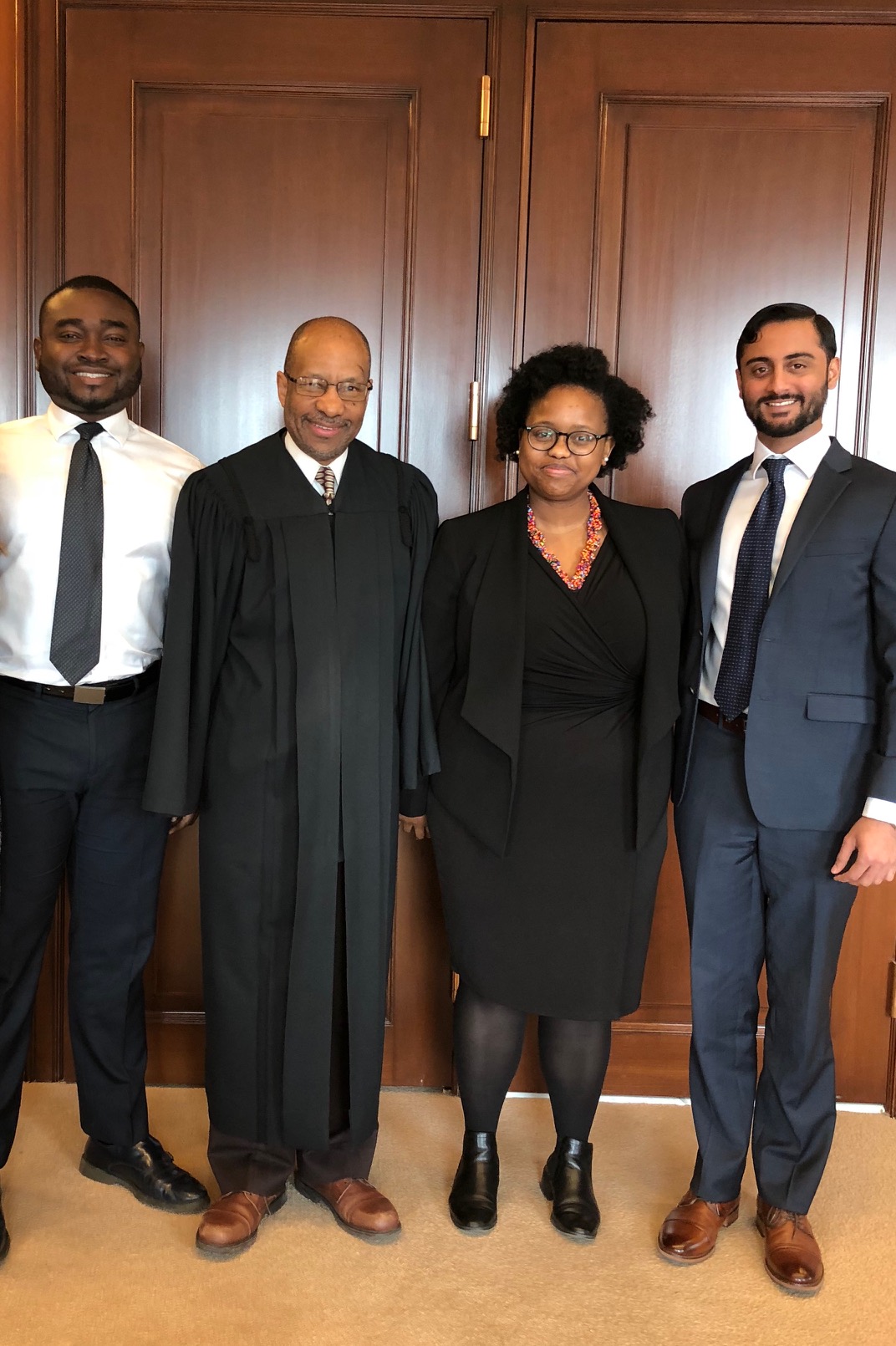 Photo Credit: Elizabeth Vega
The Vance Center's current African Legal Fellows made presentations on the legal professions and business conditions in their home countries, as well as their experiences working in New York City, to three law firms other than those hosting them. Kenyan Naeem Hirani is working at Cleary Gottlieb, Nigerian Ope Osinubi is at Shearman & Sterling, and Mbali Khumalo is at Morrison & Forester.
The fellows held an informal discussion with Vance Center Committee Member and Freshfields partner Timothy Wilkins, Freshfields pro bono Counsel Joy Tumang, and others in the firm on how their respective law firms do pro bono work and how they can approach building a pro bono culture in their respective countries.
The fellows also spoke at panels at White & Case and Paul Weiss. White & Case partner and Vance Center Committee member Taisa Markus moderated the panel and asked the fellows about their personal histories, their experiences at their respective firms in New York and the legal and pro bono landscapes in their home countries.
Paul Weiss partner and Vance Center Committee executive sub-committee member Ted Maynard described to attendees the Vance Center and specifically the African Legal Fellows program since it began more than 15 years ago. He related that there now are 50 alumni who have become leaders in their profession. He then moderated a discussion of the fellows 'respective paths through their careers and the legal cultures in their respective countries. Attendees asked how the judiciary is viewed in their countries and what differences they saw between their home countries and the United States.
The fellows this month also met with Vance Center Committee member and U.S. District Court Judge George B. Daniels at his chambers and in his courtroom. The Judge spoke to the fellows about his professional background and international activities in which he has participated including training judges in Africa.
The Vance Center is seeking to fill two positions opening soon: Director of Pro Bono Partnerships and Africa Program Manager. Please check our website for the job announcements.