Welcome to the Vance Center eNotes, where you can read about our organization's latest news and developments.
Ecuador's New Communications Law
The Vance Center on July 23 hosted Dr. Hernán Pérez Loose who discussed recent developments in media freedom in Ecuador.  The Ecuadorian national assembly in June enacted a new communications law with significant consequences for private sector media businesses and all journalists, including establishment of an official superintendent of information, a requirement that media report positive, as well as negative, news, joint liability for journalists and media owners for any violations of the law, and criminal penalties for "media lynching," defined as repeated criticism of a public figure even if true.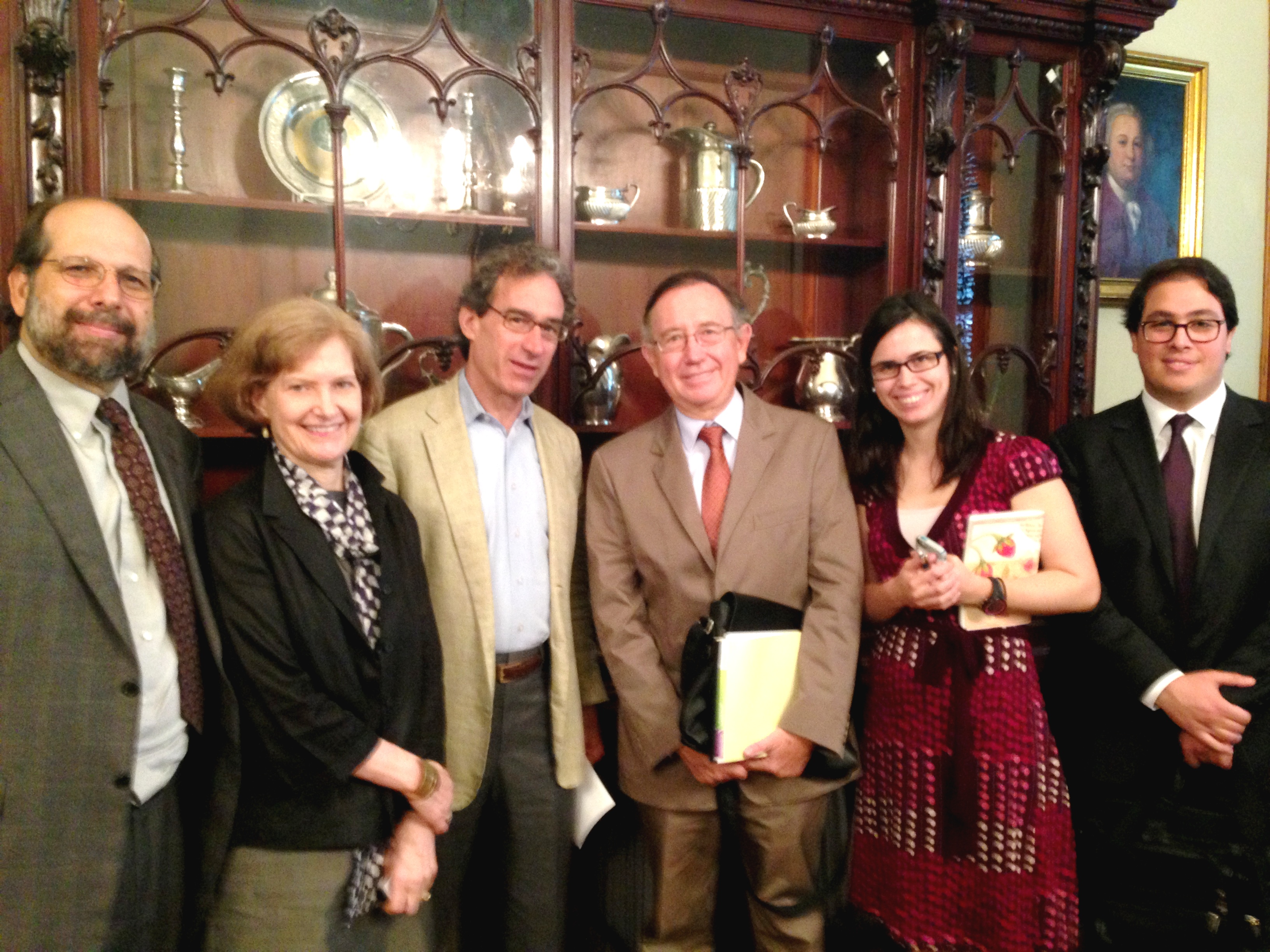 From Left to Right: Butzel Long's Edward Copeland; Vance Center Managing Director Elizabeth Millard,
Vance Center Executive Director, Alexander Papachristou, Dr. Hernan Perez Loose;
Vance Center Pro Bono Manager Dina Stukanow de Paterson; White & Case Associate Daniel Aun
Dr. Pérez Loose drew particular attention to the law's characterization of media freedom as a "public service," making it appropriate for state regulation.  He explained  that the law empowers all citizens to bring actions against journalists or media owners even when the reporting does not affect them in any way. A former assistant to the attorney general, Dr. Pérez Loose through his private law firm represents former editors of the newspaper

El Universo

who were convicted of criminal defamation of Ecuador's President Rafael Correa in 2011. The Vance Center and the
Communications and Media Law Committee of the New York City Bar Association
prepared an amicus brief in support of the defendants in the case, who have appealed to the Inter-American Commission on Human Rights.
The Vance Center is working with the Haiti Office of the Organization of American States (OAS) and the Haitian Government's Secrétairerie d'État à l'Intégration des Personnes Handicapées (Secretariat for the Disabled) to strengthen the legal framework for people with disabilities in Haiti.  Before the 2010 earthquake, there were already nearly 800,000 disabled people, or one-tenth of the Haitian population.  The Government now estimates that 300,000 people were injured in the disaster, many of whom will suffer long-term disabilities.
The project seeks to train Haitian government officials on how to establish and manage services and policies on behalf of persons with disabilities in light of the recently enacted "Loi Portant Sur L'Intégration Des Personnes Handicapées" ("Law Bearing on the Integration of Persons with Disabilities").  This law implements the United Nations Convention on the Rights of Persons with Disabilities, which Haiti recently signed.
The law firm of Weil, Gotshal & Manges is collaborating with the Vance Center on this project on a pro bono basis.  A global team of French-speaking lawyers from Weil prepared the training curriculum and materials, and two associates travelled to Port-au-Prince and other provinces earlier this month to conduct the trainings.  One of these associates, David Griffiths, recently returned from a series of training in Haiti and provided a report on his experience.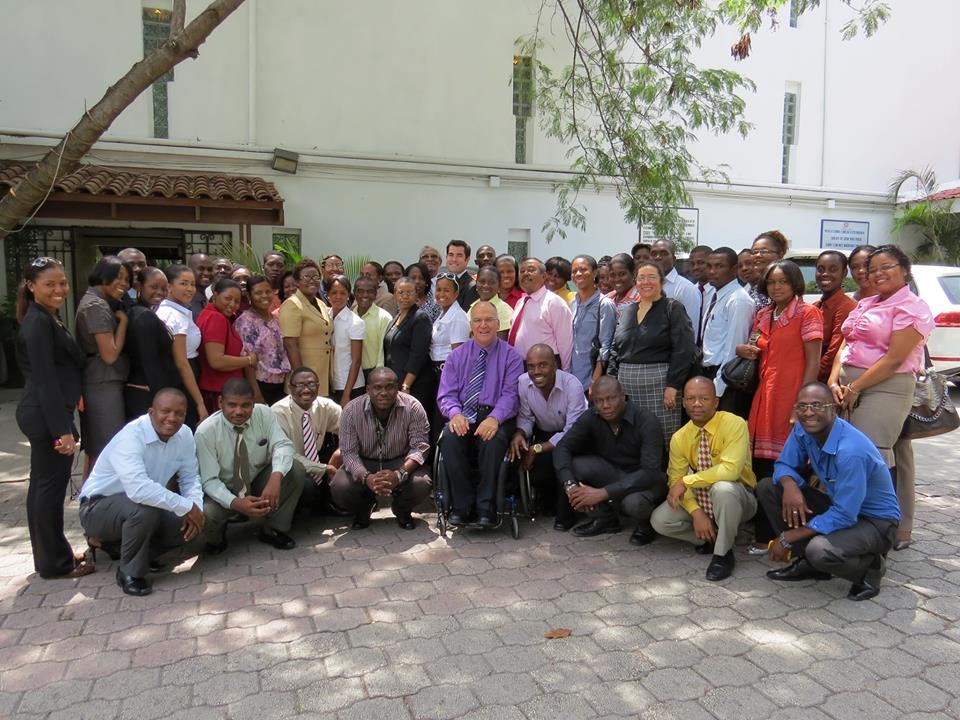 It's not every day you receive a phone call asking you to travel to Haiti to train judges, magistrates, government ministers and civil servants – in French – on the UN Convention on the Rights of Persons with Disabilities, especially when you are a corporate lawyer at a major U.S. law firm.
   
In early April, Eric Ordway, a partner I work with regularly at the international law firm Weil, Gotshal & Manges, was contacted by Marie-Claude Jean-Baptiste, Programs Director at the Cyrus R. Vance Center for International Justice, asking if Weil could field a team to assist the Organization of American States (OAS) with a USAID funded project in Haiti relating to disability rights.  Eric had led pro bono efforts to promote the implementation of the UN Convention on the Rights of Persons with Disabilities in Ecuador, Costa Rica and Mexico and is working with the Vance Center on other disability rights projects.  Given his own experience on the subject, Weil's extensive commitment to pro bono including, in particular, the rights of persons with disabilities and the interesting and worthwhile nature of the project, Eric readily accepted and put together a team of French-speaking partners and associates from the New York, Washington, Paris and London offices of the Firm. Haiti was devastated by a catastrophic magnitude 8.0 Mw earthquake in January 2010 and has been recovering ever since; having restructuring attorneys on board to assist the OAS was perhaps fortuitous.

On July 23, 2009, the Republic of Haiti ratified the UN Convention on the Rights of Persons with Disabilities and on May 11, 2012, the Haitian President Michel Joseph Martelly signed the "Loi Portant Sur L'Integration Des Personnes Handicapees" ("Law Bearing on the Integration of Persons with Disabilities").  Article 53 of this law specifically requires that the Haitian judiciary are given appropriate training to ensure that persons with disabilities have access to justice, and the law also contains general provisions to ensure other branches of government are suitably sensitized to their new obligations under this law.  

Working closely with Carolina Hernandez Ramirez, the director of the Project to Strengthen the Legal Framework for People with Disabilities in Haiti at the OAS, and her colleagues Larousse Ceus and Yourry Pierre, Weil's cross-border team led by myself and Marguerite Walter, a senior associate in the Firm's Washington office, put in hundreds of pro bono hours preparing suitable presentation material to train Haitian judges, magistrates, ministers and civil servants on the public policy aspects relating to the implementation of the UN Convention and related national law in Haiti.  Having prepared the material, the OAS then requested that Weil send attorneys to Haiti to undertake the training.  On June 24, I found myself on a flight bound for Port-au-Prince, not quite knowing what to make of this turn of events.  Fortunately, I found myself involved with one of the most worthwhile pro bono projects I have ever worked on.  

The OAS doesn't waste time.  Upon landing, I was briefed by Carolina Hernandez Ramirez and introduced to the other attorneys who would be undertaking the training sessions: Maître Paul-Claude Bérubé, a senior Canadian lawyer with extensive global pro bono experience, assisting the OAS through the International Senior Lawyers Project, and Maître Jean Vandal, an eminent Haitian lawyer who had assisted the OAS in chaperoning the ratification of the UN Convention into law in Haiti.  The first order of business was a training session with the Ministry of Agriculture.  Having previously worked for the  International Criminal Tribunal for Rwanda in Arusha, Tanzania, I hoped I would be prepared for what was to come.  The very next day, I was ushered into a packed conference room with the Minister of Agriculture, various senior civil servants from the ministry, and Gerald Oriol, Secretary of State to the Integration of Disabled People of Haiti (BSEIPH), to start the training sessions.  

The training sessions were structured to provide participants with a nuts and bolts grounding not only with respect to the legal aspects of the rights of persons with disabilities in Haiti, but also more practical training sensitizing participants to appropriate - and obviously, inappropriate - ways of interacting with persons with disabilities, the legal framework in Haiti relating to disability rights, and the practical means to take concrete steps to implement the law and its spirit.

Reception of the training sessions was overwhelmingly positive, and I was gratified with the level of interest that every attendee took, not only in our presentations but with respect to the disability rights question in general.  Early next day, our international team set off for Gonaïves, a city in northern Haiti, capital of the Artibonite Department, with a population of about 300,000 people.  The road trip in an OAS convoy was long but interesting, giving me the opportunity to see part of the lovely country that is Haiti.  I am told that Gonaïves was once beautiful, and the city has done well to endure the cumulative effects of Hurricane Jeanne in 2004, Hurricane Hanna four years later, followed by the 2010 earthquake.

The next morning, we started two days of training with the judges of Gonaïves.  Our international training team was first rate.  Maître Bérubé, zooming around the conference room in his wheelchair, drove home to participants that often, it isn't a person's disability that handicaps them, but the inhospitable environment around him.  Maître Vandal, training assembled judges on the details of the law, impressed upon participants that change in Haiti started with them.  My presentation was focused on concrete steps judges could take to implement the law, and how participants could actually make it work.  

Our ten day mission finished with a drive back to Port-au-Prince and a training session for the auditing function of the Haitian government (Cour Supérieure des Comptes et du Contentieux Administratif - CSCCA), then back to New York.  Rarely have I seen a team so dedicated and hard working as the OAS team led by Carolina Hernandez Ramirez, who - it appears - rarely takes a day off.  Further training sessions are scheduled in the months to come for other regions and ministries, and the Weil team will continue to support the OAS and the Cyrus R. Vance Center for International Justice in every way possible.
Pro Bono Legal Program of Centro Interdisciplinario de Derecho Social y Economia Politica (CIDSEP)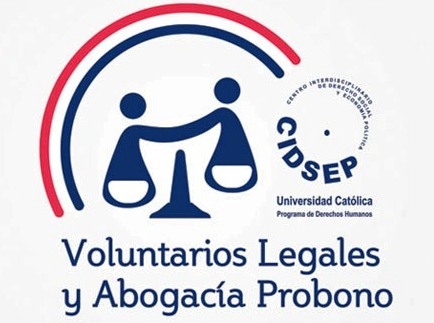 Dina Stukanow, Pro Bono Manager at the Vance Center, spoke earlier this month with Mónica Cáceres, a Probono Program Coordinator at Centro Interdisciplinario de Derecho Social y Economía Política ("CIDSEP") in Paraguay about strengthening collaboration between our partner organizations.  
Based at Universidad Católica "Nuestra Señora de la Asunción", CIDSEP was created in 1985, at the height of the dictatorship of Alfredo Stroessner, in order to defend and promote human rights in Paraguay. CIDSEP has been working steadily to support the country's democratic process, directing their efforts to strengthen democratic institutions, promote access to justice and foster a culture of transparency and citizen participation.
In this context, CIDSEP develops plans, research projects, civic education, training and legal assistance programs in defense of the rights of vulnerable sectors, focusing primarily on children, adolescents, and women.
The Pro Bono Legal Program of CIDSEP was created in 2010 based on the experiences from various projects of assistance and legal training to disadvantaged groups. These communities experience a complete lack of legal protection; the justice system does not provide adequate public services and their rights are not guaranteed.   On this basis, a program called the "Promotores Barriales de Justicia" was formed. The initiative involves a group of people, mainly leaders of the community, who come together and voluntarily assist members of their community to pursue their complaints with the assistance of pro bono lawyers and the CIDSEP team.
CIDSEP has also worked to promote pro bono legal work in Paraguay by encouraging lawyers in private practice to sign the Pro Bono Declaration for the Americas ("PBDA") and engaging them in CIDSEP's legal assistance programs targeting vulnerable groups in Paraguay. CIDSEP has also organized conferences, seminars and workshops to promote the PBDA and CIDSEP's Pro Bono Network. Currently, seven law firms and twenty nine practitioners in Paraguay have signed the PBDA (for a complete list of signatories of the Pro Bono Declaration of the Americas, please click here.)  More than 150 people have been assisted by the CIDSEP's Pro Bono Network since its launch in 2010.
In addition to providing pro bono help, CIDSEP advocates for the requirement of pro bono legal work for employment in the judiciary and the public ministry in Paraguay. It has also implemented a program focusing on legal advice for female victims of violence. CIDSEP is also working on a draft law that would regulate the provision of free legal assistance in court proceedings by probono lawyers to victims, civil organizations, communities and other sectors in vulnerable situations who lack access to legal assistance. Among others, the draft law include provisions that would exempt pro bono attorneys from paying services tax for the pro bono services that they render (which is currently not the case), would create a fund to be used to cover expenses associated with the court proceedings and would allow clearinghouses and bar associations to match clients with a pro bono attorney.  The last two projects are supported by the Ilustre Colegio de Abogados de Barcelona, the Organizacion Tambali Jus et Comerc de Igualada in Spain, the Paraguay Bar Association and the Centro de Egresados de la Facultad de Ciencias Juridicas y Diplomaticas de la Universidad Catolica de Paraguay.
Latin Lawyer's sixth annual Deal of the Year Awards in 2012 was held in aid of three of Latin America's pro bono clearinghouses, including CIDSEP's Pro Bono Legal Program.
For more information about CIDSEP, please visit https://www.facebook.com/cidsepUC and http://www.youtube.com/watch?v=Yz_Hm_Vf4mI.
New Brazilian Signatory to Pro Bono Declaration for the Americas
The law firm of Lobo & de Rizzo Advogados in June became a signatory of the Pro Bono Declaration for the Americas ("PBDA"), increasing the number of Brazilian law firms committed to providing pro bono service to sixty-one.  
Lobo & de Rizzo recently collaborated with the Vance Center in a multi-jurisdictional project on legal frameworks to promote remediation of hazardous contamination by providing a comprehensive analysis of Brazilian law in this area.  This analysis, prepared by Associate Renata Soares Piazzon, formed a critical part of the project identifying the most effective legal mechanisms employed in various Latin American countries to address hazardous contamination.  
For a complete list of signatories of the Pro Bono Declaration of the Americas, please click here.
For a complete list of signatories of the Pro Bono Declaration of the Americas, please click here.