Dear

Friend

of the Vance Center,
Here's an update on the Vance Center 6 months after (and before) our annual appeal for your support. We are proud to report that, with your help, we are going strong.
There's much more happening than we can recount in one letter. At any given time:
w

e are giving pro bono legal help to more than 60 human rights and environmental organizations

in 23 countries, and also supporting United Nations, African, and Inter-American human rights agencies;and

more than 370 lawyers from

more than 100 law firms
in 34 countries are working with our lawyers on these projects.
This activity represents a notable increase over last year: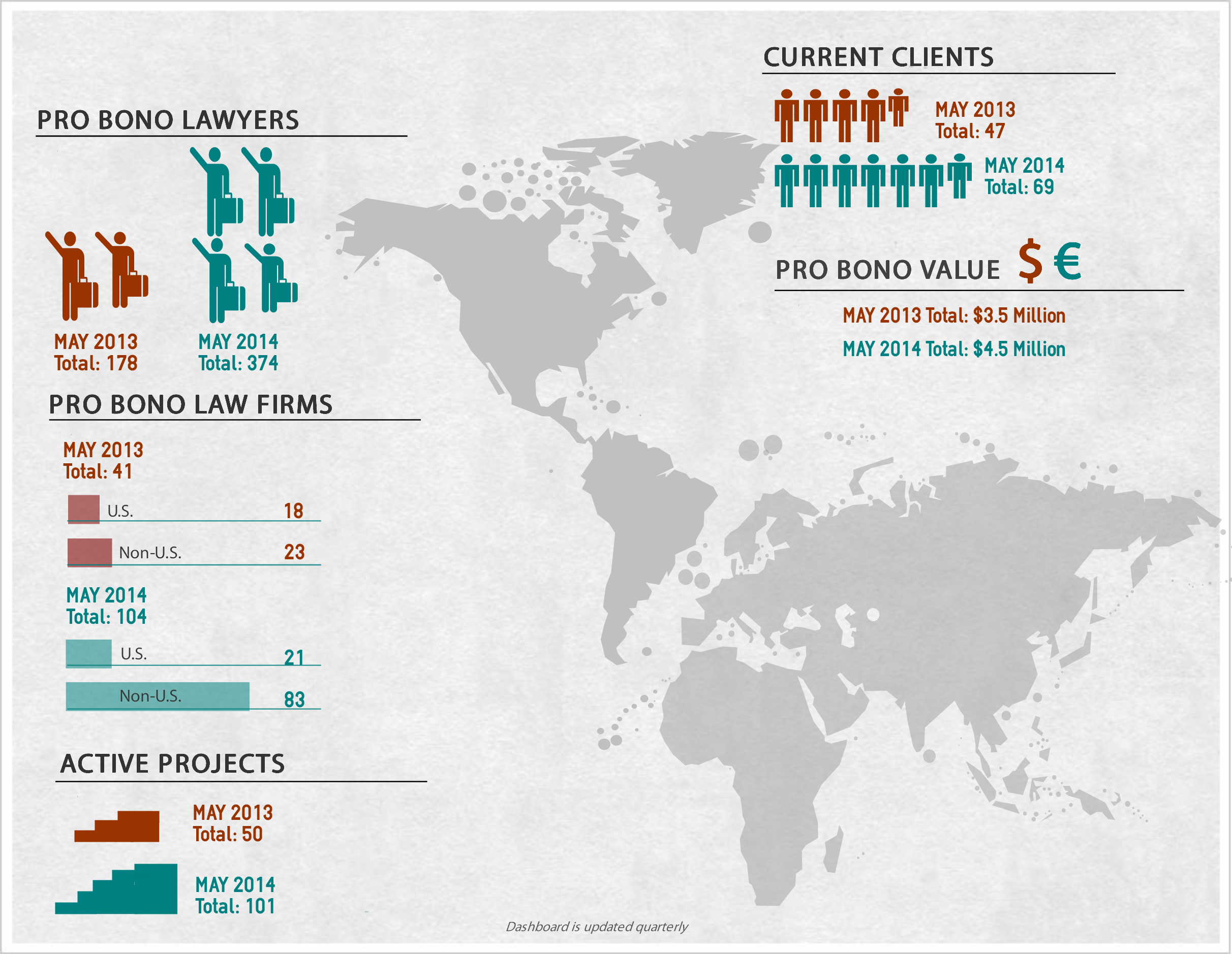 We also continue working on diversity and pro bono practice in the legal professions of Latin America and South Africa. Our Women in the Profession Program met in Uruguay and Mexico, and pro bono strengthening  has taken us to Mexico, Colombia, and South Africa this year. And, we are recruiting more South African lawyers of color to participate in our legal fellows program this fall.

Here is a sampling or projects we currently have underway:
Our International Human Rights and Access to Justice Program is actively engaged in supplementing the resources of international human rights agencies with pro bono legal assistance. Among those we are helping with legal research and analysis are:
the UN Joint office on Preventing Genocide and the Responsibility to Protect;

the UN Working Group  on the Use of Mercenaries as a Means of Violating Human Rights and Impeding the Exercise of the Right of Peoples to Self-Determination;

the UN Special Rapporteurs on the Rights of Indigenous Peoples and on Torture and Other Cruel, Inhuman or Degrading Treatment or Punishment;

the UN Independent Expert on Human Rights and the Environment;

the UN Working Group on Enforced and Involuntary Disappearances; and

the Inter-American Commission on Human Rights.
For example, we are investigating how more than a dozen nations around the world regulate the use of solitary confinement, as a follow-on project for the UN Special Rapporteur on Torture and Other Cruel, Inhuman and Degrading Treatment or Punishment, who has issued a landmark report on solitary confinement as a form of torture.
Meanwhile, the Vance Center's Environment Program is drafting a 35-page guide, International Best Practices for Coral Reef Protection on behalf of the Interamerican
Association for Environmental Defense, a regional Latin American environmental organization. 38 lawyers from 13 law firms in 17 countries, including Australia, Bermuda, Cayman Islands, South Africa, and Spain have contributed research for the project, which will support law reform efforts in 13 Latin American and Caribbean countries whose coral reefs badly need protection. Lawyers in those 13 countries simultaneously are studying how their laws best can be reformed, based on the guide.
The Vance Center's strength lies foremost in the pro bono contributions by lawyers from all over the world. The efforts of our 6 lawyers get multiplied 50-fold by the 370 from law firms. Our annual budget, now approaching $1 million, generates more than $5 million in the value of those pro bono contributions.
These numbers, however, tell only part of the story. We're pleased to announce that our website recently received a major overhaul and now tells much more of the story. If you'd like to know even more, please contact us any time.
My colleagues and I thank you for your interest, as well as your past (and future) support.
Sincerely,
Alexander Papachristou
Executive Director
Photo Credits: Top Left: Jim Wilson. Bottom Right: Great Barrier Reef Marine Park Authority