African Legal Fellows Program Update
(Panel discussion at Freshfields)
The Vance Center's African Legal Fellows participated in several events, to introduce themselves to the New York City legal profession.
Freshfields Bruckhaus Deringer, which hosts Power Africa Legal Fellow Belinda Ongong'a from Kenya, held a Lunch and Learn event attended by lawyers from its New York office, as well as colleagues like Terry Calvani online from the Washington D.C. office, and Kwaku Andoh of Cohen and Gresser. Moderated by Freshfields partner and Vance Center Committee member Timothy Wilkins, the four fellows discussed the legal landscape, as well as the business environment, opportunities for investment, and energy transactions in Kenya, Nigeria, and South Africa. Ongong'a and the additional Power Africa Legal Fellows Ejemen Ofomen and Lotanna Nwodo explained their experiences advising business investment in the energy sector in their countries. Njabulo Hlophe updated the audience on the new Legal Practice Act in South Africa which provides for one regulatory body and abolished the distinction between attorneys and advocates.
The fellows met on another occasion with representatives of the City Bar Justice Center and President Roger Maldonado and Executive Director Bret Parker of the New York City Bar Association which hosts the Vance Center. It was former association president Evan Davis who began the South African Legal Fellows Program in 2002 to address the legacy of apartheid in the South African legal profession.  This became the African Legal Fellows Program when Kenya and Nigeria were included in 2016.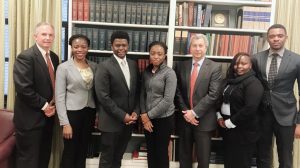 (From left: Bret Parker, Adaobi Egboka, Njabulo Hlophe, Ejemen Ofoman, Belinda Ongonga, Belinda Ongonga and Lotanna Nwodo | Photo Credit: Adaobi Egboka)
In addition, the fellows attended proceedings in the courtroom of Judge George B. Daniels of the Southern District of New York and a member of the Vance Center Committee. At the end of the court session, they had an extensive discussion with the Judge in his chambers regarding his career and work in Africa.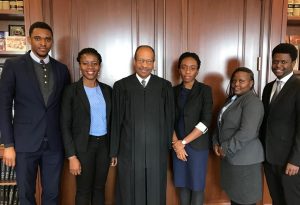 (From left: Lotanna Nwodo, Adaobi Egboka, Hon. George Daniels, Ejemen Ofoman, Belinda Ongongo and Njabulo Hophe | Photo Credit: Adaobi Egboka)
The Power Africa Legal Fellows Program is made possible by the generous support of the American people through the United States Agency for International Development (USAID) and Power Africa.