Vance Center Organizes International Conference on Women's Incarceration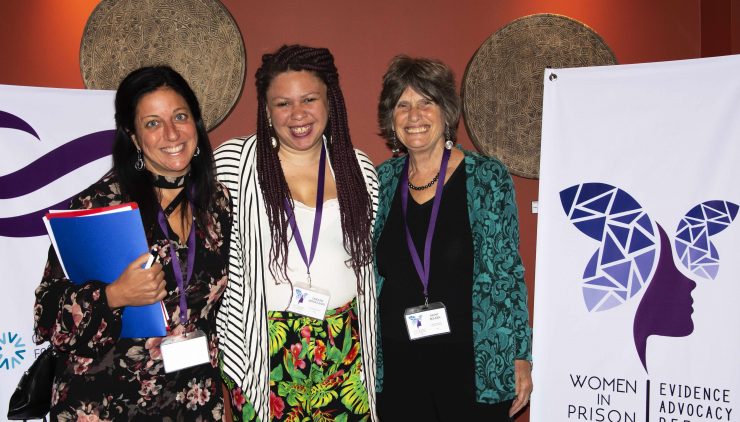 Dr. Kathy Boudin, Conference Keynote Speaker & Center for Justice at Columbia University (USA) (Right), Caroline Bispo, Associação Elas Existem (Brazil) (Middle), Deanne Benos, The Women's Justice Institute (USA) (Left)
The Vance Center brought together 49 advocates from 23 countries, including nine formerly incarcerated women, for a ground-breaking international conference on "Women in Prison: Evidence, Advocacy, and Reform" in Bogota, Colombia. The conference focused on sharing information on women's imprisonment across the globe and building capacity for improved and collaborative monitoring, reporting, and advocacy in accordance with the United Nations Standard Minimum Rules for the Treatment of Female Prisoners and Non-Custodial Measures for Women Offenders, known as the "Bangkok Rules." Participants included academics, grassroots advocates, and international experts on women's rights and women's imprisonment from Asia, Africa, Europe, and the Americas.
The number of incarcerated women is increasing throughout the world, and at a rate higher than that of men. A greater percentage of women are being imprisoned for petty offenses as a consequence of harsher drug policies. The majority of women in prison have experienced violence in their lives, including sexual and emotional abuse. However, women prisoners' healthcare needs, including mental healthcare, often go unmet by prison services and worsen in the prison environment. These trends are similar across the world whether in rich or poor countries. Moreover, there is little research available on the causes and consequences of women's imprisonment and data are even sparser in the Global South. The Vance Center conference was a first step towards addressing these shortcomings.
New York City Bar Association President, Roger Maldonado, welcomed participants at an evening reception to kick off the conference. In his remarks, Maldonado cited the City Bar's longstanding dedication to social justice and the protection of vulnerable groups. He expressed satisfaction at the Vance Center's achievement in bringing together such a diverse and dynamic group of advocates to champion such an important cause and his anticipation of the growth of this movement.
Dr. Kathy Boudin, co-Director and co-Founder of the Center for Justice at Columbia University delivered the conference's keynote address, describing her experience as a formerly incarcerated woman and her advocacy both in an out of prison for incarcerated women's rights and against mass incarceration. She underscored the importance of including formerly incarcerated women as equal partners and leaders in this work. Dr. Boudin also exhorted participants to change the narrative on women in prison away from victimhood and to adopt language, practices, and attitudes that empower these women.
Participants over the following two days met through a series of interactive panels and working groups to explore the growing trend of women's imprisonment around the world, the international legal framework regarding women's imprisonment, measures for improving conditions for women in prison, research methods on women's incarceration, and strategies for effecting change. They strategized on developing better data on much neglected issues, as well as advocacy for improving global compliance with the Bangkok Rules. Participants also agreed on the need to integrate formerly incarcerated women in research and advocacy and to adopt sensitive language when referring to women who have been in prison and their experiences there.
The nine formerly incarcerated women at the conference met separately and then addressed participants in an emotional and powerful presentation. They called for refraining from using language that dehumanizes women who have been in prison, deprives them of power, and justifies the dehumanization and abuse they suffered in prison. They also talked of the need to create an international network of formerly incarcerated women highlighting the positive experience they had at the conference and exchanging information with a diverse group of women who also had prison experience. They called for greater inclusion and consideration of formerly incarcerated women in research and advocacy, suggesting that, for example, women in prison may work as co-researchers and organizations working on women prisoners' issues might employ formerly incarcerated women.
The conference was the first component of a three-year grant-funded project that the Vance Center is implementing, in partnership with Penal Reform International. Broadly, the project seeks to promote global collaboration on improving conditions of women's imprisonment through effective application of the Bangkok Rules. In addition to the global convening, there is a subsequent two-year pilot project on researching the causes, conditions, and consequences of women's incarceration.
The Vance Center announced its partner for the pilot project at the conference: CleanStart, a non-governmental organization based in Nairobi, Kenya that provides training and psycho-social support to women inside prisons and women transitioning out of prison. CleanStart uses a unique model of employing formerly incarcerated women who return to the prisons to train and support the women still inside. Together, the Vance Center and CleanStart will implement the pilot project to generate and analyze data on issues relating to incarcerated women in Kenya, filling a critical data gap in that country. This pilot project will also serve as a model and collaborative learning process for the other conference attendees, who will then be able to implement similar projects in their own countries. The Vance Center also will share the results of the pilot project, both in terms of data and best practices, more widely through a published report and other advocacy activities.
The ultimate goal of the conference and the pilot project is to empower those working on this issue, and formerly incarcerated women themselves, to improve the situation for women in their countries' prison systems. The project also aims to foster a global movement where women prisoners' rights advocates learn from and work with each other to improve conditions for women prisoners worldwide. This project builds on the Vance Center's prior work on women prisoners' rights, including a similar collaborative project in Jamaica, as well as research on the causes and consequences of women's imprisonment in Bolivia, El Salvador, Guatemala, Ecuador, Chile, Paraguay, and Colombia, which led to recommendations for improvement in light of the Bangkok Rules.