The Vance Center Celebrates International Pro Bono Excellence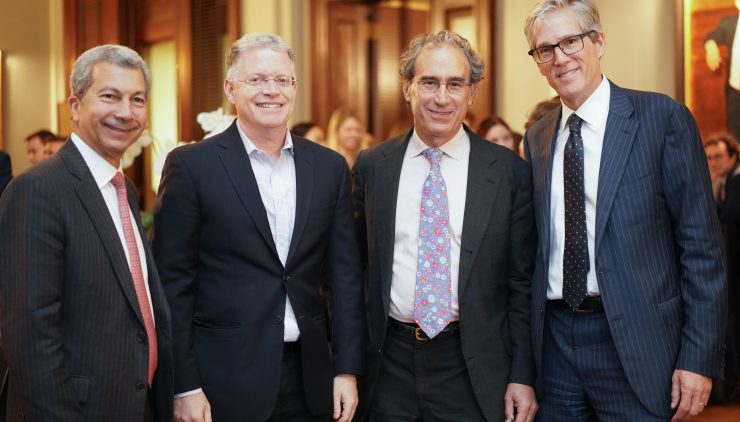 Ted Maynard, Vance Center Chair (Right), Alexander Papachristou, Vance Center Executive Director (Middle Right), David Rohde, ACOS Alliance (Middle Left), Roger Maldonado, New York City Bar President (Left)
The Vance Center held its third annual Celebration of International Pro Bono Excellence attended by more than 65 participants at the New York City Bar Association. The event recognized the pro bono achievements of six law firms and gave special recognition to Vance Center Committee member Marcia Tavares Maack of Mayer Brown for her leadership in the "Keep Families Together" initiative.
Vance Center Chair Ted Maynard kicked off the celebration, and New York City Bar Association President Roger Maldonado described his experiences with the Vance Center since taking office in May 2018, including attending its conference on women's incarceration in Bogota, Colombia.
Environment Program Director Susan Kath presented two pro bono projects:
White & Case supported the World Commission on Environmental Law at the International Union for Conservation of Nature  in researching the adoption and implementation of the environmental principles included in the Global Pact for the Environment in regional instruments from seven jurisdiction around the globe, as well as multilateral environmental agreements, soft law instruments, and the UN Sustainable Development Goals;
 Shearman & Sterling advised International Rivers on the legal framework governing river protection and its application to river conservation efforts in Myanmar.
Louis O'Neill of White & Case and Brian Burke of Shearman & Sterling accepted the awards  and expressed appreciation for the impact that the projects had on their pro bono clients and the lawyers working on them.
Human Rights and Access to Justice Programs Director Marie-Claude Jean-Baptiste recognized two projects as well:
Orrick, Herrington & Sutcliffe advised the Centre for Humanitarian Dialogue of the Central African Republic on that country's obligations under international law regarding its Nationality Code, including a comparative analysis of the nationality laws of Brazil, Colombia, Kenya, and South Africa.
Sullivan & Cromwell on behalf of indigenous Miskito women in Nicaragua produced a brochure, in the form of a comic strip, to educate women and girls about legal protections against sexual violence under national, customary, and international law.
Lorraine McGowen of Orrick and Werner Ahlers of Sullivan & Cromwell, both Vance Center Committee members, as well as Ahler's colleague Renata Mascarenhas accepted the recognitions.
The Good Governance program recognized two projects, as well:
Covington & Burling assisted ACOS Alliance in setting up an insurance program for journalists in conflict zones and analyzing ways to strengthen its organizational status
Debevoise & Plimpton drafted two Article 15 submissions to the International Criminal Court seeking preliminary investigations of international crimes of a confidential nature for confidential clients.
ACOS Alliance's board co-chair and New Yorker editor David Rohde thanked Covington & Burling for its help and described the risks that journalists run in conflict zones.  Mary Burner, the firm's pro bono manager accepted the recognition, as did Elizabeth Nielsen and partner Natalie Reid on behalf of Debevoise.
The program concluded with special recognition of Vance Center Committee member Marcia Maack of Mayer Brown for her leadership in the Vance Center's "Keep Families Together" initiative, as well as many years of wide ranging engagement in pro bono representation and related initiatives.
Please see the full program of the Vance Center's Celebration here.
If you want to see more pictures click here.