The Vance Center Pursues Business and Human Rights Initiatives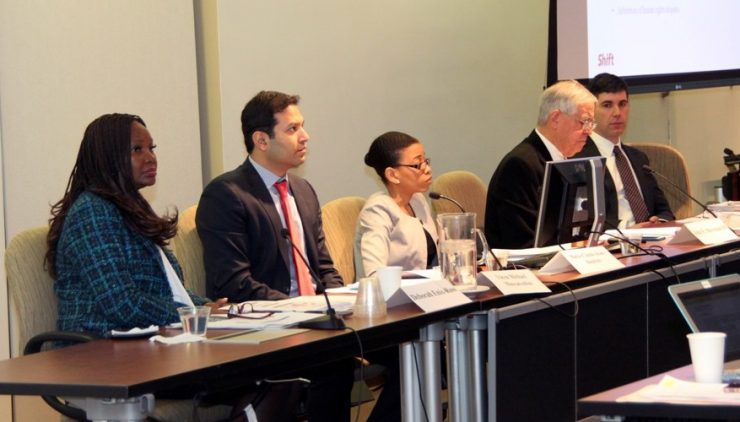 The Vance Center recently hosted the New York City Bar Association's first Continuing Legal Education program on the fast-developing practice area of business and human rights. Business and Human Rights – What Do They Mean for Lawyers?" convened a panel of five law firm and NGO practitioners and attracted a large audience.
Until recently, business and human rights rarely shared the same stage or page. Many major companies today, however, are facing squarely the impact of their business activities on human rights, and law firms are specializing in this new field. The Vance Center in 2016 launched its business and human rights program, which has assisted international NGOs and joined in organizing conferences (see below).
The UN Human Rights Council in 2011 adopted the United Nations Guiding Principles on Business and Human Rights to guide companies in this changing landscape. The UNGPs provide a global standard for preventing and addressing the risk of adverse impacts on human rights linked to business activity, based on a three pillar framework: a) States' obligation to respect, protect and fulfill human rights and fundamental freedoms; (b) the role of business to comply with all applicable laws and to respect human rights; and (c) the need for rights and obligations to be matched to appropriate and effective remedies when breached. The UNGPs have become "the global authoritative standard, providing a blueprint for the steps all States and businesses should take to uphold human rights"[1] and apply to all business enterprises and law firms.
The CLE program faculty included: Lee Caplan (Partner, International Arbitration and Dispute Resolution, Arent Fox), Deborah Enix-Ross(Senior Advisor, International Dispute Resolution, Debevoise & Plimpton), Viren Mascarenhas(Partner, International Arbitration and Litigation, King & Spalding), and John Sherman III(General Counsel, Senior Advisor and Secretary, SHIFT) with Vance Center Programs Director, Marie-Claude Jean-Baptiste, moderating.
Sherman kicked off the presentation by introducing the UNGPs, including the elements of the State duty to protect human rights, the corporate responsibility to respect human rights, and the necessity of access to remedies.
Enix-Ross discussed the application of the UNGPs to lawyers and law firms, including the role of bar associations.
Caplan led participants through a landmark business and human rights case study regarding the Barrick Gold Corporation's operation in Papua New Guinea.
Mascarenhas addressed the role of alternative dispute resolution mechanisms for business and human rights, as well as implementing BHR principles within law firms.
The NYC Bar's Alternative Dispute Resolution Committee, Corporation Law Committee, and International Human Rights Committee co-sponsored the event. It will be available on the NYC Bar Association's digital CLE library in coming weeks for on-demand streaming.
The Vance Center's Human Rights Program has engaged in a number of business and human rights projects in recent years:.
In 2016, it co-sponsored a conference "Business and the Bar: Lawyers, Rights and Remedies" at the Palais des Nations in Geneva. The conference focused on the Third Pillar of the UNGPs, access to remedies, and addressed the role that lawyers, law firms, bar associations and companies can play in ensuring access to remedies when people are harmed by business activities.
The Vance Center has worked with Human Rights Watch and the International Committee of the Red Cross on a number of business and human rights pro bono projects and is exploring closer collaboration with the U.N. Office of the High Commissioner for Human Rights and the U.N. Global Compact on this issue.
The Vance Center is also a part of a working group examining how the New York City Bar Association can engage more effectively with the UNGPs.
Vance Center Programs Director Marie-Claude Jean-Baptiste plans to lead a workshop on the role of Alternative Dispute Resolution in resolving business and human rights disputes at a conference next month in Haiti with a U.S. law firm representative.