The Year of the Woman: Vance Center Joins Global Movement on Women's Rights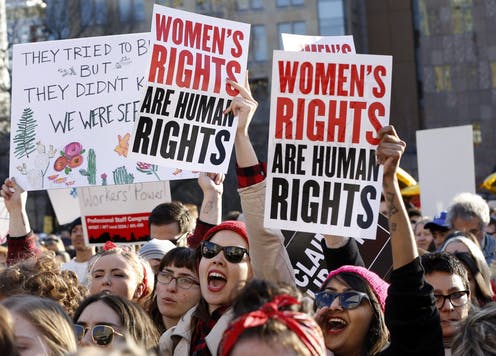 (Photo Credit AP Photos/ Kathy Willens)
Even before the recent mid-term elections, many media dubbed 2018 "the year of the woman". Women's rights and gender equality dominated the agenda in the public and private spheres as an unprecedented global movement sprang up demanding equal rights and justice for women. The Women's March continued with renewed force bringing out millions throughout the world calling for deep social and political change. Women spoke up bravely about sexual assault, sexual harassment, and gender discrimination through campaigns such as #MeToo and #TimesUp in the United States and their counterparts in other countries. In an apparent reaction to the perceived threats on women's rights in the United States, an unprecedented number of women ran for office in the 2018 mid-term elections, and many won. Female political participation also surged in Lebanon, Mexico, Sri Lanka, and Ethiopia, among others.
Less visible but no less important are the scores of ordinary women who throughout the year overcame daunting odds to stand up for their rights to live free of violence and discrimination. The Vance Center has stood alongside them this year as we have for the past 15 years. In partnership with global law firms in the US and abroad, we pursued research, litigation, and advocacy to support local women's groups in the Americas, Asia, and Africa.
We provided critical tools to indigenous women in one of the poorest regions in Nicaragua so they know how to prevent and report cases of domestic violence.
Working with local and international partners, we brought to light the human rights violations that sex workers face in Thailand, Cambodia, Vietnam, and Myanmar.
We advised international public health organizations how best to secure women's access to reproductive health services, despite legal obstacles in many countries.
In Colombia, we advised on best practices in prosecuting conflict-related gender-based crimes.
We advocated in favor of women's reproductive rights in Brazil and called for accountability for gender-based crimes committed by the Islamic State in Iraq.
Additionally in 2018, the Vance Center embarked on a three-year global project to generate better understanding of women's incarceration and improve conditions for women in prisons. We convened 49 advocates in Bogota, Colombia to share experiences on challenges and best practices in this area. We built the capacity of these advocates to undertake critical research on women's incarceration and pursue advocacy for improvement and specifically kicked off a two-year research project in Kenya to study the causes, conditions, and consequences of the incarceration of women throughout the country and make recommendations for improvements in line with international standards.
The global movement for women's empowerment which bloomed in 2018 is but the beginning of what we hope will be a growing trend towards greater respect for women worldwide. While campaigns such as the Women's March and #MeToo have been vital in bringing global attention to the plight of women, celebrity movements too often leave behind the most vulnerable. In the shadow of the media glare, millions of women continue to face significant challenges: sex trafficking, domestic violence, rape as a weapon of war, unfair incarceration etc. The Vance Center has made it its mission to be an ally alongside these women in the fight to break free from these abuses.