Vance Center Environment Program Assists Indigenous Community in Ecuador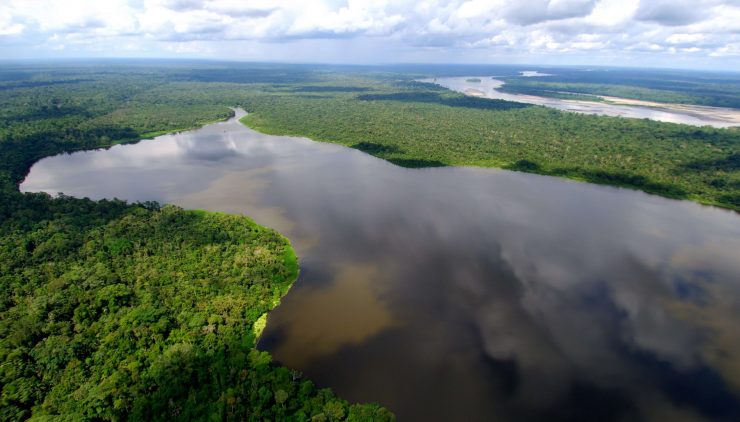 The Environment Program is assisting a Huaorani indigenous community in Ecuador to help understand how Ecuador's laws governing endangered species interact with the Ecuadorian Criminal Code and the rights of indigenous peoples. The Huaorani (also spelled Waorani or Waodani) are native Ameridian hunters and gatherers who have lived in the Amazon Rainforest since before written history. Their ancestral lands span some 20,000 square kilometers, and include the area now known as Yasuni National Park and Biosphere Reserve, an area of extraordinary biodiversity and an important refuge for endangered species. The Huaorani are extremely knowledgeable about the rainforest and its plant and animal life. Until oil exploitation began in the Ecuadorian Amazonia, the group had no contact with the outside world, and lived in voluntary isolation in the forest.
As part of the indigenous community's traditional culture, turtle (charapa) eggs are collected from the Shirupano beaches as a community treat, often offered at weddings and celebrations. The charapa is a freshwater turtle that lives in rivers, marshes, lakes and shallow lagoons in Amazonia and Orinoquía. Charapa-based dishes are highly prized and considered exotic. In view of their protein and fat content, the turtles are a fundamental part of the traditional diet of Amazonian people. The oil extracted from the turtle's eggs is famous for its medicinal and cosmetic properties. River turtles, however, are vulnerable due to the scarcity of sandbanks for laying eggs and the high mortality of nestlings. The yellow-spotted river turtle (P. unifilis) is listed as Vulnerable by the IUCN RedList, and the South American river turtle (P. expansa) is listed as Least Concern, by Conservation Dependent. For both species, the main threats to conservation are increasing exploitation and marketing of their eggs for human consumption, as well as capture and sale of adult individuals.
In light of their traditional connection with the turtles and the inclusion of the species in the IUCN RedList, the indigenous community seeks a better understanding of their rights and protections under the Ecuadorian Constitution and Ecuadorian law. Coronel y Perez Abogados has provided pro bono assistance to explain how Ecuador implements international law commitments to protect endangered species, such as the Convention on International Trade in Endangered Species of Wild Fauna and Flora (CITES). The firm also has analyzed the Criminal Code in Ecuador, explaining its potential application to environmental crimes as they concern endangered species and other activities relating to wild flora and fauna, including hunting, capturing, fishing or any other illegal action where a plant or animal specimen is removed from its natural habitat.