Vance Center Hosts Colombian Pro Bono Lawyer and Coordinator of the Year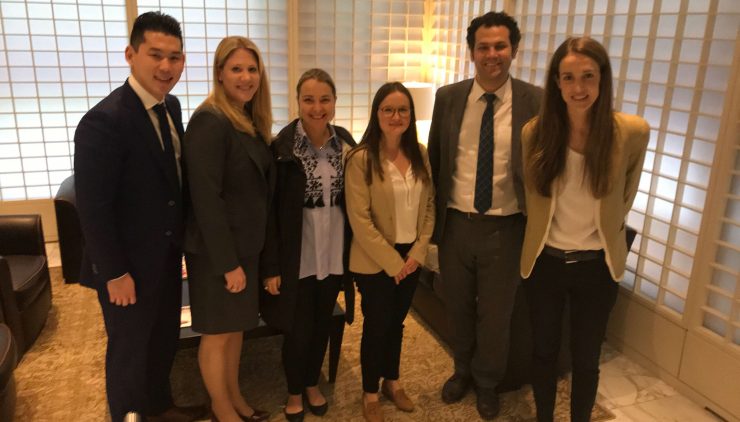 The Vance Center hosted Marcela Garcia Ciro and Natalia Marquez Arboleda, respectively Colombian "Pro Bono Lawyer of the Year" and the "Pro Bono Coordinator of the Year" as recognized by Fundacion Pro Bono Colombia and the Colombian National Business Association. These sponsors annually award attorneys who excel in the management of pro bono projects on behalf of vulnerable communities a trip to New York to meet representatives of the Vance Center, law firms, and nonprofit organizations to learn about their pro bono practices.
García, a tax lawyer at CMS Rodriguez Azuero Contexto Legal, won recognition for projects like the registration of music schools in Uraba, a region highly affected by Colombia's decades-long armed conflict, and the incorporation of an LGBTI-rights organization focusing on parents of LGBTI people.
Márquez, pro bono coordinator at Uribe Henao Abogados, won recognition for encouraging her firm to take on pro bono work: 14 cases in only one year, which resulted in an overall rating of 4.9 out of 5.
During their visit, the awardees got to meet with the Vance Center staff, the Lawyers Alliance for New York, Start Small Think Big, and Vance Center Committee firms Clifford Chance and Hogan Lovells. Topics included: promoting pro bono work; maximizing impact; and expanding the pro bono culture outside of the main cities, as both Marcela and Natalia are striving to develop pro bono work in Medellin, where their firms are based.
The visiting lawyers described their experience in New York as encouraging and inspirational. "The pro bono world is immense and it is gratifying to see how, in a city like New York, lawyers are willing to help others without expecting anything in return. As the Pro Bono Coordinator of a big law firm, I have a great responsibility to encourage lawyers to take on pro bono cases as a way to express gratitude for the opportunities that we have," said Natalia. The visit allowed Marcela "to know better the wonderful work that international organizations are doing in the pro bono arena, and to know the good practices and the innovative initiatives that have been carried out, for example, by start-ups and social enterprises. These innovative ideas will be of great impact for the pro bono projects that are being developed in our country and especially for the pro bono projects in Medellín."
The host organizations also enjoyed the opportunity to converse about the emerging world of pro bono services abroad. As Ebony Johnson, Start Small Think Big Legal Program Coordinator, shared with us, "This insightful dialogue opened our eyes to some of the intricacies and possibilities impacting the pro bono sector in Colombia and Spain. With dedicated advocates such as [Outgoing Vance Center director of pro bono partnerships] Leire [Larracoechea], Marcela and Natalia, we are very excited to see what happens with pro bono campaigns in both of these countries!"