Vance Center Loses and Gains Interns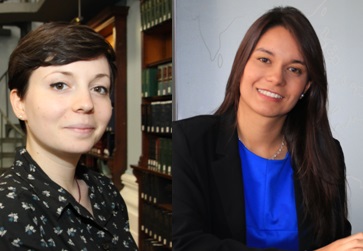 Alice Murgier recently completed a five-month stint as legal intern in the Vance Center's Human Rights and Access to Justice Program where she supported the Business and Human Rights Initiative in planning a seminar in Haiti on alternative dispute resolution mechanisms and an upcoming session on the same topic at the November United Nations Business and Human Rights Forum in Geneva. Ms. Murgier was instrumental in finalizing a report on the role of the International Criminal Court in the Central African Republic. She also helped organize the September 2018 conference on women's incarceration in Bogota, Colombia. The Vance Center thanks Ms. Murgier for her support and her contribution to the Human Rights Program over the past months and wishes her well in her future endeavors.
The Vance Center recently welcomed Maria Paula Gonzalez as a summer intern in the Vance Center's Environment Program. Ms. Gonzales practices environmental law at Macías Gómez & Asociados in Bogota, Colombia, and will receive an LL.M. from Vermont Law School upon completion of her internship. Ms. Gonzalez will be assisting the Environment Program with research on the developing jurisprudence on the rights of nature and the rights of rivers, and plastic pollution in the world's oceans.