Vance Center Organizes Workshop on Business and Human Rights in Haiti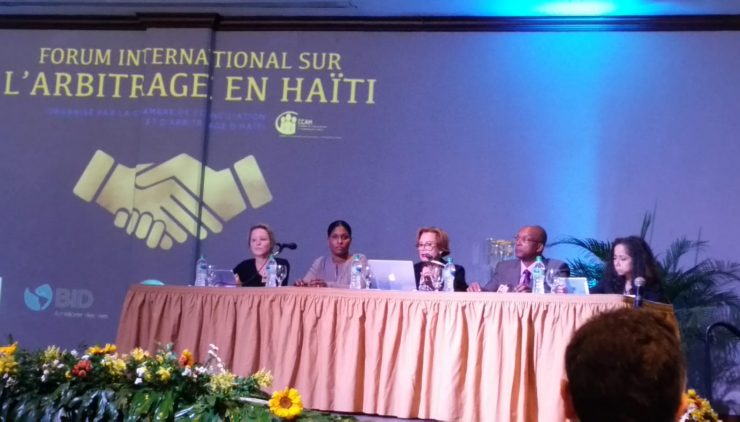 Vance Center Programs Director Marie-Claude Jean-Baptiste and Romain Zamour of Debevoise & Plimpton LLP led a workshop in Port-au-Prince, Haiti on "Business and Human Rights: A Role for Alternative Dispute Resolution Mechanisms?" The workshop was part of the first International Forum on Arbitration in Haiti hosted by the Chamber for Conciliation and Arbitration of Haiti.
Jean-Baptiste began with an overview of the evolution of the concept of business and human rights and the trend towards greater regulation of corporate conduct threatening human rights. She described the origins of the United Nations Guiding Principles on Business and Human Rights, developed by Special Representative of the U.N. Secretary General John Ruggie and endorsed by the United Nations Human Rights Council in 2011.
Jean-Baptiste then presented the first two of the Guiding Principles' three pillars: the State's obligation to protect its citizens against human rights abuses, including by third parties; and the corporate responsibility to protect human rights. She introduced participants to ways to shape the business and human rights agenda, including by interacting with the U.N. Working Group on Business and Human Rights, and discussed the ongoing negotiations towards a binding treaty on business and human rights.
Zamour began by presenting the third pillar: the victims' right to an effective remedy in cases of human rights abuses caused by business activities. He mentioned both judicial and non-judicial mechanisms, including "operational-level grievance mechanisms". He then analyzed the Guiding Principles' legal status, noting that, although voluntary and aspirational, they enjoy growing international recognition, as business voluntarily adopt them, litigants and courts rely on them, and States adopt legislation to further them. Finally, Zamour discussed the potential role of alternative dispute resolution mechanisms, in particular international arbitration, in solving business and human rights disputes, focusing on the example of the recently-settled, arbitrations under the Bangladesh Accord on Fire and Building Safety.
More than 20 participants attended the two-hour workshop, including lawyers, judges, and representatives of the business sector. In a lively discussion after the presentations, participants raised questions on the application of the UN Guiding Principles to the Haitian context.
This workshop comes at a critical time for Haiti. Recent governments have engaged in an aggressive campaign to attract local and foreign investments under a "Haiti is open for business" campaign. The country as a result has seen a significant increase in investments especially in the tourism, construction, and mining sectors which are particularly susceptible to human rights violations if not managed properly. There is little recourse in the formal judicial system for those who may suffer harm as a result of these activities: the system faces a significant backlog; judges and prosecutors do not have adequate training to handle these sorts of disputes; and relevant laws, which have not been updated, are ill-suited to resolving such disputes. Alternative dispute resolution mechanisms, including arbitration, may be the only viable route for those seeking resolution and reparations for harms caused by business activity.
The workshop represents part of a larger effort by Haitians, with the support of partners like the Vance Center, to improve access to justice and the rule of law in Haiti, so that economic development does not come at the expense of human rights and social cohesion.
The Vance Center's Human Right and Access to Justice Program has a special focus on business and human rights, working with organizations in the United States and around the world. It hosted last month the New York City Bar Association's first continuing legal education program on business and human rights, "Business and Human Rights – What Do They Mean for Lawyers?" In 2016, it co-sponsored a conference "Business and the Bar: Lawyers, Rights and Remedies" in Geneva on the Third Pillar of the UNGPs, access to remedies, addressing the role that lawyers, law firms, bar associations, and companies can play in ensuring access to remedies when people are harmed by business activities. The Vance Center is also a part of a working group examining how the New York City Bar Association can engage more effectively with the UN Guiding Principles.