Vance Center Supports Global Pact for the Environment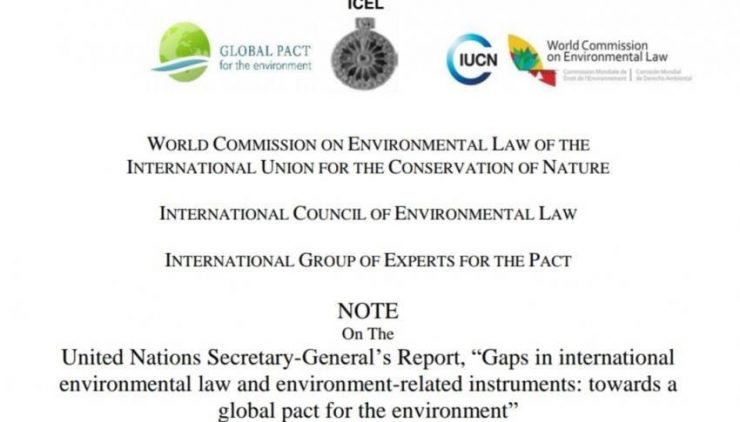 The Vance Center throughout 2018 has assisted the World Commission on Environmental Law (WCEL) of the International Union for the Conservation of Nature in its efforts to promote the Draft Global Pact for the Environment, a proposed global agreement on fundamental principles of environmental law. In conjunction with a side event at the United Nations, WCEL and others released the NOTE on the United Nations Secretary-General's Report, "Gaps in international environmental law and environment-related instruments: towards a global pact for the environment.
In a significant development for the Global Pact, the UN General Assembly mandated preparation of the first-ever report issued by the Secretary- General concerning international environmental law. The report is a major contribution to the field and the future of the Global Pact, and recommends steps to strengthen how nations protect the climate and solve problems of pollution and the  safeguarding of biodiversity. The NOTE offers an independent assessment of the report, including its analysis of regulatory and governance gaps. It also includes critical legal tools that have been made publicly available for the 2019 UN consultation on international environmental law in Nairobi, Kenya.
WCEL prepared these comprehensive legal tools with assistance from the Vance Center Environment Program and partner law firm White & Case to demonstrate the consensus on principles and objectives in international environmental law. Known as the "ICEL charts", they set forth the correspondence between the Draft Global Pact and the UN Sustainable Development Goals, general principles of international soft law, multilateral environmental agreements, and various regional environmental agreements. They cover the African Union (AU), the Association of South East Asian States (ASEAN), the Caribbean Community (CARICOM), China, the Commonwealth Independent States (CIS), the League of Arab States (Arab League), and the Pacific Island Forum, among others.
To access the ICEL charts, click here.
WCEL anticipates that in coming months these tools will play a vital role in the consultations on the Global Pact, and aid the goal of reaching global consensus on the codification and progressive development of core principles of international environmental law in order to protect the Earth's environment.