Vance Center to Convene Conference Trifecta in Mexico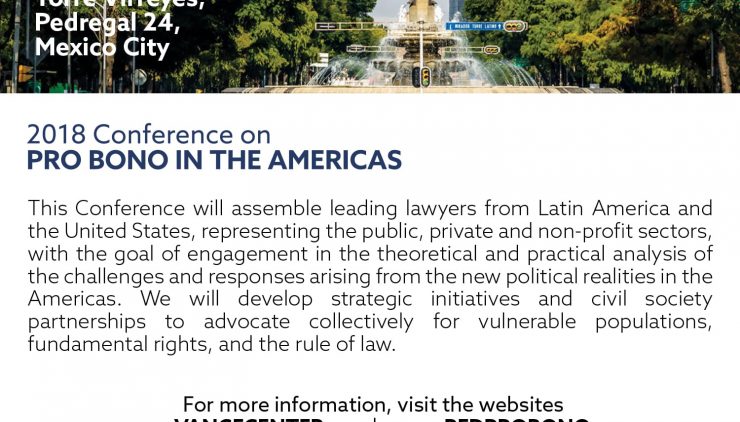 The Vance Center and the Pro Bono Network of the Americas are co-sponsoring the Network's first annual Latin America Pro Bono Conference in Mexico City on March 12-13.  The Fundacion de la Barra Mexicana, Appleseed Mexico, and Centro Mexicano Pro Bono are co-hosting the conference.
Leaders from the law firm, nonprofit, and academic sectors will explore strategies to strengthen pro bono and other collaboration on support of the rule of law and human rights amidst the Western Hemisphere's current tumultuous times. Panels and workshops will include (1) protecting vulnerable populations; (2) combatting corruption and encouraging ethical practice; (3) promoting human rights in business transactions; and (4) extraordinary mechanisms of accountability. Panelists include former U.S. Ambassador to Uruguay Julissa Reynoso and former board chair of Transparency International Jose Ugaz.
Members of the Vance Center's Lawyers Council for Civil and Economic Rights will participate in the pro bono conference and then meet separately to move forward with the Council's anti-corruption and civil-society-strengthening agenda. The leadership of the Pro Bono Network of the Americas also will meet to strategize about bolstering current operations and expanding to new countries in the region.
Just after the pro bono conference, the international steering committee of the Vance Center's Women in the Profession program will hold a day-long seminar and networking event for women attorneys throughout the Americas, also in Mexico City, hosted by Honeywell.
Click here to register and see the conference agenda for the pro bono conference. Registration for the WIP event will open shortly.