Vance Center's Africa Program Team Hosts USAID Power Africa Team
(From left: Alexander Papachristou, David Stonehill, Belinda Ongonga, Njabulo Hlophe, Adaobi Egboka, Ejemen Ofoman, Lotanna Nwodo, Jonatahn Ng)
The Vance Center hosted two representatives of Power Africa, David Stonehill, the Enabling Environment Team Leader, and Jonathan Ng, Attorney Advisor. Power Africa is a whole-of-U.S. Government initiative to double electricity access across sub-Saharan Africa and is coordinated by the U.S. Agency for International Development (USAID) in Washington D.C. The Vance Center and Power Africa have teamed up to launch the Vance Center Power Africa Legal Fellows Program, which expands upon the existing Vance Center Africa Legal Fellows Program.
This new program specifically focuses on bringing leading lawyers practicing energy law in African law firms to work for up to one year in U.S. law firms where the Power Africa Legal Fellows can gain experience and contacts in international energy law.  This new program advances a key pillar of Power Africa's strategy to strengthen the overall enabling environment of the African energy sector through policy and regulatory reforms. This also includes helping to fill critical skills gaps such as developing local legal support to help negotiate and close energy transactions.
The Power Africa team first met with Vance Center staff, including Africa Program Manager Adaobi Egboka, and then with the Power Africa Legal Fellows, Lotanna Nwodo and Ejemen Ofoman, along with other Africa Legal Fellows, Njabulo Hlophe and Belinda Ongonga. They discussed the expected activities and events in which the fellows will participate during the year, including a planned visit to Washington, D.C. in January 2019.
The Power Africa team and the fellows then met at Sullivan & Cromwell (S&C) with Inosi Nyatta, S&C partner and chair of the Vance Center Africa Sub-Committee, and Rajen Ranchhoojee, partner at Orrick, Herrington & Sutcliffe.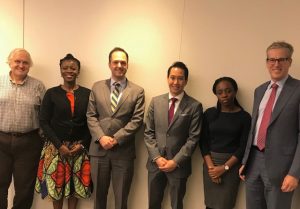 (From left: Michael Volkovitsch, David Stonehill, Jonathan Ng, Ejemen Ofoman, Edwin S. Maynard)
They then met with Ted Maynard, partner at Paul Weiss and Chair of the Vance Center Committee, and Michael Volkovitsch, senior counsel at Cleary Gottlieb Steen & Hamilton and also a member of the Vance Committee and heard their perspectives about the need for and impact of the Power Africa Legal Fellows Program on strengthening the overall goals of the Vance Center Africa Legal Fellows Program.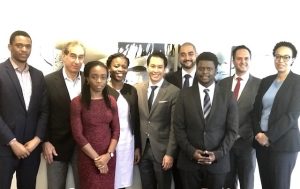 (From left: Lotanna Nwodo, Alexander Papachristou, Ejemen Ofoman, Adaobi Egboka, Jonathan Ng, Rajen Ranchhoojee , Njabulo Hlophe, David Stonehill, Inosi Nyatta)