Welcome to the Vance Center eNotes, where you can read about our organization's latest news and developments.

The Vance Center Supports Women's Rights in the Global South in the #MeToo Era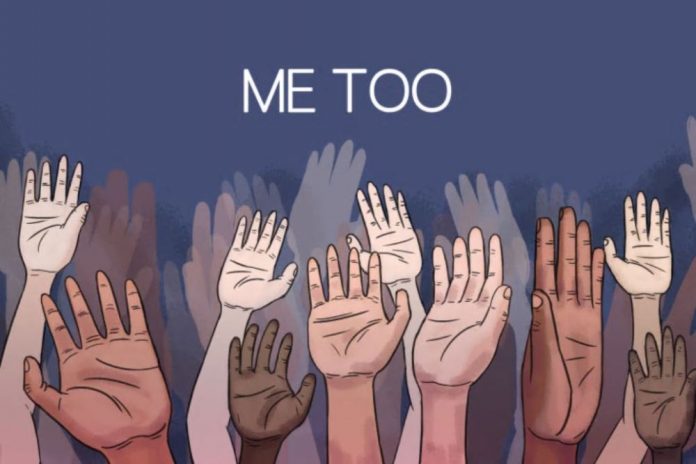 Photo Credit: The Clyde Fitch Report
With the recent #MeToo and #TimesUp movements, courageous women all over the world are speaking out about their experiences with sexual assault and harassment and spearheading initiatives to bring about accountability and change. Celebrities from the world of politics, film, music, and sports have stepped up as allies to magnify the voices of these women and encourage positive change. While these movements have garnered significant press and set a positive example in the West, it is important to remember the women who are notably absent from this conversation, including those in the Global South.
The Vance Center has been a long-standing ally of, and advocate for, vulnerable women all over the world, particularly those living in challenging environments. A critical element of this work is focusing on women in marginalized communities, seeking to even the playing field for those who face increased systemic challenges in realizing the rights guaranteed to them under international law. The Vance Center's long-standing partnerships on women's rights cut across several issues and regions.
In Brazil, following the brutal gang rape of a 16-year-old in a Rio de Janeiro favela, the Vance Center entered into a multi-year partnership with Equality Now and local civil society organizations in Brazil, including pro bono law firms, in a campaign to ensure that all systems and laws work to protect and promote the rights of women and girls. The campaign seeks to secure access to justice both in law and in practice for survivors of sexual violence and hold authorities accountable. To do so, the Vance Center and its partners are studying the domestic legal framework, monitoring case developments and legal reform initiatives, and leveraging the U.N. Sustainable Development Goals platform to pursue legal advocacy.
In Colombia, the Vance Center has focused on amplifying the voices of women in the country's transitional justice process, working for more than three years with victims' organizations, human rights NGOs, and the United Nations in support of the peace process. The work has focused on the most vulnerable, including Afro-Colombian women, who have been disproportionately affected by Colombia's long civil war, supporting leading Afro-Colombian women's organizations to build capacity to engage effectively in the transitional justice process and make their voices heard in key decisions regarding accountability for crimes committed during the conflict and reparations for victims. The work also seeks to tackle the taboo and lack of knowledge surrounding conflict-related sexual violence. The Vance Center is empowering women and justice actors to seek accountability for conflict-related sex crimes.
In Nicaragua, the Vance Center is supporting indigenous Miskito women, a particularly marginalized group facing the highest rates of violence against women and girls in the country. The project aims to create tools to educate these women about their rights and the means to access the justice system when those rights are violated. In partnership with leaders from the Miskito community, the Vance Center is making the tools available in the local language so that Miskito women can have meaningful access.
Another important element of the women's rights initiative is recognizing how some issues disproportionately affect women. For a number of years now, the Vance Center has worked at the intersection of women's issues and incarceration, first with research on the criminalization of pregnant women and then later partnering with local organizations to address women's incarceration challenges in Jamaica. This has led to the organizing of an international conference on women's imprisonment in the context of the United Nations framework on incarceration of women, the "Bangkok Rules". This conference -- "Women in Prison: Evidence, Advocacy and Reform", taking place in Colombia in September 2018 -- will bring together practitioners, including formerly incarcerated women, from all over the world to share experiences and engage in capacity building. The goal is to empower those working on this issue to improve the situation for women in their countries prison systems.
The recent tidal swell around accountability for violence against women through the #MeToo movement is a welcome development. However, we all must remember the women who face challenges that exclude them from trends and hashtag-based conversations. The Vance Center has for years been a strong ally for these groups of women, with long-standing projects emphasizing meeting the needs of marginalized women and recognizing challenges that disproportionately affect them. This work will continue to close the impunity gap for vulnerable women around the globe during the #MeToo movement, and beyond it.

Vance Center Environment Program Assists Indigenous Community in Ecuador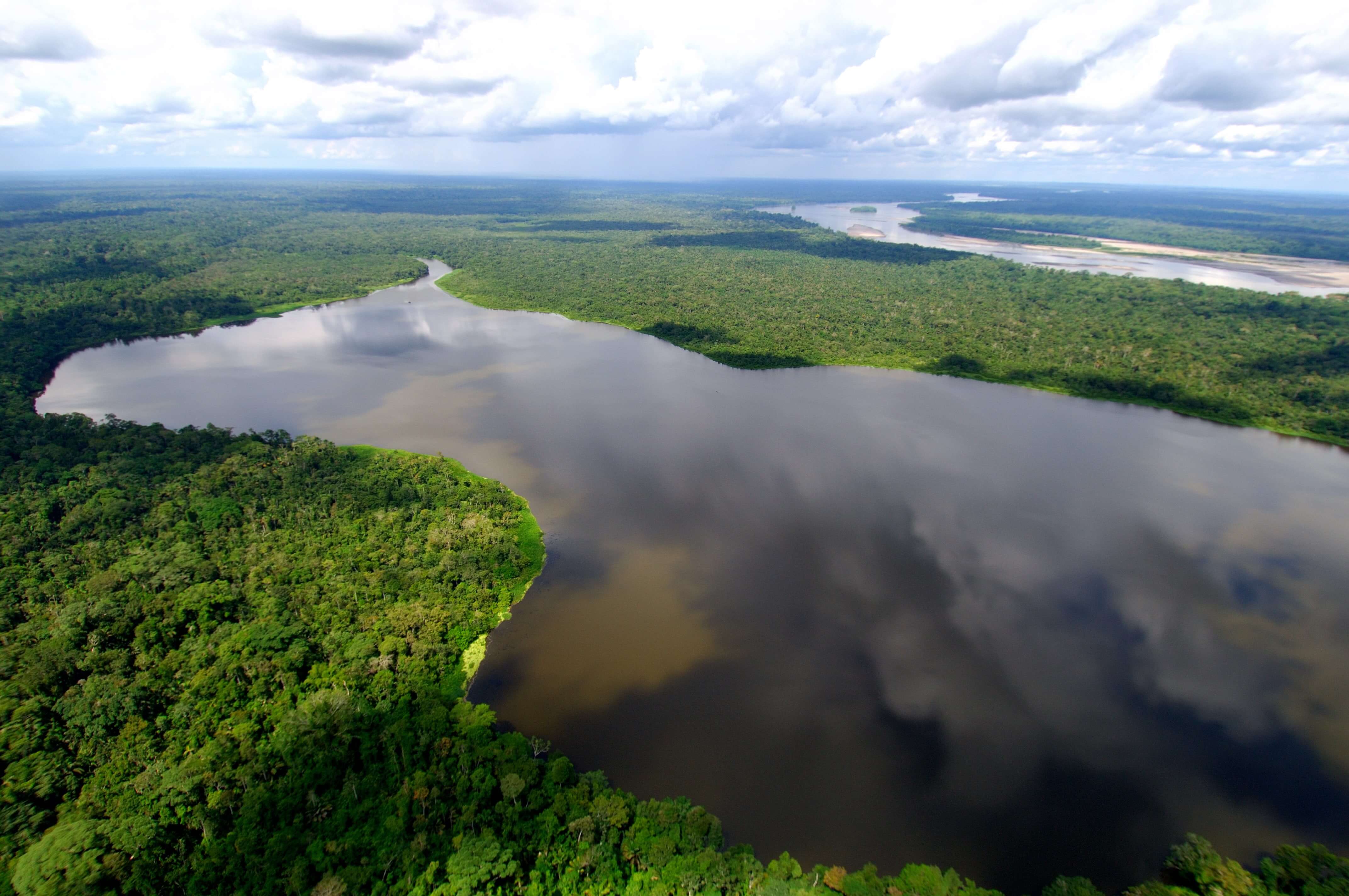 Photo Credit:

LeoSanchez2011
The Environment Program is assisting a Huaorani indigenous community in Ecuador to help understand how Ecuador's laws governing endangered species interact with the Ecuadorian Criminal Code and the rights of indigenous peoples. The Huaorani (also spelled Waorani or Waodani) are native Ameridian hunters and gatherers who have lived in the Amazon Rainforest since before written history. Their ancestral lands span some 20,000 square kilometers, and include the area now known as Yasuni National Park and Biosphere Reserve, an area of extraordinary biodiversity and an important refuge for endangered species. The Huaorani are extremely knowledgeable about the rainforest and its plant and animal life. Until oil exploitation began in the Ecuadorian Amazonia, the group had no contact with the outside world, and lived in voluntary isolation in the forest.
As part of the indigenous community's traditional culture, turtle (charapa) eggs are collected from the Shirupano beaches as a community treat, often offered at weddings and celebrations. The charapa is a freshwater turtle that lives in rivers, marshes, lakes and shallow lagoons in Amazonia and Orinoquía. Charapa-based dishes are highly prized and considered exotic. In view of their protein and fat content, the turtles are a fundamental part of the traditional diet of Amazonian people. The oil extracted from the turtle's eggs is famous for its medicinal and cosmetic properties. River turtles, however, are vulnerable due to the scarcity of sandbanks for laying eggs and the high mortality of nestlings. The yellow-spotted river turtle (P. unifilis) is listed as Vulnerable by the IUCN RedList, and the South American river turtle (P. expansa) is listed as Least Concern, by Conservation Dependent. For both species, the main threats to conservation are increasing exploitation and marketing of their eggs for human consumption, as well as capture and sale of adult individuals.
In light of their traditional connection with the turtles and the inclusion of the species in the IUCN RedList, the indigenous community seeks a better understanding of their rights and protections under the Ecuadorian Constitution and Ecuadorian law. Coronel y Perez Abogados has provided pro bono assistance to explain how Ecuador implements international law commitments to protect endangered species, such as the Convention on International Trade in Endangered Species of Wild Fauna and Flora (CITES). The firm also has analyzed the Criminal Code in Ecuador, explaining its potential application to environmental crimes as they concern endangered species and other activities relating to wild flora and fauna, including hunting, capturing, fishing or any other illegal action where a plant or animal specimen is removed from its natural habitat.

Vance Center Hosts Colombian Pro Bono Lawyer and Coordinator of the Year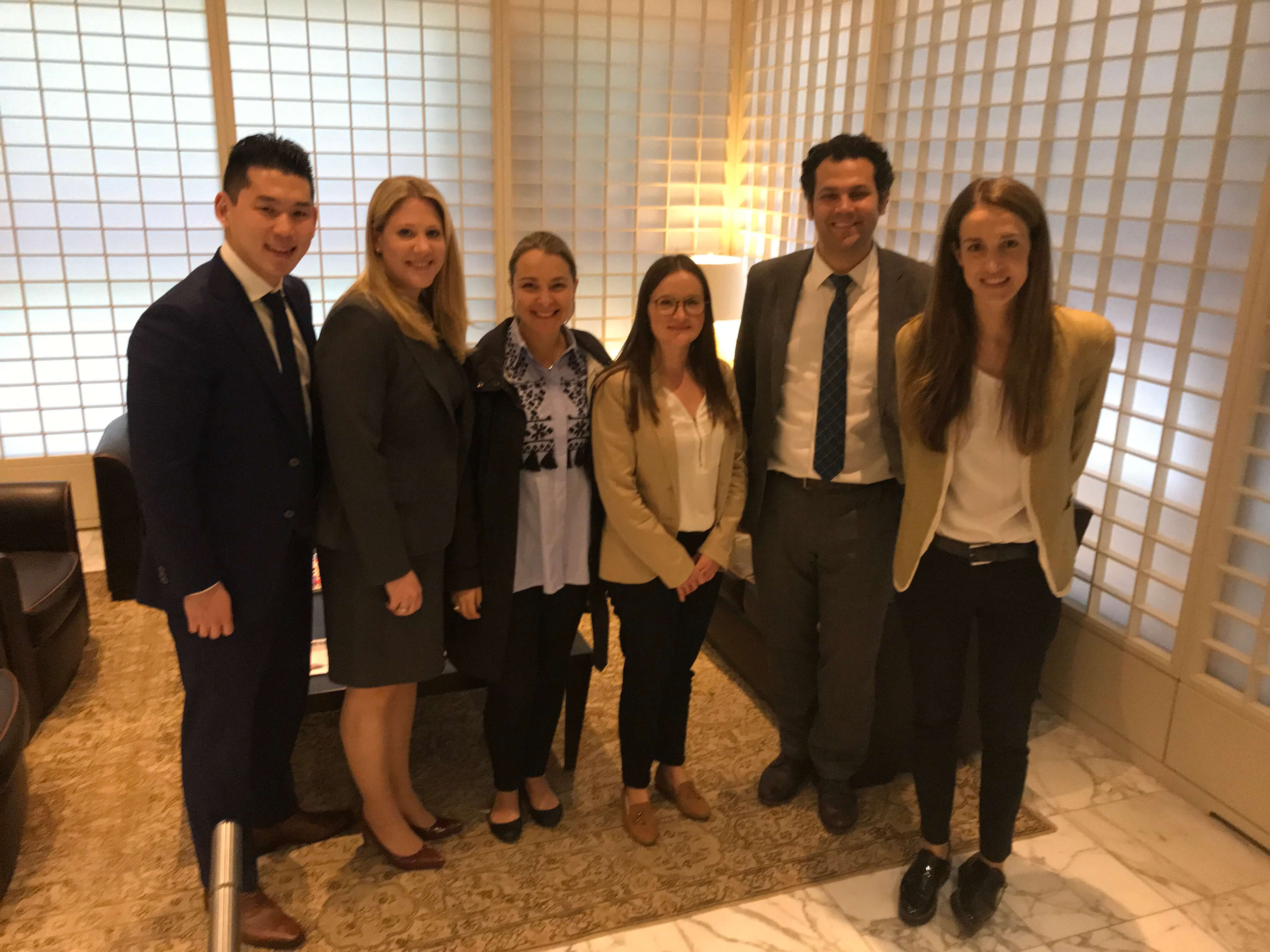 Photo Credit:Clifford Chance
The Vance Center hosted Marcela Garcia Ciro and Natalia Marquez Arboleda, respectively Colombian "Pro Bono Lawyer of the Year" and the "Pro Bono Coordinator of the Year" as recognized by Fundacion Pro Bono Colombia and the Colombian National Business Association. These sponsors annually award attorneys who excel in the management of pro bono projects on behalf of vulnerable communities a trip to New York to meet representatives of the Vance Center, law firms, and nonprofit organizations to learn about their pro bono practices.
García, a tax lawyer at CMS Rodriguez Azuero Contexto Legal, won recognition for projects like the registration of music schools in Uraba, a region highly affected by Colombia's decades-long armed conflict, and the incorporation of an LGBTI-rights organization focusing on parents of LGBTI people.
Márquez, pro bono coordinator at Uribe Henao Abogados, won recognition for encouraging her firm to take on pro bono work: 14 cases in only one year, which resulted in an overall rating of 4.9 out of 5.
During their visit, the awardees got to meet with the Vance Center staff, the Lawyers Alliance for New York, Start Small Think Big, and Vance Center Committee firms Clifford Chance and Hogan Lovells. Topics included: promoting pro bono work; maximizing impact; and expanding the pro bono culture outside of the main cities, as both Marcela and Natalia are striving to develop pro bono work in Medellin, where their firms are based.
The visiting lawyers described their experience in New York as encouraging and inspirational. "The pro bono world is immense and it is gratifying to see how, in a city like New York, lawyers are willing to help others without expecting anything in return. As the Pro Bono Coordinator of a big law firm, I have a great responsibility to encourage lawyers to take on pro bono cases as a way to express gratitude for the opportunities that we have," said Natalia. The visit allowed Marcela "to know better the wonderful work that international organizations are doing in the pro bono arena, and to know the good practices and the innovative initiatives that have been carried out, for example, by start-ups and social enterprises. These innovative ideas will be of great impact for the pro bono projects that are being developed in our country and especially for the pro bono projects in Medellín."
The host organizations also enjoyed the opportunity to converse about the emerging world of pro bono services abroad. As Ebony Johnson, Start Small Think Big Legal Program Coordinator, shared with us, "This insightful dialogue opened our eyes to some of the intricacies and possibilities impacting the pro bono sector in Colombia and Spain. With dedicated advocates such as [Outgoing Vance Center director of pro bono partnerships] Leire [Larracoechea], Marcela and Natalia, we are very excited to see what happens with pro bono campaigns in both of these countries!"
Vance Center Thanks Larracoechea and Welcomes Escobedo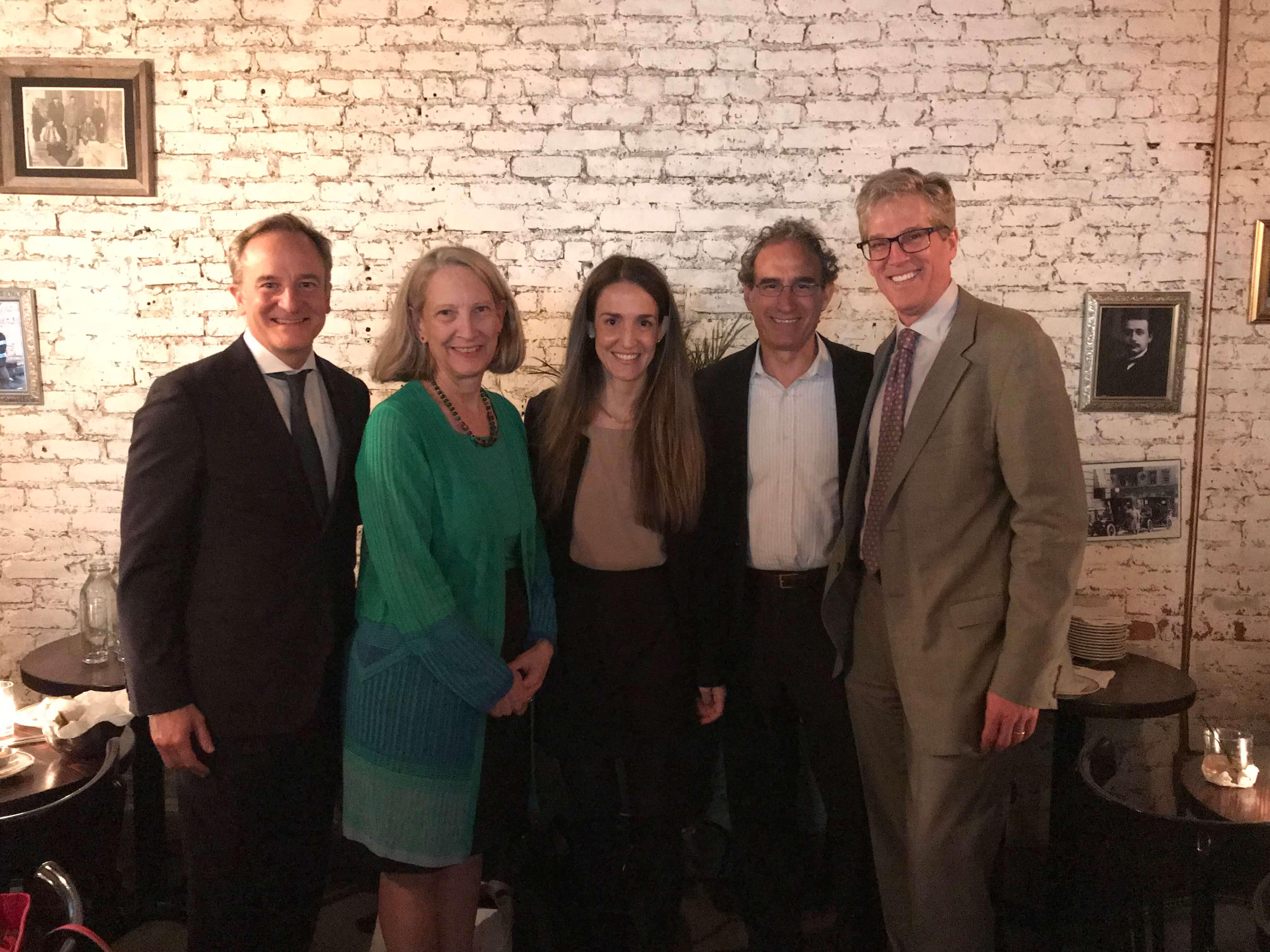 Leire Larracoechea (center) with Vance Center Committee Members (on left) Todd Crider and Antonia Stolper and Ted Maynard (far right)
Photo Credit: Alexandra Zetes
The Vance Center's director of pro bono partnerships works at the nexus of the organization's key programs, linking thematic, substantive pro bono representation with the support of pro bono practice development around the world. Engaging law firms to act as co-counsel with the Vance Center's in-house pro bono lawyers ensures top-notch service for NGO clients, while also giving law firms opportunities to put to use the techniques of pro bono work.
Leire Larracoechea who championed this role for three years has returned to Spain to continue the effort that she began at the Vance Center to develop a first-ever national pro bono clearinghouse in her home country. Her most notable achievement here was the institutionalization of the Pro Bono Network of the Americas, giving the collaboration of 14 pro bono clearinghouses structure and strength. This culminated in the inaugural conference of the network this March in Mexico City. However, Larracoechea as importantly formalized and refined the regular engagement of law firms on Vance Center pro bono projects: 81 projects on behalf of 47 clients, involving 333 lawyers from 97 law firms in 32 countries during 2017.
Jorge Escobedo has joined the Vance Center to continue Larracoechea's work. Most recently at Good Shepard Services and previously at Northern Manhattan Improvement Corporation, Escobedo participated in and led vital direct service delivery to needy New Yorkers. He earlier learned the ropes of pro bono practice management as Pro Bono Specialist at Shearman & Sterling while earning a master's degree in human rights at Columbia University.