Welcome to the Vance Center eNotes, where you can read about our organization's latest news and developments.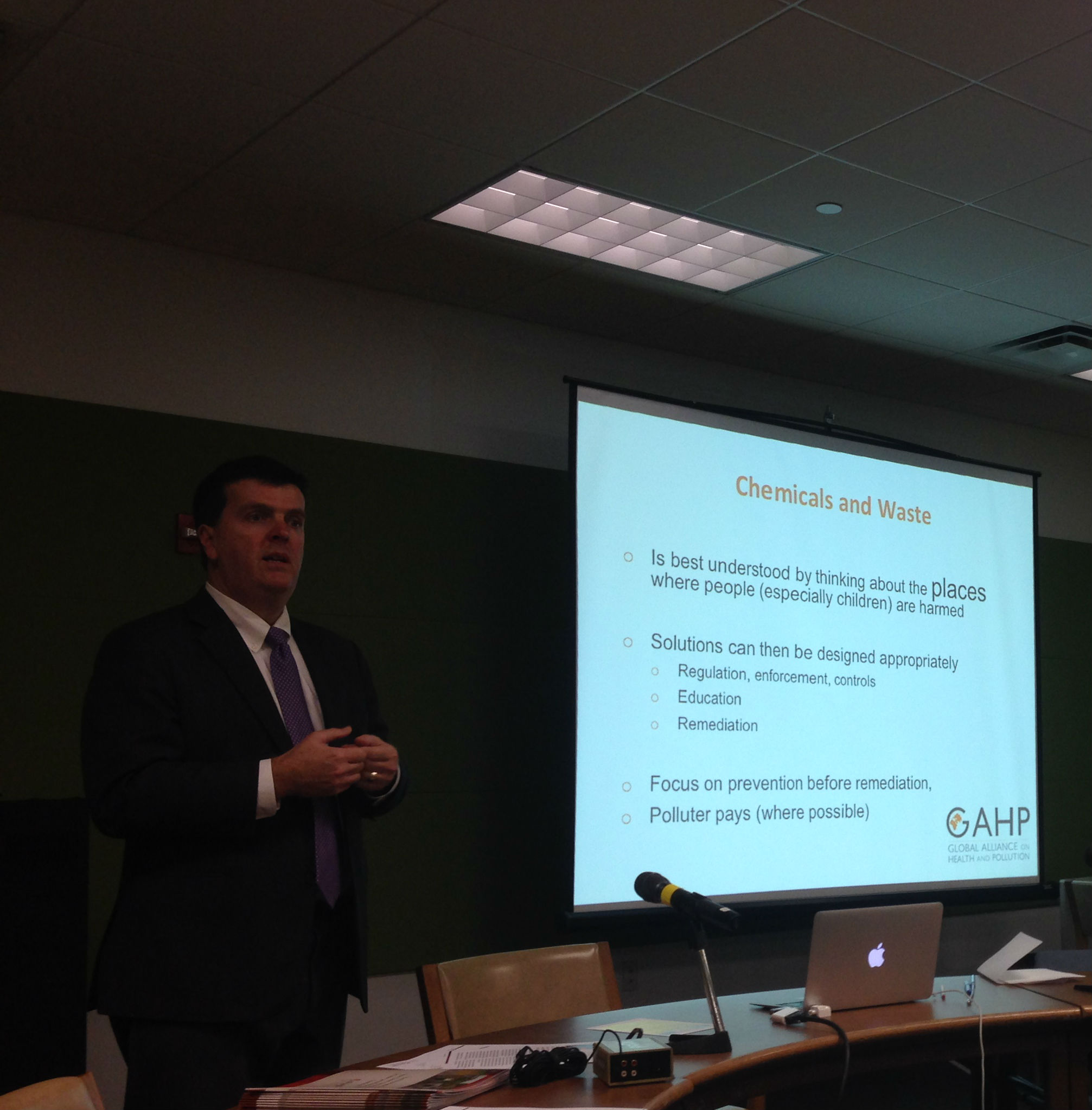 When the UN General Assembly Open Working Group on Sustainable Development held its seventh session on January 6-10, Vance Center Environment Program staff attorney Clea Bowdery participated in a side event organized by the Global Alliance on Health and Pollution ("GAHP").  The side event was entitled "Reducing the Impact of Chemicals, Wastes, and Toxic Pollution on Global Public Health and the Environment for a Sustainable Future" and promoted consideration in the post-2015 UN Sustainable Development agenda of the global public health impacts from human exposure to toxic substances.
Ms. Bowdery's presentation explained the importance of national regulatory frameworks in addressing these problems. As an example of GAHP's role as a resource for practical guidance and capacity-building materials for governments, she described a legal study that the Vance Center recently produced for GAHP regarding regulatory best practices for remediation of contaminated sites, based on pro bono legal analysis performed by law firms in seven Latin American nations and the United States.  Richard Fuller, president of the Blacksmith Institute, which serves as founding secretariat of GAHP, also presented at the side event, along with Dr. Jack Caravanos, Professor of Environmental Health at CUNY Hunter School of Public Health; and Jostein Nygard, Senior Environmental Specialist at the World Bank.
GAHP is a collaborative international body tasked with coordinating resources and activities on chemicals, wastes and toxic pollution in low- and middle-income countries.  Its mission is to help low- and middle-income countries, with regards to chemicals and wastes, clean up legacy toxic hotspots, prevent re-contamination, and guard against future pollution. The Vance Center serves as a GAHP member, as well as providing pro bono legal support to GAHP and the Blacksmith Institute.
(Photo: Richard Fuller, President of Blacksmith Institute makes his presentation. Credit: Rachael Vinyard, Blacksmith Institute)
Pro Bono Partners Visit Vance Center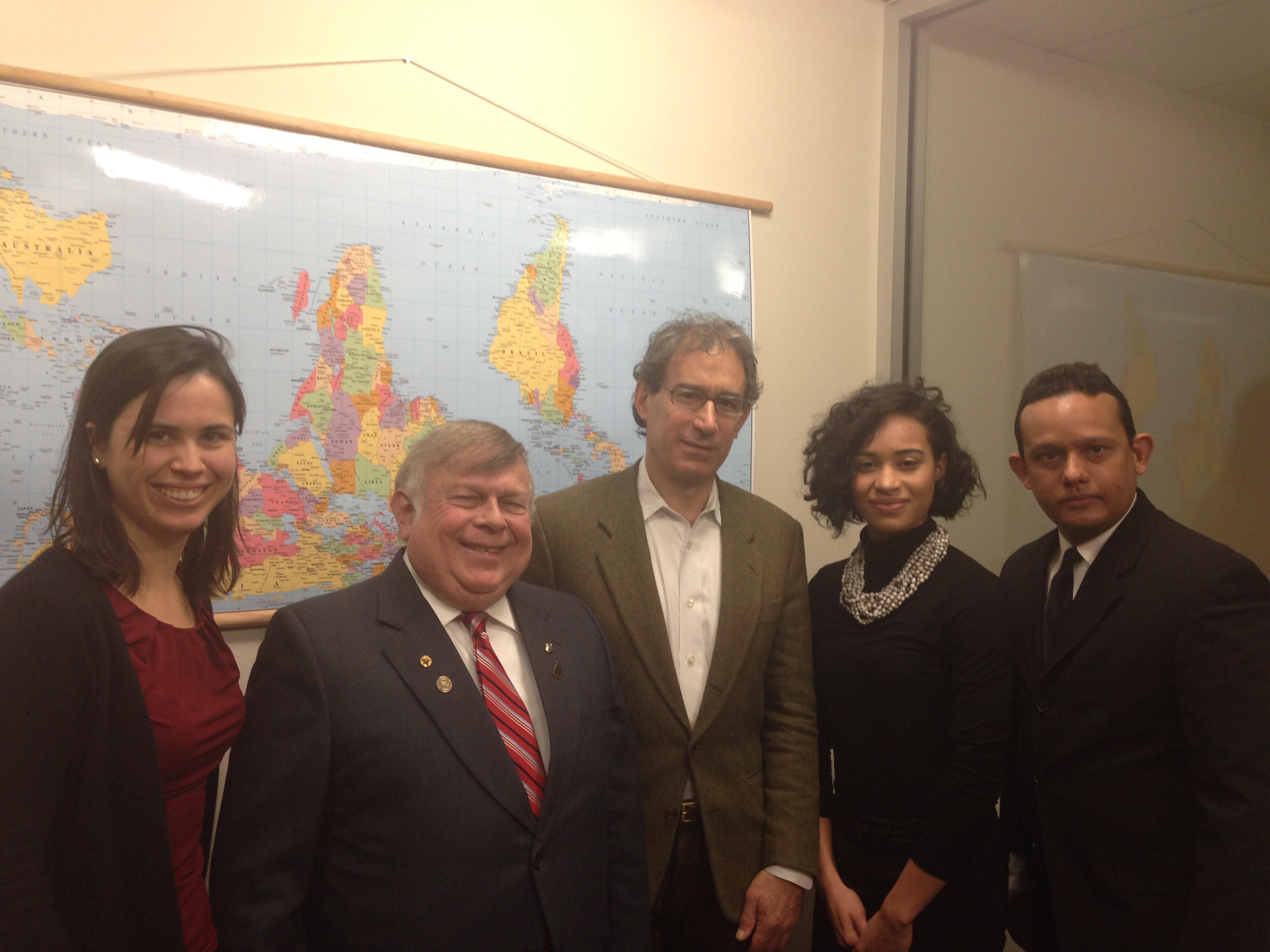 The Vance Center's founding initiative was promoting pro bono practice in Latin America, and this remains a key activity through the Program on Strengthening the Legal Profession. In 2013, the Vance Center organized meetings with the Alianza Pro Bono Peru and Ciudadanos al Dia in Lima to support their pro bono efforts, and participated in meetings in Caracas with Fundacion Pro Bono Chile and other Latin American partners to support the initiatives of ProVene and Venezuela Sin Limites.
In 2014, the Vance Center got an early start on promoting pro bono practice. On January 9th, Dr. Carlos C. Porcella Morales and Lic. Vaughn González, members of Fundación Pro Bono RD, Inc., a foundation in the Dominican Republic that promotes pro bono legal work in that country, met with the Vance Center staff to discuss the Fundacion's plans to encourage Dominican lawyers to provide pro bono legal service, as well as encourage public interest law clinics in law schools and otherwise enhance compliance with international human rights. The Fundacion is organizing a hemisphere-wide conference on these topics for later this year.
On January 14th and 15th, the Vance Center received leaders of the pro bono movement in Mexico. Gabriel Ortiz, president of La Barra Mexicana, Colegio de Abogados and a partner at Ortiz, Sainz y Erreguerena, S.C and Daniel del Río, president of Fundacion Barra Mexicana ("FBM") and a partner at Basham, Ringe y Correa, S.C. came to New York City to discuss the progress of institutionalizing pro bono legal work in Mexico and consider activities to be jointly undertaken by the Vance Center and FBM to support these efforts. During their visit, Mr. del Río and Mr. Ortiz made a presentation to the Vance Center Committee at its winter meeting and met with Carey R. Dunne and Bret Parker, President and Executive Director respectively of the New York City Bar Association and Vance Center Committee members, including Todd Crider (Simpson Thacher & Bartlett LLP), Taisa Markus (Paul Hastings LLP), Marc Rossell (Chadbourne & Parke LLP), Sabrena Silver (Linklaters LLP), and Antonia Stolper (Shearman & Sterling LLP), as well as the Vance Center staff.
(Photo: L-R Vance Center Director of Pro Bono Partnerships Dina Stukanow de Paterson, Dr. Carlos C. Porcella, Vance Center Executive Director Alexander Papachristou, Vance Center Administrative Assistant Janet Mejia, and Lic. Vaughn González)
The Vance Center Focuses on LGBTI Rights
The Vance Center has LGBTI rights central in its sights. Clients in a half dozen ongoing projects include a grassroots anti-homophobia clinic in Central America, an international NGO fighting to change laws in southern Africa that discriminate against LGBTI individuals, and an international governmental agency preparing a report on the status of hate crimes legislation. Four international law firms are leading research efforts that include local firms in South Africa and more than 20 countries in Latin America.
The Vance Center also is supporting the Alliance for Marriage in the Americas, a collaboration of U.S. and Latin American lawyers, led by Vance Center Committee member Hunter Carter of Arent Fox and Fundacion Pro Bono Chile board member Ciro Colombara of Rivadeneira Colombara Zegers. The Alliance is advocating and litigating for recognition of an international human right to equality, focusing currently in four Latin American countries.
The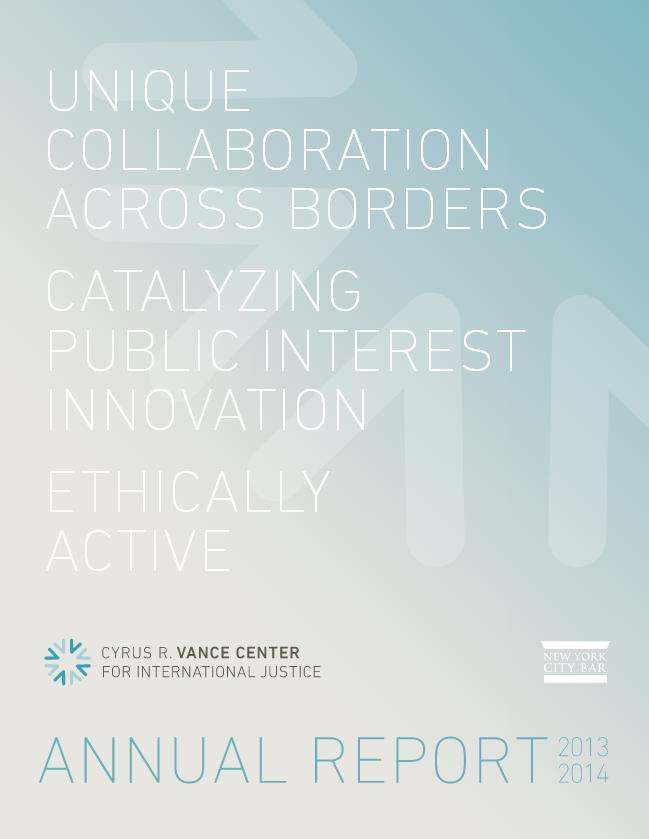 Vance Center Releases Annual Report
Hot off the press: the 2013-13 Vance Center annual report. Beautiful graphics. Many photos. Highlights of the year. First-ever published description of how we work, including our four thematic programs. Testimonials from clients. Examples of projects. Statistics on activities and finances. All that and more.
Please use this link or write to us at This e-mail address is being protected from spambots. You need JavaScript enabled to view it for a hard copy.