Welcome to the Vance Center eNotes, where you can read about our organization's latest news and developments.
Vance Center Supports Adding Fighting Pollution to UN Sustainable Development Goals
At the initiative of the Vance Center and the New York City Bar Association ("NYCBA") Committee on International Environmental Law,  NYCBA President Debra L. Raskin recently submitted a letter to the United Nations in support of efforts by the Global Alliance on Health and Pollution (GAHP) to ensure that reducing pollution of all types is included in the post-2015 Sustainable Development Goals. Since the post-2015 goals will influence sustainable development priorities and the allocation of funding and resources internationally, inclusion of a specific goal presents an important opportunity to reduce human exposure to harmful pollutants. More information about the prevalence of severe human health impacts from pollution is available in GAHP's position paper. The Bar Association joins 25 national governments, universities, NGOs, and UN agencies in supporting GAHP's position. The Vance Center is a member of GAHP.
(Photo Credit: Global Alliance on Health and Pollution)
Vance Center Participates in Colombian Forum
On June 12-13, Vance Center Director of Pro Bono Partnerships Dina Stukanow de Paterson participated in the forum "The Lawyer of the XXI Century: Transformations in Legal Education and Practice of Law" in Bogota, Colombia. She joined Paula Samper, President of the Board of Fundación Pro Bono Colombia, Sara Andrews of New Perimeter - DLA Piper; and Jaime Trujillo, President of the Legal Affairs Chambers of ANDI on a panel entitled, "The Defense of Public Interest as a Duty of all Society: Interactions of the Different Branches of Law." Ms. Stukanow discussed how the Vance Center works with law firms and other partners worldwide to provide pro bono legal support to non-governmental organizations and international human rights bodies.
Organized by Universidad del Rosario and Fundación Pro Bono Colombia, the forum sought to examine current trends in the teaching of law, analyze how law firms and law clinics can collaborate on pro bono initiatives, and consider the search for real and effective access to justice by different sectors of society.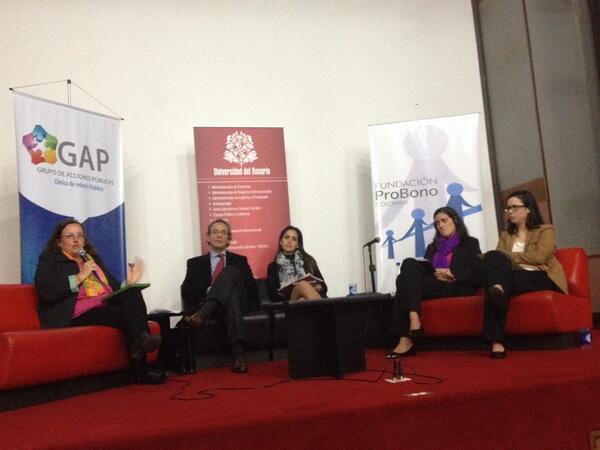 (For more photos from this event, please click here)

(Photo: "The Defense of Public Interest as a Duty of all Society: Interactions of the Different Branches of Law" Panel; Credit: Grupo Acciones Twitter)
Vance Center Targets Alleged Atrocities in Uganda
The Vance Center earlier this month received reports of human rights atrocities underway in Uganda. These involved allegations of torture, denial of access to legal counsel and medical care, and arbitrary deprivation of life. Vance Center staff researched the allegations, and joined with the New York City Bar Association ("NYCBA") Committees on African Affairs and International Human Rights to brief NYCBA President Debra L. Raskin.
Raskin wrote to Ugandan President Yoweri Museveni on June 27, calling on him "to exercise your authority and responsibility under Ugandan and international law immediately and fully to investigate these reports and ensure the cessation of all ongoing human rights violations and the prosecution under law of all individuals implicated in such violations, whether directly or indirectly."
See the letter here.
Vance Center Provides Supporters with Mid-Year Update
Many individuals, law firms, and public and private foundations provide the Vance Center with vital support.  Money certainly is not the only contribution.  More than 370 lawyers from more than 100 law firms in 34 countries give their time and expertise
to Vance Center projects.  This increases the lawyer power 50-fold on Vance Center projects.
The New York City Bar Association, of whose nonprofit affiliate the Vance Center is a program, gives essential administrative support, and the 30 members of the Vance Center Committee -- lawyers from firms, corporate legal departments and the public sector -- provide strategic guidance, as well as programmatic participation.  They, their partners and friends, and firms and companies, along with philanthropies like the Tinker Foundation and the Open Society Foundations, afford the essential monetary support.
The Vance Center greatly appreciates all this support.  Executive Director Alexander Papachristou recently wrote to all supporters with an update on Vance Center activities.
Vance Center Hosts Law Student Volunteers
The Vance Center is hosting two law student volunteers for the summer. Natalia Blanco, a student at Cardozo Law School, is currently participating in the Free Expression, Media and Information Program with various projects in Latin America and Africa. Adrian Perez, originally from Ecuador, is a student at the Universidad Carlos III de Madrid in Spain. He is participating in several projects with the Director or Pro Bono Partnerships and the Environment Program.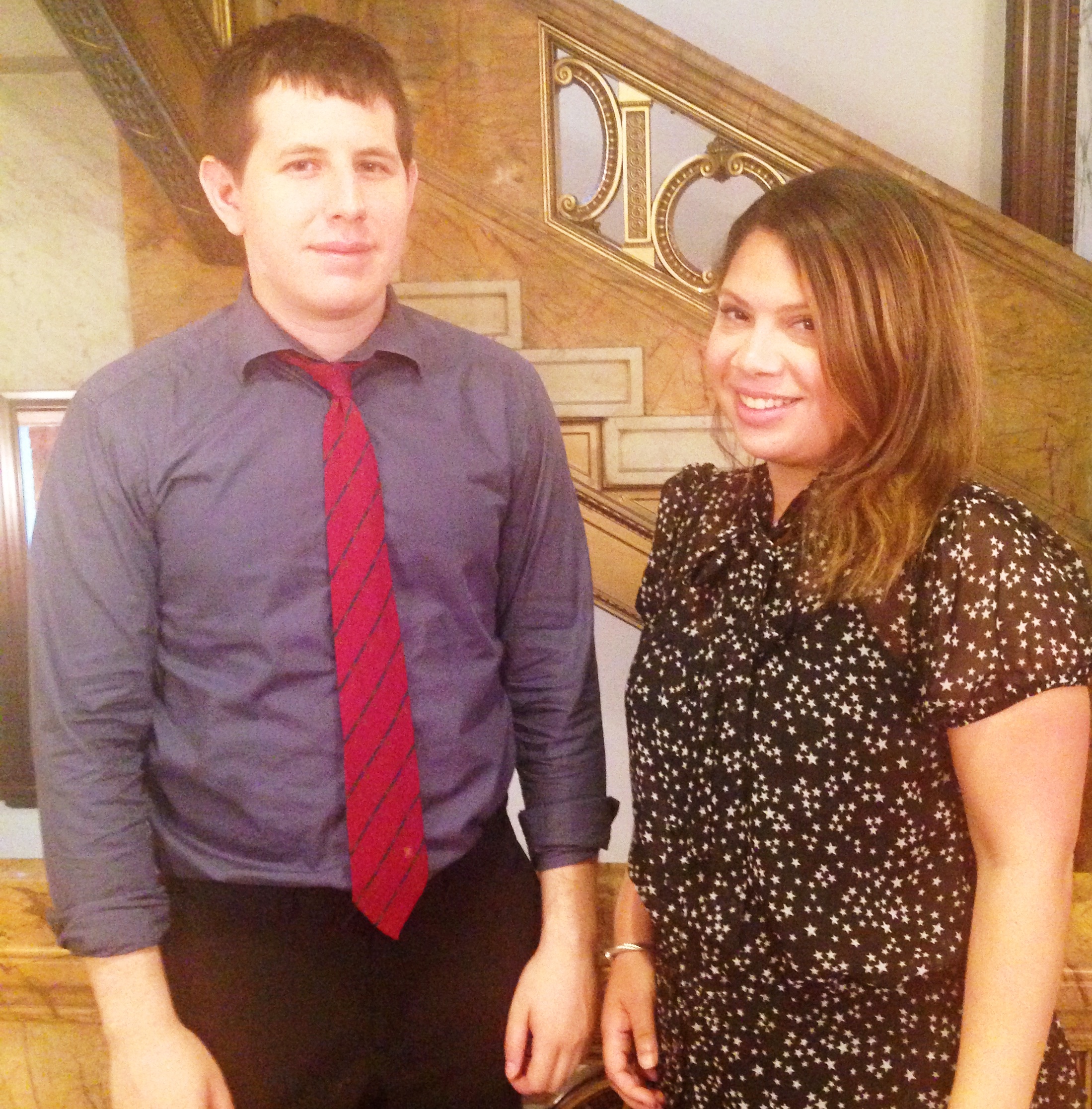 (Adrian Perez and Natalia Blanco)

The Vance Center also recently hosted Ana María Sánchez, of la Universidad del Rosario in Colombia and a former intern with Fundación Pro Bono Colombia, a Vance Center pro bono clearinghouse partner.  The Vance Center organized meetings with member law firms, as well as other New York-based organizations, for Ms. Sánchez to discuss their respective pro bono programs

.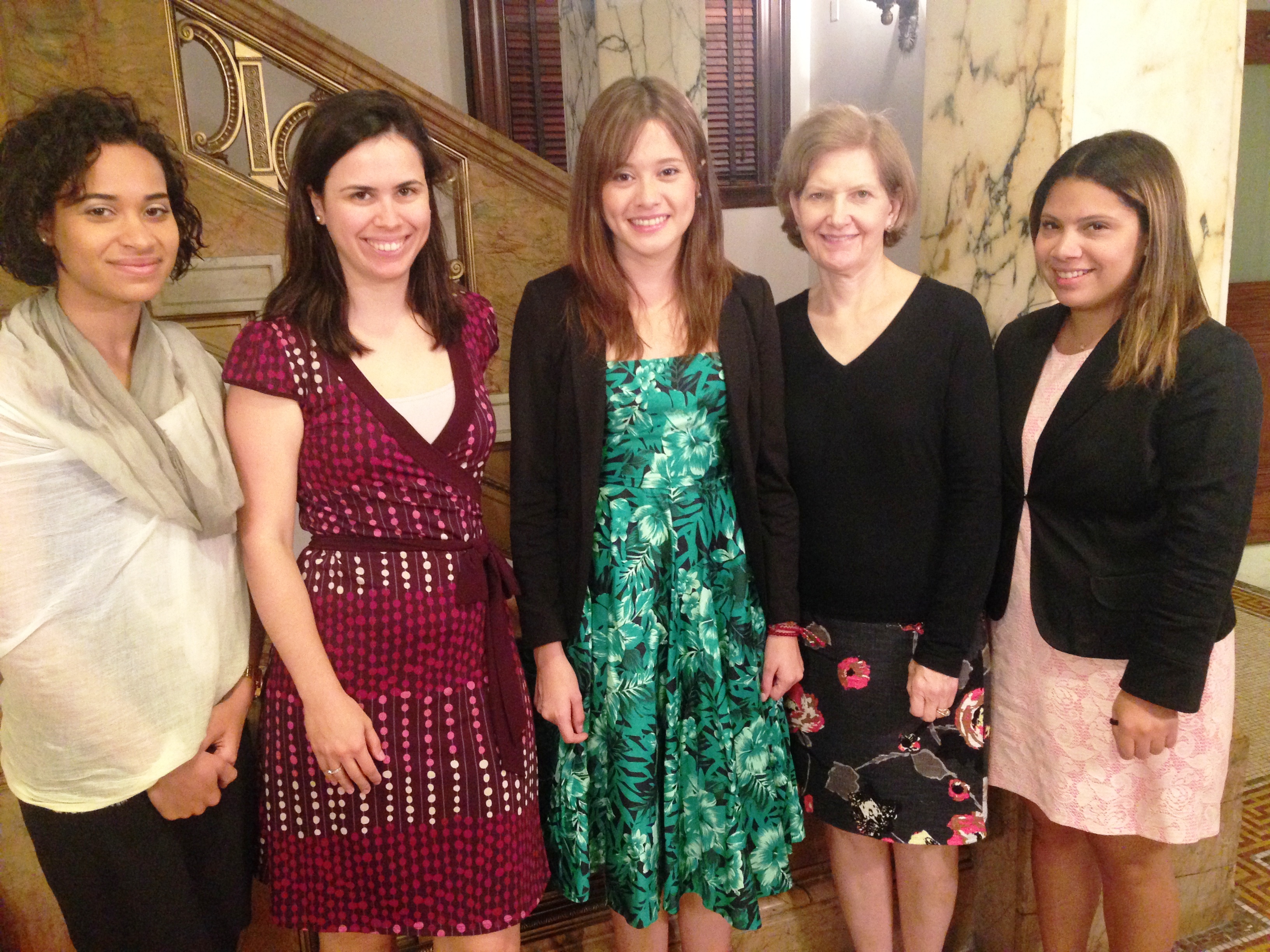 (L-R Vance Center Program Assistant Janet Mejia, Vance Center Director of Pro Bono Partnerships Dina Stukanow de Paterson, Ana María Sánchez, Vance Center Managing Director Elizabeth Millard and Vance Center Law Student Volunteer Natalia Blanco)