THE LEGACY OF CYRUS R. VANCE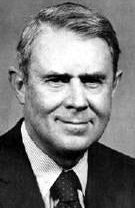 In his private practice and public service, Cyrus R. Vance (1917 - 2002) came to embody the global citizen-lawyer. Over his long career, he was repeatedly called upon to leave his New York City law firm for public service, where he served under Presidents Kennedy, Johnson, Nixon and Carter, including as Secretary of State from 1977 to 1980, and as a special United Nations envoy under Secretaries General Javier Pérez de Cuéllar and Boutros Boutros-Ghali. Due to his integrity, skills as a negotiator and commitment to the peaceful resolution of conflicts, Mr. Vance held a seat at the major negotiating tables in the latter half of the 20th century, including the Paris Peace Conference with North Vietnam; the Camp David negotiations between Israel and Egypt; and the negotiations with Panama regarding the transfer of the Panama Canal.
Mr. Vance's efforts to promote justice and the rule of law were not limited to the international sphere. As President of the Association of the Bar of the City of New York from 1974 to 1976 and through subsequent activities, he played a leading role in expanding the commitment of New York City lawyers and law firms to pro bono legal service as a means to expand access to justice and address unmet legal needs.
Click here to learn more on the legacy of Cyrus R. Vance.