Vance Center Co-Sponsors Diversity Event on the Power of General Counsels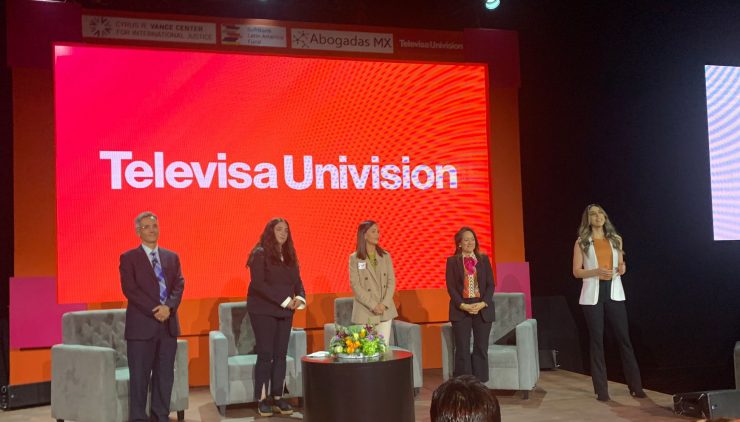 (Photo Credit Veronica Rodriguez)
The Vance Center's Women in the Profession (WIP) program co-hosted with TelevisaUnivision, AbogadasMX, and SoftBank Latin America Fund a hybrid event entitled "The Power of General Counsels in Promoting Diversity in the Legal Profession." The event highlighted the personal experiences of a panel of general counsels, as well as their views on how their positions can promote diversity and inclusion, specifically in law firms.
More than 140 people joined in person at the TelevisaUnivision studios in Mexico City. Martha Espinosa, TV Host at Televisa, gave opening remarks and introduced and moderated the panel. Pilar S. Ramos, General Counsel & Corporate Secretary at TelevisaUnivision, spoke about the importance of diversity within the newly formed company, which is developing new internal policies after the merger two months ago. Ramos responded to a question about the "power of the purse" and how that can influence law firms' diversity. She recounted seeking out diverse talent within firms and sharing with the relationship partners her observations and recommendations about including diverse lawyers on the deal teams.
Patricia Menéndez-Cambó, General Counsel at SoftBank Latin America Fund, SoftBank Opportunity Fund, and a Vance Center Committee member, expressed how influential a diverse company culture is and how a client can benefit from having diverse teams. She stressed that diversity should be present in all areas and at all levels of the organization. Menéndez-Cambó stated, "diversity impacts the city where the company is working; it's an ecosystem where everyone benefits."
Armando Martínez, Deputy General Counsel at TelevisaUnivision, spoke about some of the challenges that diversity and inclusion have faced based on the history of the region. He expressed how proud he was about the creation of "Abogadas que inspiran", a group of women attorneys within TelevisaUnivision who put forward diversity issues within the organization and and suggest internal company policies that can be adopted. Martínez said, "diversity is like the marketplace of ideas, a rationale for freedom of expression; this enriches us as a community and brings value to all of us."
Varinia Calleros, Legal Director at Pfizer and member of AbogadasMX, the Mexican WIP chapter, said, "Innovation could not happen without diverse teams." Calleros emphasized how measuring metrics within Pfizer has been essential to show diversity within the company and to create a culture of diversity; she noted that most of the senior leadership is female.
The event ended with closing remarks by Ms. Espinosa, and a tour of the studios.