Access to Justice Practicum Gains First Cohort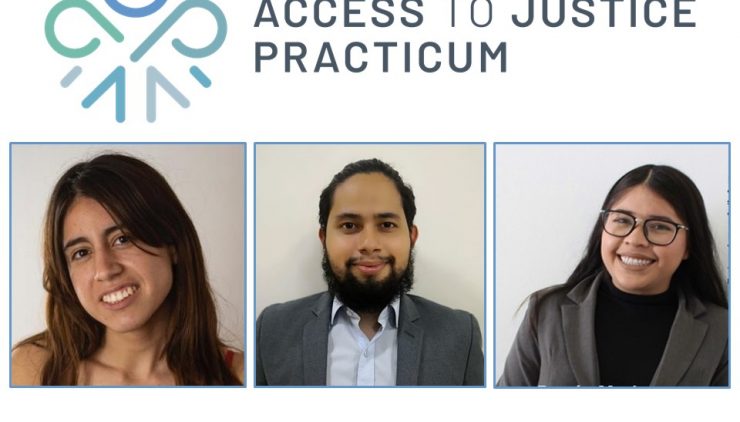 (From left: Elisa Correa, Andres Camilo Garay Nuncira, Dayan Mariana Diaz Vazquez)
The Vance Center and Pro Bono Network of the Americas members in Argentina, Colombia and Mexico, selected the first class of "Practitioners" in the Access to Justice Practicum.
The three, selected from 53 applicants, will work for one year respectively at the Pro Bono and Public Interest Committee in Argentina, Fundación Pro Bono Colombia and Fundación Barra Mexicana and Centro Mexicano Pro Bono on access to justice projects. The Practicum provides a pathway to public interest law careers, affording hands-on experience and support, including a one-week intensive training program during the year.
Launched in December 2020, the initiative received financial support from multinational companies and leading law firms. General Electric, through its Equity, Diversity & Inclusion Council of the Global Law & Policy function, led the sponsorships, bringing along Colombian law firm Brigard Urrutia, Argentinian law firm Allende & Brea, and Mexican law firm Sanchez Devanny. In Argentina, JP Morgan Chase and Accenture also provided sponsorships.
Lawyers from the pro bono clearinghouses, sponsors, and Vance Center staff participated in the selection process.
The Practitioners are:
Elisa Correa is a 23-year-old Argentinean lawyer who graduated from Universidad Torcuato Di Tella, with a strong commitment to public interest law. She was a finalist in the Pro Bono Challenge 2020 of the Pro Bono and Public Interest Committee of the Bar Association of the City of Buenos Aires with the Project "Center for Access to Justice for Women Presidents and Former Presidents".
Elisa will work at the Pro Bono and Public Interest Committee, developing a partnership to support the legal needs of children and adolescents who experience sexual violence and abuse.
Andres Camilo Garay Nuncira is a Colombian lawyer who graduated from the Universidad del Rosario with honors in law and sociology. He considers public interest advocacy an important tool to combat inequality and has worked on behalf  of the most vulnerable populations.
Andres will work at Fundación Pro Bono Colombia, setting up a medical-legal partnership, providing legal services at clinics and hospitals to address the social determinants of health and difficulties in accessing health services.
Dayán Mariana Díaz Vázquez graduated from Ponciano Arriaga Leija Law School at the Autonomous University of San Luis Potosí, Mexico.  She has extensive training on human rights, women's rights, youth, and people with disabilities. She has worked as a researcher in the project "Application of regulations for preventing sexual violence against girls and adolescents."Mariana will work with Fundación Barra Mexicana and Centro Mexicano Pro Bono, focusing on strengthening pro bono services to victims of gender-based violence by developing a toolbox of legal and advocacy skills necessary for effective pro bono representation in such cases.
Learn more about the program here.