Africa Program Update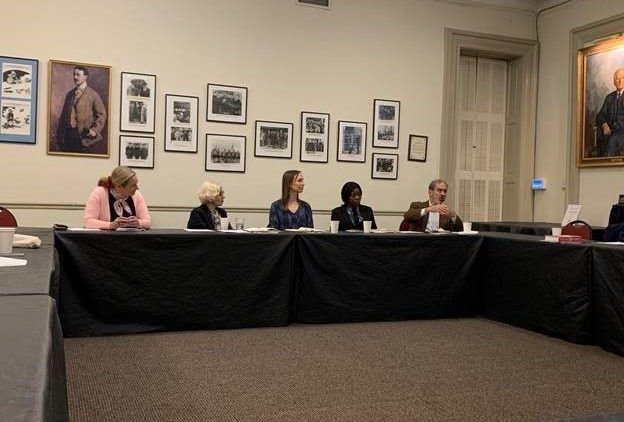 (From Left: Nicola Port, Chubb Senior Vice President & International Counsel, Global Legal; International Center for Transitional Justice Director of Development Julia Fishkin and Senior Expert Programs Virginie Ladisch; Vance Center Africa Program Manager Adaobi Egboka and Executive Director Alex Papachristou | Photo Credit: Maria Werneck) 
The Vance Center is focusing on the Gambia in an upcoming training of judges and in pro bono representation projects, seeking to support national institutions guiding the country through transitional justice after decades of despotic governance. From this programmatic perspective, it hosted a presentation by University of Pennsylvania Law School students of their visit to the Gambia in August 2019.
The students described interviewing members of civil society, journalists, attorneys, human rights defenders, activists, academics, civil servants, and government officials regarding the transitional justice process.  They assessed the status of the judiciary, press freedom, women's and LGBTQ rights, and youth engagement.  Penn Law Dean of International Program Rangita de Silva de Alwis moderated the students' presentation.
Among those attending were International Center for Transitional Justice Executive Director Fernando Travesí, Director of Development Julia Fishkin, and Senior Expert Programs Virginie Ladisch. ICTJ is supporting the transitional justice process in the Gambia and will collaborate with the Vance Center in the upcoming training of judges. ICTJ's Gambia Head of Program Didier Gbery, and Vance Center Africa Program Manager Adaobi Egboka met in October 2019 with Gambian Chief Justice Hassan Jallow to start planning the training.
***
The Vance Center's African Legal Fellows Program has planned several events in the coming weeks.  It will hold panel discussions of the current Fellows on the legal markets in their countries, Kenya, Nigeria, and South Africa, at Paul Weiss, Baker & McKenzie, and other firms hosting fellows.  The Fellows also are scheduled to meet with New York Times Deputy General Counsel and Vance Center Committee member David McCraw and attend proceedings in the courtroom of Judge George B. Daniels of the Southern District of New York and Vance Center Committee member. Preparations also are underway for a week-long series of meetings in Washington, D.C., in April in connection with the Power Africa Fellows Program.