Vance Center Hosts Discussion on Human Rights Impact of Olympics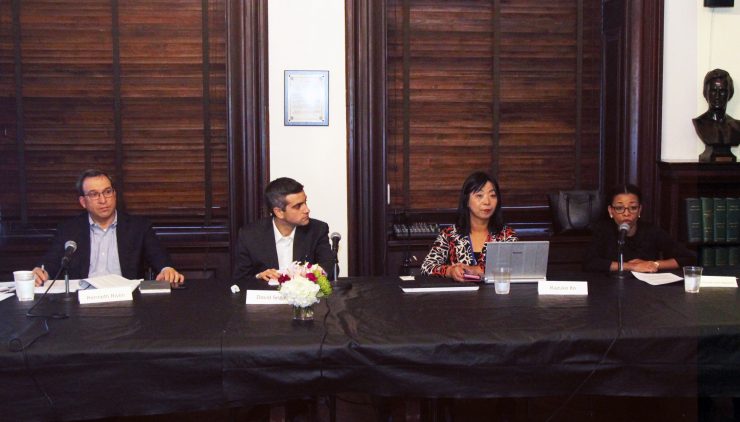 Marie-Claude Jean-Baptiste (Right), Kazuko Ito (Middle Right), David Segall (Middle Left), Ken Rivlin (Left)
With the 2020 Olympics coming soon to Tokyo, the Vance Center convened a panel discussion with the Japanese NGO Human Rights Now on the wide-ranging human rights impacts of this mega-sports event.
Kazuko Ito, Secretary-General of what is Japan's largest human rights organization, began with a presentation on the lack of human rights due diligence by major Japanese firms, citing a recent Human Rights Now survey of 60 companies, in which only nine responded that they had a human rights due diligence policy in place. She expressed hope that the 2020 Olympics would shine a spotlight on Japan's human rights record, and particularly the need for businesses to improve scrutiny of their supply chains.
David Segall, a Research Associate at the NYU Stern Center for Business and Human Rights, reviewed the many migrant labor issues associated with mega-sports events, including concerns about Japan's foreign trainee worker program. This came under criticism recently as a way for Japanese companies to obtain inexpensive workers for less attractive jobs, and Parliament responded with legislation protecting guest workers.
Finally, Ken Rivlin, partner at Allen & Overy, discussed the incentives for event organizers and contractors to conduct human rights due diligence, and the difficulty of securing appropriate human rights standards without an effective enforcement mechanism.
In a discussion after the presentations, the panelists agreed that the Tokyo Olympics offered a key opportunity to develop a culture of business and human rights in Japan, and that the Japanese Olympic Committee's official policies, such as the Tokyo 2020 Sustainability Plan, demonstrate that human rights were being taken seriously. However, as Human Rights Now's Ito stressed, despite the soundness of this policy, the small size of Japan's civil society and weak culture of corporate social responsibility could challenge implementation of the policy. She expressed optimism nevertheless that international scrutiny of Japan's government and corporations, particularly in light of the upcoming Olympics, could provide incentives for improvement.
Vance Center Human Rights and Access to Justice Program Director Marie-Claude Jean-Baptiste moderated the panel discussion, which the New York City Bar Associations' International Affairs, International Human Rights, and Asian Affairs Committees co-sponsored, along with Human Rights Now.
This event was part of the Human Right and Access to Justice Program's business and human rights initiative. Earlier this year, it hosted the New York City Bar Association's first Continuing Legal Education program on business and human rights, "Business and Human Rights – What Do They Mean for Lawyers?" and a workshop in Port-au-Prince, Haiti on "Business and Human Rights:  A Role for Alternative Dispute Resolution Mechanisms?". In 2016, it co-sponsored a conference "Business and the Bar: Lawyers, Rights and Remedies" in Geneva on access to remedies, the third pillar of the United Nations Guiding Principles on Business and Human Rights, addressing the role that lawyers, law firms, bar associations, and companies can play in ensuring access to remedies when business activities cause harm. The Vance Center is also member of a working group examining how the New York City Bar Association can engage more effectively with the UN Guiding Principles.