Vance Center Staff Welcomes Mexican Think Tank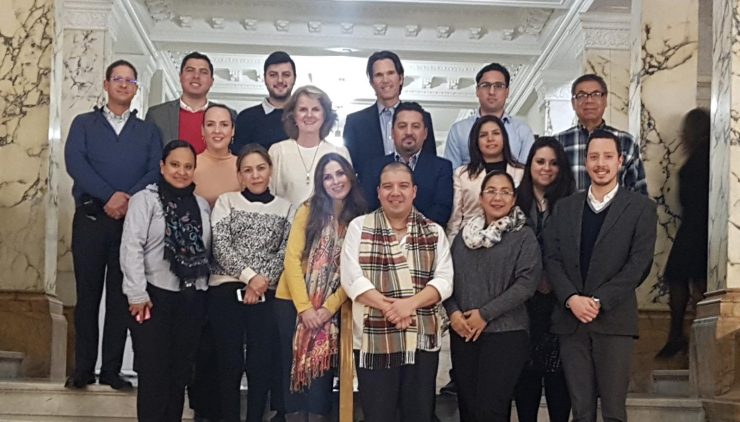 (photo: Jaime Chavez Alor)
A delegation of 16 Mexican legal academics and law professors affiliated with Centro de Estudios sobre la Enseñanza y el Aprendizaje del Derecho (Center for the Study of the Teaching of Law) (CEEAD) recently met with Environment Program Director Susan Kath, Latin American Policy Manager Jaime Chavez Alor, and Director of Pro Bono Partnerships Jorge Escobedo from the Vance Center to discuss pro bono practice in Latin America as part of their meetings in New York with law schools at New York University and Columbia University, among others. CEEAD is a leading Mexican non-profit research organization dedicated to transforming legal education in Mexico.
Vance Center staff and the CEEAD group discussed the challenges and opportunities of engaging law students in pro bono practice in Latin America. Engagement with law schools is a key pillar of the 2019 work plan for the Pro Bono Network of the Americas, which the Vance Center co-manages.
The Vance Center, in conjunction with the Network, is developing a program to formalize the education of pro bono practice in law schools. CEEAD and its peer organizations elsewhere in Latin America will serve as strategic partners in the implementation of such a program.
The following CEEAD representatives and partners were in attendance:
Luis Fernando Perez Hurtado (Executive Director, CEEAD)
Carlos René Asúnsolo Morales (Researcher, CEEAD)
Sofía Victoriana Ríos Valdez (Communications Specialist, CEEAD)
Leonardo Sebastián Borrego Núñez (Professor, Universidad Autónoma de Coahuila)
Margarita Guajardo Fuentes (Professor, Universidad Autónoma de Coahuila)
Baltazar Reyna Reynoso (Professor, Universidad Autónoma de San Luis Potosí)
Paola Iliana de la Rosa Rodríguez (Professor, Universidad Autónoma de San Luis Potosí)
Susana González Méndez (Academic Coordinator, Faculty of Law, Universidad de Colima)
Genaro Andrés Manrique Giacomán (Professor, Universidad Iberoamericana Torreón)
María del Socorro Hernandez Manzano (Dean, Universidad Iberoamericana Torreón)
Luis Alejandro Núñez del Castillo (Professor, Universidad Marista de San Luis Potosí)
Martha Karina Álvarez Márquez (LLM Coordinator, Universidad Marista de San Luis Potosí)
Hilda Haydée Gutiérrez Blanco (Professor, Universidad Panamericana, Aguascalientes)
José Paulo Brassol Martínez (Dean, Universidad Panamericana, Aguascalientes)