Justice in the time of COVID-19: Challenges to the Judiciary in Latin America & the Caribbean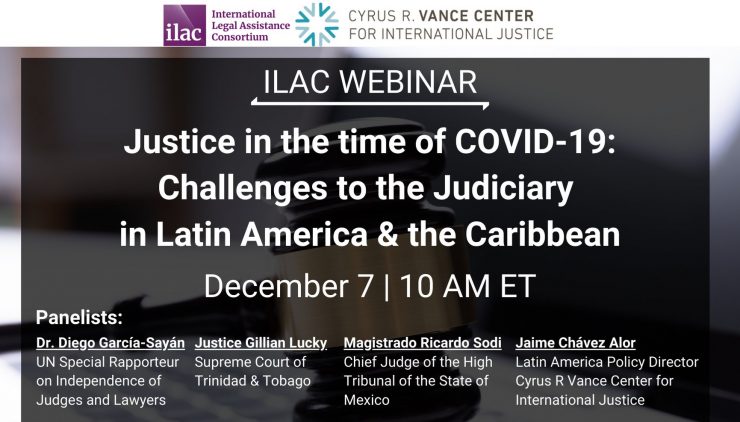 The declaration of states of emergency and adoption of emergency measures across Latin American and the Caribbean in response to the COVID-19 pandemic immediately affected and continue to affect how the judiciary functions. As the executive and legislative branches were handed additional powers to respond to the crisis, funds and resources have even been reallocated away from the judiciary, impacting the effectiveness of the judiciary's ability to deliver justice and even putting judicial independence into question. Due process and fair trial standards have been impacted by the inability to hold trials in person and the use of digital justice tools, which raise additional cybersecurity questions. Access to justice and the resolution of everyday justice problems has slowed and backlogs are building in instances where urgent matters, such as criminal and family matters, are being prioritized. Moreover, the 'digital gap' threatens access to justice, and even brought it to a standstill, in some countries. Yet, there are also examples from the region where the judiciary has been provided with adequate resources and was able to quickly move to using digital justice tools to deliver justice.
This webinar will highlight the findings from the ILAC report, undertaken by the Cyrus R Vance Center for International Justice of the New York City Bar Association – Justice in the times of Covid-19 – Challenges to the Judiciary in Latin America & the Caribbean – which maps the new challenges and problems presented by the pandemic and subsequent emergency measures. The report identifies good practices, trends, and gaps in how governments and the judiciary itself have responded to the crisis in the region. The report provides recommendations for how governments can respond in the short and long term to ensure that the judiciary can continue guaranteeing access to justice, while also protecting judicial independence, during a protracted crisis like the COVID-19 pandemic. The webinar panel also includes two judges from the region, who were interviewed for the report and will provide first-hand perspectives on how their jurisdictions have responded to the crisis.
The event will be held in both Spanish and English, with simultaneous translation.
Panelists:
Judge Ivana Hrdličková, President of the Special Tribunal for Lebanon (moderator)
Dr. Diego García Sayán, United Nations Special Rapporteur on Independence of Judges and Lawyers
Justice Gillian Lucky, Supreme Court of Trinidad & Tobago
Dr. Ricardo Sodi, Chief Judge of the High Tribunal of the State of Mexico, Mexico
Jaime Chávez Alor, Latin America Policy Director at the Cyrus R Vance Center for International Justice