Panel discussion and Q&A: "Ukraine – Responses to Atrocity Crimes"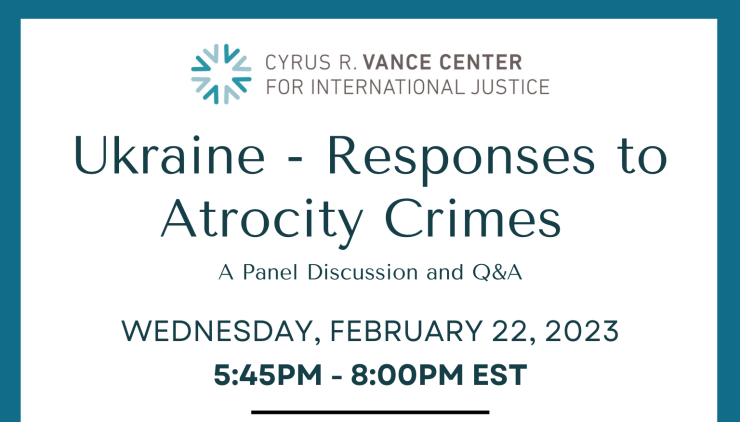 As the first anniversary of the invasion of Ukraine approaches, it is clear that the war and atrocities in Ukraine have galvanized the world and the legal profession.
Please join the Vance Center for International Justice – either in-person or via Zoom – on Wednesday, February 22, from 5:45-8:00 p.m. EST, for a panel discussion, "Ukraine – Responses to Atrocity Crimes."
Our panel of distinguished international experts – Patrick Keenan, Jack Mayerhofer, Leila Sadat, and Jennifer Trahan, with moderator Taisa Markus – will address topics including the crime of aggression, recent developments at the International Criminal Court, current approaches and methods of documentation, and challenges in gathering and using evidence of atrocities.
We will also be joined by the president of the Ukrainian Bar Association, Anna Ogrenchuk, and two former prisoners of war, Lyudmyla Huseynova, a volunteer from Donetsk, and Anna Oslen, a marine combat medic, who will share their personal accounts and experiences.
RSVP to attend in person here.
Please contact vance@nycbar.org for the Zoom registration link.
Agenda
5:45pm – 6:00pm: Registration
6:00pm – 6:15pm: Witness Testimony, Lyudmyla Huseynova and Anna Oslen
6:15pm – 7:00pm: Panel Presentation
7:00pm – 7:15pm: Q&A
7:15pm – 8:00pm: Refreshments and Networking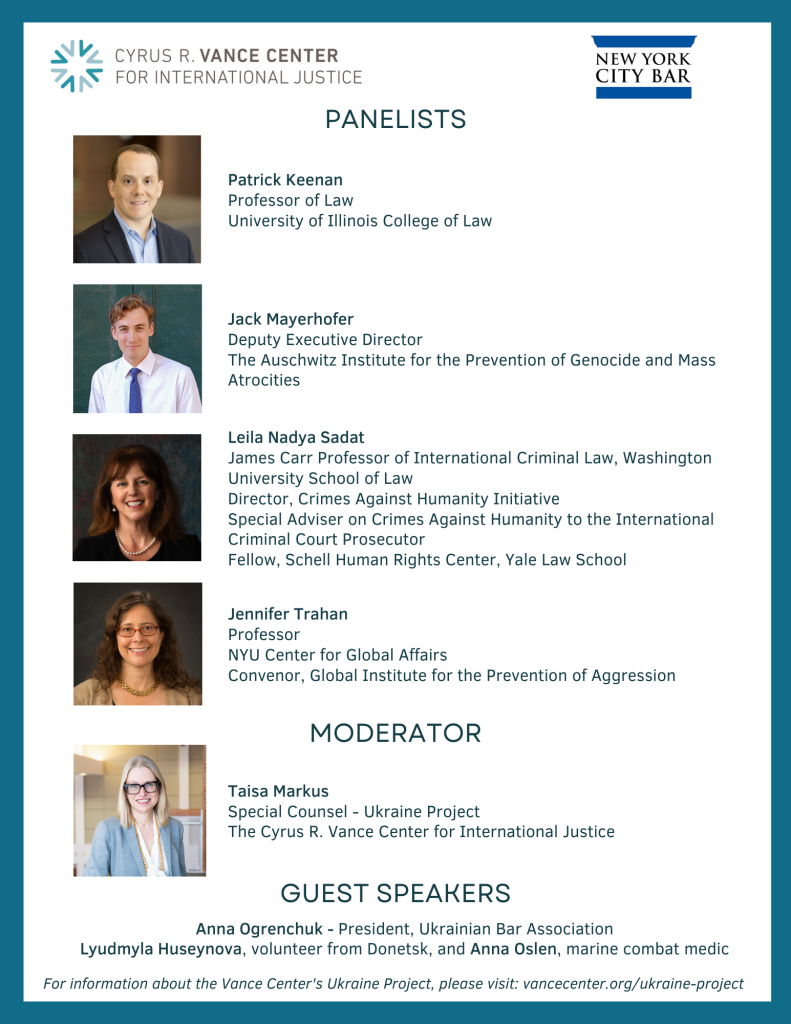 This event is co-sponsored by the Council on International Affairs, the International Law Committee, and the Task Force on the Rule of Law of the New York City Bar Association.