Pro Bono Network of the Americas Updates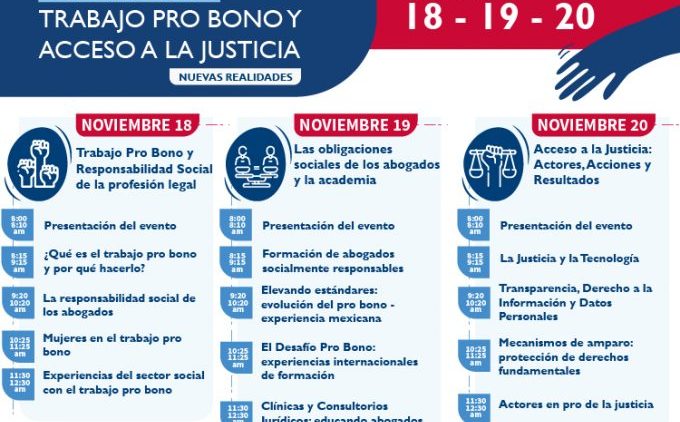 The Vance Center and the Pro Bono Network of the Americas  soon will conclude the "Semana País" initiative, five months of programming to keep network members collaborating on pandemic-related activities even while it prevented them from meeting in person. The series featured virtual conversations with respective executive directors of the Network's member and affiliate pro bono clearinghouses in Latin America, focused on each organization's COVID-19 related efforts, as well as its regular pro bono work.
Most recently, University of Montevideo Law School Dean Nicolas Etcheverry spoke about the newly-formed Fundación Pro Bono Uruguay, along with representatives of affiliate pro bono entities in Paraguay, Ecuador, and Panama.  The weekly series will conclude with Leire Larracoechea of Fundación Pro Bono España presenting on November 5 at 10:00am (EST) via the Network's Instagram Live handle.
xx
The Vance Center organized and moderated a conversation between the Pro Bono Network of the Americas and the European Pro Bono Alliance at PILnet's 2020 Global Forum. Claudia Murga of Fundación Pro Bono Guatemala and Martin Zapiola of Comisión de Trabajo Pro Bono e Interés Público in Argentina joined the conversation focused on a comparative analysis of institutionalized pro bono practice.
xx
As part of its series of fireside chats, the Vance Center is organizing with the Network a discussion on domestic violence in Latin America during the pandemic. Building on a recent study on this issue by pro bono counsel at Paul Hastings, the event will include panelists from Women in the Profession chapters Abogadas MX and Fundamorgan. Vance Center Director of Pro Bono Partnerships Jorge Escobedo will moderate this fireside chat on November 13 at 1:00pm (EST).
xx
The Vance Center is organizing with Fundación Pro Bono Colombia an international forum on pro bono practice and access to justice, co-sponsored by USAID.  The forum will focus on engaging lawyers in Colombia's rural provinces in pro bono practice, with a focus on post-conflict reparations. Vance Center Committee members Hunter Carter (Arent Fox), Todd Crider (Simpson Thacher & Bartlett), Antonia Stolper (Shearman & Sterling) and Veronica Rodriguez (Paul Hastings) will participate in the November 18-19 event.
The Vance Center and the Network also will collaborate with Universidad del Rosario to organize a two-day conference on the regional migration crisis. The conference will feature four thematic panels, including discussions on statelessness in Latin America and the feminization of migration in the region. This event will take place November 18,19 and 20, with details to follow.