Vance Center to Host Upcoming BHR Webinar on SLAPPs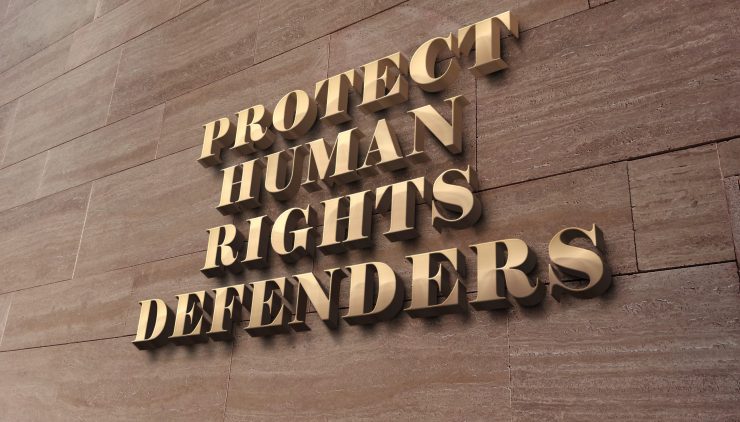 (Photo Credit: Shutterstock)
The Vance Center will host a webinar "SLAPPed but not silenced: Defending human rights in the face of legal risks" on November 10, 2021 at 12:30 – 1:30pm.
Every day across the globe, people bravely speak out against injustice, often at great personal risk. Human Rights Defenders are at the forefront of promoting and protecting human rights, natural resources, and a shared planet, as well as playing a vital role in drawing attention to the harms created by abusive business practices and monitoring companies' compliance with business and human rights standards. Human rights defenders often face a range of attacks merely for speaking up against business-related human rights harms.
Strategic lawsuits against public participation (SLAPPs) are one type of such attacks: civil or criminal lawsuits by business actors that divert time and resources from human rights defenders' vital work and infringe upon a range of rights, including freedom of expression and assembly. Recent research by the Business & Human Rights Resource Centre shows that SLAPPs are a global problem; the analysis identified 355 cases that bear the hallmarks of SLAPPs by business actors since 2015, with 9% in North America.
The webinar will explore the state of SLAPPs globally, including types of proceedings, common charges, and the business sectors most commonly involved. It also will explore the role of the legal community in SLAPPs and actions that lawyers and law firms can take to mitigate the use of this tactic against human rights defenders.
Speakers will include:
Marie-Claude Jean-Baptiste, Vance Center Programs Director
Morgan Simon, Candide Group
Abigail Everdell, Davis Wright Tremaine LLP
Marco Simons, EarthRights International
Lady Zuluaga, Business & Human Rights Resource Centre
Romina Canessa, Vance Center Human Rights and Access to Justice Program Staff Attorney, will moderate.
Registration for New York City Bar members is available here. For interested non-New York City Bar members please contact: rcanessa@nycbar.org.
The webinar is organized by the Vance Center's Human Rights and Access to Justice Program's Business and Human Rights Initiative. Launched in 2015, the Business and Human Rights Initiative draws on the expertise of law firms in the United States and abroad to contribute to the continuing development of best practices in BHR. As part of this initiative, the Program has advised international NGOs and organized conferences on these issues.  The Vance Center led discussions within the New York City Bar Association that culminated in the creation of the City Bar's Business and Human Rights Working Group in 2019 and the adoption in 2020 of a Policy Statement on Business and Human Rights that endorses the United Nations Guiding Principles on Business and Human Rights.