Vance Center Africa Program Co-Hosts UNGA Week Side Events
During one of the busiest weeks of the year in New York City, the Vance Center's Africa Program kept a full social calendar with multiple side events, collaborating with partners in town from across the continent.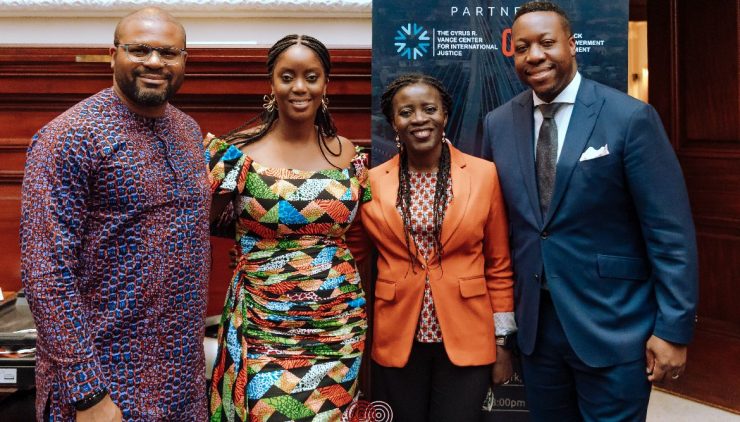 Access to Justice 
On September 19, the Vance Center and African Center of Excellence for Access to Justice brought together legal professionals, community justice practitioners, and leaders from around the world for a rich, insightful discussion entitled "Strengthening Access to Justice: Bridging the Gap between Lawyers and Community Practitioners." 
A group of expert community practitioners from six countries in Africa, alongside two Vance Center Committee members, discussed ways to strengthen collaboration between legal practitioners and community advocates, and strategies to address systemic barriers to justice for marginalized populations.
The discussants – Tina Lorizzo Executive Director of REFORMAR in Mozambique; Annette Mbogoh, Executive Director of Kituo Cha Sheria-Legal Advice Centre in Kenya; Clifford Msiska, National Director of the Malawi-based Paralegal Advisory Service Institute; Phillip Sabuni, National Coordinator of the Paralegal Alliance Network in Zambia; Tshenolo Tshoaedi, Executive Director of Community Advice Offices from South Africa; Valerie Zviuya, Executive Director of Zimbabwe's Legal Resources Foundation; and Orrick partner Lorraine McGowen and Ted Maynard, Of Counsel at Paul, Weiss, both Vance Center Executive Committee members – shared examples from their own experiences of successful partnerships between legal professionals, pro bono lawyers, and community justice practitioners that made a significant difference for communities.  
The speakers described efforts to empower marginalized communities to understand and assert their rights effectively, and discussed how conflict of interest concerns raised by law firms pose a major challenge to supporting many initiatives. They advised pro bono lawyers to be open to multiple options for accessing justice by understanding the full impact and challenges communities face as lawyers pursue the interests of their clients. They agreed that incorporating pro bono practice early into law students' curriculum will impact how lawyers take on pro bono matters in their careers, and concluded that appropriate, affordable, and effective legal support mechanisms tailored to the contexts in which the legal professionals and communities exist would help strengthen access to justice and the work of community practitioners.   
African Economic Empowerment 
Later that same week, the Africa program collaborated with Africa Policy Conversations to host a hybrid series of discussions with more than 100 in-person attendees at the New York City Bar building. Participants representing a diverse range of sectors, cutting across policymakers, government, academia, business, and civil society, deliberated on strategies, shared insights, and fostered partnerships aimed at supporting sustainable economic growth across Africa. 
The event featured four distinct panels covering a range of topics, followed by a reception. The panels discussed success stories and opportunities for innovative financing of AI, Fintech, and the creativity industry in Africa. Speakers examined how to promote the culture of philanthropy by Africans in countries and throughout the diaspora and how to create an enabling environment for diaspora investment, as well as alternative sources of financing to empower small- and medium-sized enterprises (SMEs), and women– and youth-owned businesses on the continent. Yet another panel dived into Africa's energy future, climate responsibilities, and how countries can harness green finance to fund cleaner energy sources.
Vance Center Africa Program Director Adaobi Egboka moderated a panel on strengthening African institutions and building a foundation for inclusive growth in line with the African Union Agenda 2063 strategic development plan, The Africa We Want, and the UN Sustainable Development Goal (SDG) 16.  
Panelists Samson Itodo, Founder of Yiaga Africa; Chinenye Monde-Anumihe, Grants Administration for the African region at the National Endowment for Democracy; Bamkole Omishore, Special Adviser to the Osun state governor in Nigeria; and Mayowa Kuyoro, Partner at McKinsey Nigeria, discussed prevalent issues surrounding poor institutions in African countries with a particular focus on limited or nonexistent adherence to the rule of law. They raised examples of successful initiatives to protect human rights and citizens' social welfare and explored solutions to the renewed appetite for political power within West African militaries. The panelists concluded that leveraging Africa's youth population and their voices is critical to promoting access to justice, strengthening institutions, and pushing for transparency and accountability from governments.