Vance Center Celebrates International Pro Bono Excellence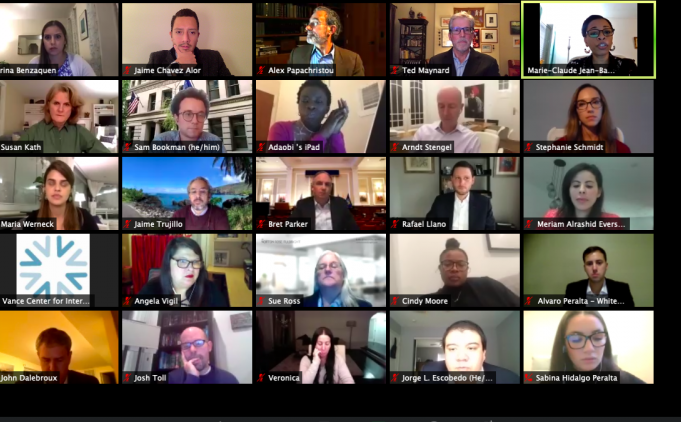 The Vance Center held its fifth annual Celebration of International Pro Bono Excellence, recognizing the pro bono achievements of five law firms and giving special recognition to Vance Center Committee member Ambassador Julissa Reynoso of Winston & Strawn. More than 45 people attended the first zoom Celebration.
Vance Center Committee Executive Chair Edwin S. Maynard, kicked off the celebration welcoming participants and commemorating former New York City Bar Association President Michael Cooper, a Vance Center founder and longtime Committee member, who recently passed away. Maynard recounted that Cooper pioneered international pro bono practice, the cornerstone of the Vance Center's work.
Human Rights and Access to Justice Programs Director Marie-Claude Jean-Baptiste presented the program's work and recognized two pro bono projects.
White & Case received recognition for ongoing litigation on behalf of Observatorio Venezolano de Prisiones before the Inter-American Court of Human Rights. This is the Vance Center's longest lasting pro bono project begun in 2015. Observatorio has petitioned against the state of Venezuela for the death of five teenagers in a 2005 fire at the Monsenor Juan Jose Bernal Prison in the state of Bolivar.
Norton Rose Fulbright received recognition for intellectual property advice on behalf of International Bridges to Justice  in its efforts to develop iConnectJustice, a smartphone application that allows detained persons or their families conveniently to seek legal representation.
Rafael Llano and Jonathan Hamilton of White & Case and Stephanie Schmidt of Norton Rose Fulbright accepted the recognitions.
Environment Program Director Susan Kath introduced Staff Attorney Sam Bookman, who described a recently launched report on the legal rights of rivers and other forms of nature. Kath described the program's projects and recognized one project.
Eversheds Sutherland received recognition for research and analysis of potential claims in the Inter-American Human Rights system based on environmental conditions in Haiti's Sakala community.
Meriam Al-Rashid accepted the recognition on behalf of Eversheds Sutherland.
Executive Director Alexander Papachristou gave special recognition to Vance Center Committee member Ambassador Julissa Reynoso for her contribution to diversity and inclusion in the Latin American legal profession through the Total Law Prep Mentorship Program. Ms. Reynoso thanked the Vance Center for believing in her vision and implementing various initiatives.
Papachristou continued by describing recent projects of the Good Governance Program and   Lawyers for Reporters. He recognized two pro bono projects.
Milbank received recognition for a comparative analysis of ultimate beneficial ownership on behalf of Fundación para el Desarrollo de la Libertad Ciudadana, the Panamanian national chapter of Transparency International.
King & Spalding received recognition for the incorporation and tax exemption of the Asheville Watchdog.
Marcela Barba of Milbank and Aleksandra Kopec of King & Spalding provided videotaped remarks, accepting the recognition.
Papachristou also thanked Douglass Cassel of King & Spalding for expert contributions to complex, urgent pro bono matters in Central America.
The full program of the Vance Center's Celebration, is available here.
You can view the full event here.