Vance Center Celebrates International Pro Bono Excellence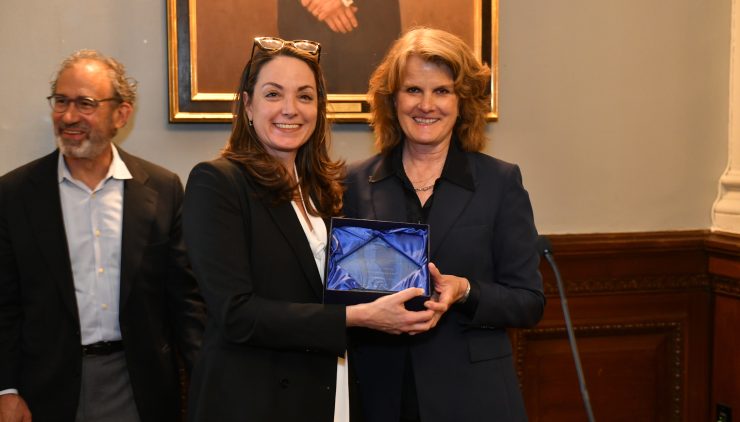 (Photo Credit: Nick Starichenko)
The Vance Center's annual celebration of international pro bono excellence began with the announcement that the event in future will bear the name of Michael Cooper, honoring a founding Vance Center Committee member who as president of the New York City Bar Association pioneered the internationalization of pro bono legal service.  Former Attorney General Loretta Lynch by video extolled Cooper's achievements and recounted her travel with him to South Africa to recruit participants in the Vance Center's African Legal Fellows program.  He also attended meetings in Argentina and Chile that led to the Vance Center's early promotion of pro bono development in Latin America.  While heading litigation at Sullivan & Cromwell, he actively engaged in pro bono practice and remained a member of the Vance Center Committee until 2019, passing away in 2020.
The Environment Program kicked off recognition of law firms for their pro bono contributions over the past year.  Program Director Susan Kath recognized Allen & Overy and Winston & Strawn for their work on independent parts of a project on the right to science on behalf of the UN Special Rapporteur on Human Rights and Toxics.  David Flechner and Kelly Librera, respectively of these firms and both members of the Vance Center Committee accepted the recognition.
Human Rights and Access to Justice Programs Director Marie-Claude Jean-Baptiste recognized Cleary Gottlieb for its participation in a project for Human Rights Watch on the right to education in Brazil, to which the Brazilian firm Mattos Filho also contributed.  Cleary lawyers Glenn McGrory and Guilherme Duraes spoke by video about their appreciation of the project, and Director of Pro Bono – U.S. Katherine Hughes received the recognition in person.
Latin America Policy Director Jaime Chavez Alor on behalf of the Good Governance Program recognized Willkie Farr for its participation in a project on behalf of the International Legal Assistance Consortium regarding current and future challenges to the judiciary in Latin America and the Caribbean.  Pro Bono Counsel Stacey Kushlefsky accepted the recognition on behalf of the firm.  Executive Director Alexander Papachristou then recognized Proskauer for its work on behalf of several clients of Lawyers for Reporters, and David Miller accepted the recognition.
To close the presentations, Director of Pro Bono Partnerships Jorge Escobedo recognized two non-U.S. law firms for their frequent participation in Vance Center pro bono projects, among the more than 120 such firms over the course of the year.  Tilleke & Gibbins of Southeast Asia and Gomez Pinzon of Colombia provided videos in which their lawyers thanked the Vance Center for the opportunity to participate in pro bono projects with the Environment Program and for the recognition.
The Vance Center in 2021 undertook 156 pro bono projects on behalf of 75 clients.