Vance Center Co-Organizes Pro Bono Week in Argentina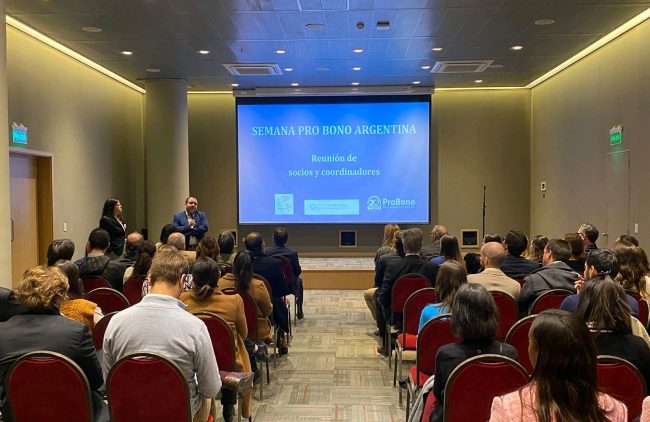 [Photo Credit: Jorge Escobedo]
The Vance Center, Comisión de Trabajo Pro Bono e Interés Público and the Pro Bono Network of the Americas jointly organized Pro Bono Week in Buenos Aires, Argentina, a series of meetings of law firm pro bono coordinators reviewing developments in pro bono practice. Participants discussed the recent challenges in identifying internal pro bono resources against the overwhelming demand from civil society and law-income individuals. Law firm coordinators shared strategies and best practices to enlist support from lawyers at their firms.
Vance Center Director of Pro Bono Partnerships Jorge Escobedo presented the Vance Center's programs and the projects of the Network.  With participation by Accenture, HSBC, JP Morgan Chase & Co, he also spoke on a panel tracing the development of corporate pro bono practice in Argentina and highlighting the opportunities and synergies that in-house legal departments provide in bridging the access to justice gap. (Escobedo separately addressed Comision's annual meeting of law firm partners to discuss the clearinghouse's recent work and international recognition as beneficiaries of the 2022 Latin Lawyer gala last month.)
The series concluded with the launch of the "Semillero Pro Bono," an initiative to engage law students in Argentina and Latin America broadly on pro bono practice. Through workshops, conferences and events, Semillero will facilitate spaces for students to learn about and engage in pro bono work. It also may serve as a hub for a regional pro bono challenge for students ("Desafio Pro Bono"), giving winners of national competitions—already organized in Argentina, Brazil, Chile, Colombia, Mexico & Peru— the opportunity to compete regionally.
The Vance Center thanks Beccar Varela, Marval, O'Farrell & Mairal, Estudio O'Farrell, Universidad Tortuato Di Tella for helping organize the event and Executive Sub-Committee Member Antonia Stolper for her remarks at the closing event of the week.