Vance Center Conducts Training for Guatemalan Judges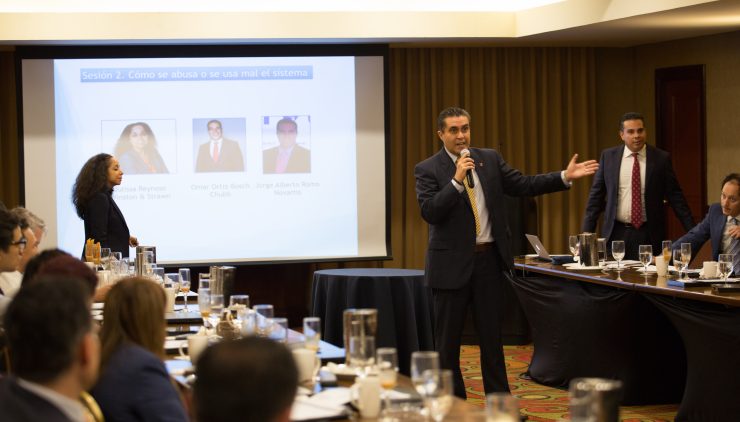 (Jorge Romo from Novartis, Julissa Reynoso of Winston & Strawn and Omar Ortiz from Chubb presenting during the training | Photo Credit: Burson Marsteller Guatemala)
With the support of the Chubb Rule of Law Fund, the Vance Center Latin America Policy Manager Jaime Chavez Alor led a workshop on international financial transactions and compliance for 50 Guatemalan judges, conducted by in-house multinational legal counsel and law firm partners.  The Association of Guatemalan Judges for Integrity requested the workshop in light of its members' increasing caseload of transnational corruption cases.
Guatemala has undergone a series of prosecutions of high-level corruption, aided until recently by the United Nations-sponsored International Commission Against Impunity; however, the current Guatemalan president recently ended its mandate.  The Association asked the Vance Center for practical guidance on how international business usually works, how the system is abused or misused, how companies contribute to solutions, and how companies incentivize good behavior.
Addressing these questions were Omar Ortiz (Chubb), Jose Luis Martin (Chevron), Francisco Garza (General Electric), Jorge Romo (Novartis), Claudia Gonzalez (Walmart), Julissa Reynoso (Winston & Strawn), Lisa Vicens (Cleary Gottlieb), Jose Antonio Muñoz (Dentons Muñoz) and Borja Marcos (Simpson Thacher).
The workshop participants visited the courthouse in Guatemala City and heard from judges about systemic challenges to their independence. Judges Erika Aifán, Yassmin Barrios, and Carlos Ruano welcomed the workshop as enhancing their knowledge and strengthening judicial independence. During closing remarks, President Haroldo Vásquez of the Association emphasized the importance of international companies and law firms demonstrating concern for the rule of law in Guatemala.
The Chubb Rule of Law Fund produced a video of the workshop.