Vance Center Convenes Webinar on West Africa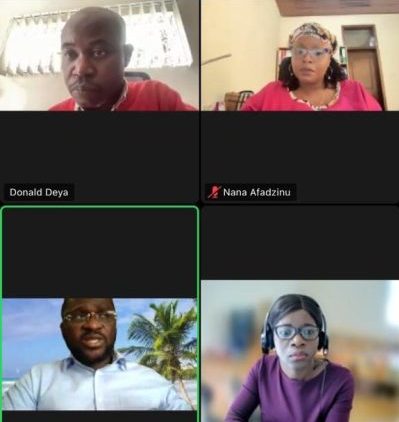 The Vance Center and its African partners West African Bar Association, Pan African Lawyers Union, and West African Civil Society Forum, organized a four-part webinar series on democracy, elections, and governance (DEG) in West Africa to discuss the roles of various institutional actors in the current democratic backsliding and resurgence of coups in the region.
The past 18 months have been turbulent for democracy in West Africa. Military leaders have toppled the governments of Mali, Chad, Guinea, Sudan, and Burkina Faso. An attempt to overturn the democratic government in Guinea Bissau was foiled.
Most of these nations are members of the 15-nation Economic Community of West African States (ECOWAS). The African Charter on Democracy, Elections, and Governance (ACDEG) and the ECOWAS Protocol on Democracy and Good Governance (the ECOWAS Protocol) provide an accountability framework for governance, aiming to ensure free, fair, and credible elections as the basis of legitimate government, build democratic institutions, and secure the rule of law. ACDEG requires state parties to establish and strengthen democratic institutions, the rule of law, human and peoples' rights, and independent electoral systems. The ECOWAS Protocol proposes developing a constitutional state based on the rule of law, strengthening democracy, and adopting common principles of good governance within ECOWAS' 15-member States. But despite the broad objectives that signatories to these frameworks have agreed to pursue and presumably be held accountable for fulfilling, West Africa continues to grapple with attempts to overthrow legitimate governments, usually by military force.
The webinar series, entitled" Trends in Democracy, Elections, and Governance in Africa: Spotlight on West Africa," moderated by Adaobi Egboka, Vance Center's Africa Program Director, and Donald Deya, Pan African Lawyers Union's Chief Executive Officer, evaluated the implications of these developments through analyses by experts on democratic governance in Africa. These analyses will provide guidelines and/or action points for the next steps by the webinar organizers and other institutions interested in DEG in West Africa. Meanwhile, the organizers have sent a memorandum [English | French] based on the webinars to the African Union in its Extra-Ordinary Summit on Unconstitutional Changes of Government and Terrorism in Africa in Malabo, Equatorial Guinea.
In the first installment, Penda Mbow, Senegalese activist, Hadja Saran Daraba Kaba, Guinean activist and the first female Secretary-General of the Mano River Union,  Ibrahima Kane, head of the Africa Union Advocacy Program of Open Society Foundation Africa Regional Office, and Dr. Solomon Ebobrah, Professor of Law, Niger Delta University, reviewed the role of governments and intergovernmental institutions and the gaps in DEG implementation.
In the second installment, Linda Kasonde, Executive Director of Chapter One Foundation and Vice President for Africa of the Commonwealth Lawyers' Association, Fatou Jagne, Gambian Jurist, human rights advocate, and women's rights and free expression activist, and Dr. Eyesan Okorodudu, Head, Democracy and Good Governance division of ECOWAS, discussed the role of the private sector and professionals (private sector associations, lawyers, law societies and bar associations, etc.) in ensuring accountability for DEG.
In the third installment,  Emmanuel Saffa Abdulai, Executive Director of the Society for Democratic Initiatives, Sierra Leone. Aicha Cisse Diallo, Former President of G5 Sahel Women, Mr. Eric-Aimé Semien, lawyer and human rights defender at Observatoire Ivoirien des Droits de l'Homme, Côte d'Ivoire, and Nana Asantewa Afadzinu, Executive Director, West Africa Civil Society Institute, Ghana, discussed the role of civil society in DEG and the full implementation and protection of civic space.
In the fourth installment, Prof Chidi Odinkalu, Nigerian human rights activist and Professor of Law at The Fletcher School of Law and Diplomacy at Tufts University, Margaret Adomako, Humanitarian Policy and Advocacy Fellow, Oxfam, Carine Kaneza Nantulya, Africa Advocacy Director, Africa Division at Human Rights Watch, and Me Boubacar Oumarou, President of the Niger Bar Association, discussed the international community's role in DEG.
The panelists agreed that the lack of constitutional term limits for heads of state, as well as other features enabling manipulation of constitutions increases the risk of civil unrest and fuels the belief that leaders are not in power to serve the public interest but their own. They called for the establishment of a regional election observatory to monitor election content and processes and warn against threats to DEG. They also asserted that civil society, legal practitioners, and bar associations should strengthen the oversight mechanism of the judiciary and the media, as well as, the role of lawyers before, during, and after elections. Finally, the panelists urged that the AU and ECOWAS initiate sanctions targeting specific individuals in power and their families rather than general economic sanctions that further increase hardship on citizens. They called on more states to ratify the ACDEG and support the operationalization of the Peace and Security Committee on sanctions.