Vance Center Joins Group Observing Reappointment of Honduran Supreme Court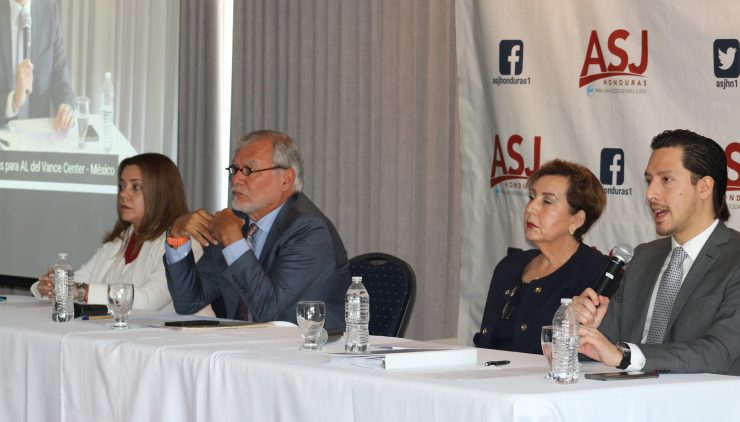 (Photo credit: ASJ Honduras/Flickr)
Vance Center Latin America Policy Director Jaime Chavez Alor participated in a group of international observers organized by the Asociación por una Sociedad Más Justa ASJ, the Honduran Chapter of Transparency International, monitoring the reappointment of the Supreme Court of Honduras. 
The 15 justices of the Honduran Supreme Court by law all are reappointed every seven years by the Congress, based on nominations by a committee representing the legal community and civil society. The committee this time selected 45 candidates, of whom 23 had to be women, from 184 applicants. 
The reappointment comes at a significant moment in Honduras. A relatively new president campaigned with the promise to establish an anti-corruption commission under the auspices of the United Nations, similar to the previous International Commission Against Impunity in Guatemala and potentially more impactful than the previous Mission to Support the Fight against Corruption and Impunity in Honduras. However, the government has not yet begun to implement this promise and rather has threatened to undercut the Independence and power of the judiciary, including the Supreme Court.  
The international observers traveled to Honduras three times in the last four months to meet with members of the nomination committee, the legal community, civil society organizations such as the Comisión Nacional Anticorrupción, candidates, and the international community, including the Office of the U.N High Commissioner for Human Rights in Honduras, the U.S. Ambassador to Honduras, the U.N. Resident Coordinator in Honduras, and other international organizations. The group also met with members of the judiciary, the Ministry of Transparency, as well as members of Congress representing different political parties, to discuss the importance of securing an independent court. 
The group publicly commended the nomination committee, which it said followed international standards for the selection of high-level members of the judiciary. It also identified areas for improvement in the process, including extending the time for evaluation and establishing clearer rules to prevent and address conflicts of interest. The group issued public statements after its first and second visits. 
During the third visit, the group called on the Honduran Congress to conduct the final selection with transparency and integrity and based on merit. It raised concern over participation in the selection by members of Congress with corruption cases before the courts. The statement of the third visit is available here. 
Together with Chavez Alor, former Ecuadorian Chief Justice Paulina Aguirre, Costa Rican expert Evelyn Villareal, and former International Board Chair of Transparency International José Ugaz participated in the group. Honduran media closely followed the work of the international observers. 
The observers in coming days will publish their final report, including recommendations for structural reform to the Supreme Court renewal process.