Vance Center Joins the Launch of Nigeria Women in the Profession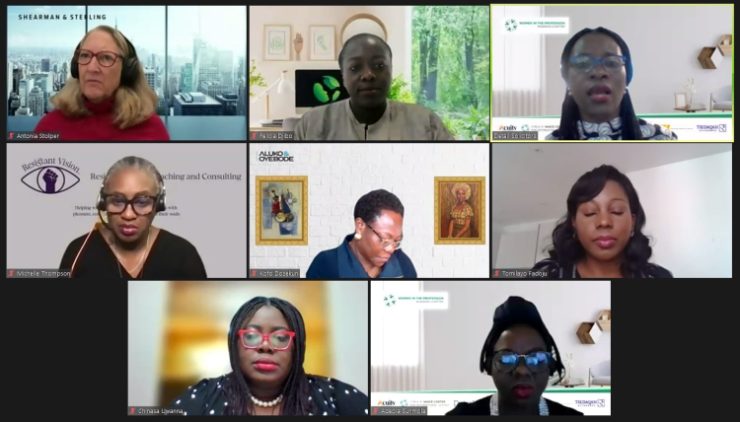 The Vance Center joined in a hybrid event of more than 200 participants to launch the Nigerian chapter of the Women in the Profession Program (WIP).
Vance Center Africa Program Director Adaobi Egboka and Antonia Stolper, member of the WIP International Steering Committee and the Vance Center Committee Executive Sub-Committee, commenced with opening remarks and an official welcome for WIP Nigeria to the WIP Program.
To prepare the launch, WIP Nigeria had surveyed why many women are leaving the legal profession in Nigeria, despite entering in equal or higher numbers than men. Tomilayo Fadoju, a member of the WIP Nigeria steering committee and alumna of the Vance Center's African Legal Fellows program, presented a report on the survey, "Why Women Leave Law," addressing barriers and challenges female lawyers face in advancing to top leadership positions in Nigeria.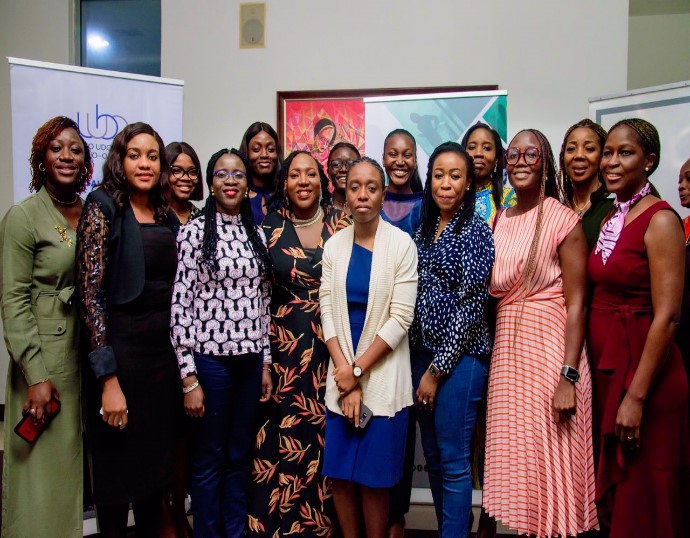 (Women who participated in the WIP Nigeria Launch | Photo Credit: Adaobi Egboka)
The report noted that women represent the majority of law school graduates and entry-level associates at top law firms and other legal organizations. Yet, female representation within the senior ranks of law firms and companies dwindles increasingly with time. For example, only 4.2% of Senior Advocates (the highest leadership level in the legal profession in Nigeria) are women. Most female lawyers struggle with balancing work with family life, with 95% of respondents listing this as a particular challenge for female lawyers, followed by unequal pay, gender bias, and lack of mentoring. The report provided recommendations and committed that WIP Nigeria will be a resource center that educates women to respond to gender biases/barriers and provides guidelines to support law firms in improving appraisal/assessment policies and processes for promotion. In addition, it will encourage law firms to implement training on unconscious bias and sexual harassment for all staff members and set up mentorship programs.
At the end of the survey presentation, Dolapo Kukoyi, managing partner at Detail Commercial Solicitors and the chair of the WIP Nigeria chapter, moderated a panel of senior female lawyers to discuss the survey findings and recommendations. Felicia Djibo, partner at Deloitte, Kofo Dosekun, chairman of Aluko & Oyebode, and Derin Adefulu, executive head of corporate governance at Old Mutual Nigeria, described strategies for female legal practitioners to navigate the challenges found in the survey, and for law firms to encourage women in leadership. Michelle Thompson, CEO of Resistant Vision Coaching and Consulting, explained her career change from lawyer to coach and advised young lawyers on how to mitigate stress and have a successful career.
Chinasa Uwanna, WIP Nigeria Steering Committee member, introduced the chapter's vision, mission, and governance. It enjoys an advisory board of: Toyosi Alabi, partner at Olaniwun Ajayi; Derin Adefulu, executive head of governance at Old Mutual Nigeria; Patience Dappa, executive director of legal and external services at Masters Energy Oil & Gas Ltd; Chinyere Okorocha, partner at Jackson, Etti & Edu Law; Adeola Olumeyan assistant general counsel at Channels Television; Chinwe Odigboegwu, legal director at Guinness Nigeria; Ngozi Agboti, legal counsel at the International Finance Corporation; and Ozofu Ogiemudia partner at Udo Udoma & Belo-Osagie.
Media took note of the launch: Proshare, Punch, and Channels TV.  The chapter's social media provide more information on the survey and launch: LinkedIn, Twitter, and Instagram.
With this launch, WIP Nigeria joins hundreds of women attorneys collaborating on solutions to narrow the gender gap and create opportunities to share best practices, professional development, training, and networks for women in law through the Vance Center's Women in the Profession Program. WIP uses the practice of law to enhance the status of women in general and ensure women equal protection under the law. With 19 chapters in 18 Latin American countries, the Vance Center is working to create South-to-South exchanges with partners in Africa.