Women's Month in South Africa: Breaking Barriers for Women in Conveyancing and Legal Tech
South Africa celebrated Women's Month in August, and the Vance Center's Africa Program marked this occasion with two events coordinated through its Advancing Women in the Workplace (AWW) mentorship program.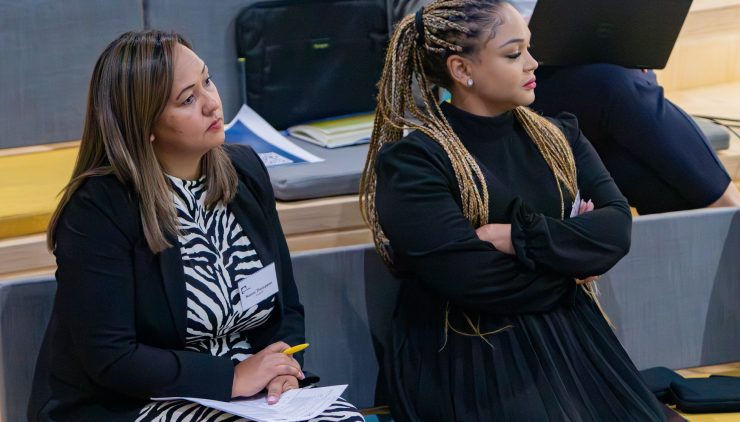 Moderator Naomi Thompson and AWW Project Consultant Dr. Kim Lamont-Mbawuli listen to other speakers at "Tech-Driven Legal Transformation: Paving the Way for Women in Legal Leadership," August 31, 2023. Photo: Neo Mdakaj
Both programs explored barriers, challenges, and opportunities for women in specialized areas of law that have historically offered little space for women's advancement or leadership.  
Advancing Women in the Workplace (AWW) is a two-year program, now in its second year, that aims to support women of color in accessing leadership roles within the legal profession through mentorship, professional development opportunities, and other tools.  
On August 23, AWW held a hybrid event, "Women in Conveyancing," in partnership with women's empowerment nonprofit Basadi Ba Molao and law firm Nyapotse Inc, which hosted in-person attendees at its office.  
The August 23 event aimed to offer insight into the specialized area of conveyancing services, supporting training initiatives, and creating a network of conveyancers to nurture growth and agility within the profession, with an eye toward transformation and greater inclusion and diversity in the field. Speakers discussed challenges and opportunities for unlocking this unique area for legal practitioners, especially for women of color, who are historically underrepresented in the property law sector. 
Vance Center Africa Program Director Adaobi Egboka opened the event, welcoming attendees and thanking the co-organizers for partnering with AWW. She encouraged attendees to leave the event with tangible outcomes for next steps to continue opening the space for others, and ideas to create new networks and opportunities. 
Next, AWW Project Consultant Dr. Kim Lamont-Mbawuli reminded guests that the event provided an opportunity to celebrate Women's Month and reflect on the achievements of women who have blazed trails in the professions. She also noted that, despite these significant strides, women remain underrepresented in sectors like conveyancing with a long way still to go to address this imbalance. 
Amanda Dladla, managing director at Nyapotse, Inc and a mentee in the first AWW cohort, who helped organize the event, said the event might offer guidance on steps women in the field can take to increase access for themselves and other women. Dladla noted that she gained access to the field because others gave her a chance and wanted to inspire other women of color to enter conveyancing and support one another's achievements.   
In her remarks, Acting Judge Thembi Bokako looked back at progress for women in the law over the last century, and forward to the future. She noted important achievements, like the appointment of Judge Mandisa Maya as Deputy Chief Justice, the first woman to hold that position. She also pointed out that women in the law do not need special treatment, but rather access to resources that enable them to fully participate and succeed in those spaces. 
"It is extremely important that women are able to appear in legal spaces, but more important that they are able to influence law and policy through jurisprudence to advocate for particular issues affecting women in society," she said. 
The following speakers delved into specific issues: Kathleen Dlepu, director at Molefe Dlepu Attorneys, examined reasons why conveyancing remains a gated field of study for Black women in the legal profession, pointing to factors such as concentrated land ownership in many regions, and the overly theoretical design of the exam itself. Adv Audrey Gwangwa discussed how mentorship in the field of conveyancing can promote and advance more women throughout the sector. She identified the specific language used within the field as a major barrier to entry, and noted that young conveyancers still need guidance, even after passing their exams, ending with a call to other admitted practitioners to take on their own mentees. 
Reneilwe Mokone, an AWW Mentor and Director at Tonkin Clacey, shared a story about how her firm sought to foster collaboration and communication among professionals in the conveyancing field, and highlighted opportunities to support young professionals by creating new opportunities, networks, and pathways for them. 
Attorney Aggie Govender proposed several ideas to promote gender diversity and empowerment in the conveyancing field, recognizing the need for more effective inroads to create opportunities for women conveyancers and ensure more equitable representation in the field, as the current legal framework and existing mechanisms haven't translated into real change.  
"One cannot legislate women into equality. We must ensure that women receive equal opportunity and are empowered to rise within opportunities," she said. 
******* 
To conclude the month, the AWW initiative in partnership with law firm DLA Piper hosted another event on August 31, highlighting the potential of legal tech to drive change and uplift women's leadership within the rapidly changing legal sector. 
The event, "Tech-Driven Legal Transformation: Paving the Way for Women in Legal Leadership," featured insight from a range of influential experts working across the fields of law and technology, and a discussion of key issues arising at the intersection of law and tech, including opportunities for positive change and leveraging digital innovation to create a more inclusive legal environment. 
The evening began with welcome remarks from the Vance Center's Africa Program Director Adaobi Egboka and DLA Piper partner Livia Dyer, who spoke about the impact of technology on expanding access to telecommunications and media in Africa, and the role of women in leadership positions in shaping the future of law and tech in the region.  
They were followed by a brief keynote address by Dr. Megan Ma, Assistant Director of the Stanford Program in Law, Science, and Technology and the Stanford Center for Legal Informatics (CodeX). Dr. Ma, joining remotely, discussed the importance of language and legal expertise in innovation, and stressed the critical role that women legal professionals must play in applying their knowledge to new tools to ensure they are both effective and inclusive.  
Naomi Thompson, a legal innovation and technology specialist and strategic consultant, moderated a lively and wide-ranging panel discussion of these timely issues. The expert speakers – Aalia Manie, Head of Legal Solutions & Technology at Webber Wentzel; Annabelle Thomas, General Counsel at L'Oréal; Catherine-Jane Paulse, Co-Founder at BriefCo and SALT Network; Lauren Salt, Executive in ENSafrica's Employment department; and Rorisang Mzozoyana, Senior Legal Counsel specializing in property finance – discussed real-world examples of the transformative impact of technology across the legal field and strategies for law firms to effectively adopt new technologies, the role of legal tech as a powerful equalizer and tool for access and inclusivity, and how firms and individual lawyers alike can better incorporate technology to support and facilitate women's leadership.  
Drawing on their personal experiences and established careers, the panelists also addressed barriers and obstacles for women in the legal profession, the importance of creating and maintaining networks of support and mentorship, and encouraged women lawyers to engage with legal tech and proactively seek out leadership opportunities to shape the future of the legal profession. 
The evening ended with closing remarks from Dr. Kim Lamont-Mbawuli, lawyer and consultant for the AWW program. 
DLA Piper sponsored the hybrid event, which took place in Johannesburg with attendees representing a range of sectors, including law firms, corporate law, and academic, and international jurisdictions.