Africa Program Update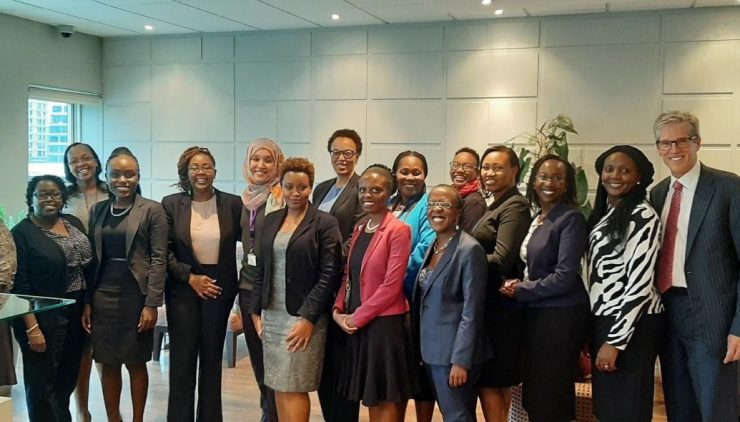 (Photo credit: Ted Maynard)
Vance Center Africa Sub-Committee chair Inosi Nyatta of Sullivan & Cromwell and Committee executive chair Ted Maynard of Paul Weiss met in Nairobi, Kenya, and Addis Ababa, Ethiopia, with law firms, law schools, civil society organizations, and bar associations to pursue the Vance Center's programs in East Africa.
In Nairobi, they convened a gathering of Kenyan law firms hosted by Anjarwalla & Khanna to explore a pro bono initiative among the law firms and with civil society organizations in Kenya with support from the Vance Center. Representatives from Bowmans, Oraro and Oraro, Daly & Inamdar Advocates, TripleOKLaw, Kaplan & Stratton, and Anjarwalla & Khanna agreed to set up an informal steering committee to pursue the initiative, along with additional firms.
Nyatta and Maynard also met with female partners from Kaplan & Stratton, Dentons Kenya, Bowmans, Oraro & Oraro, Daly & Inamdar, MMAN Advocates TripleOkLaw, Iseme, Kamau & Maema Advocates, and Anajarwalla & Khanna at Bowman's office to introduce the Vance Center's Women in the Profession program. It seeks to promote the advancement of women in the legal profession with an emphasis on leadership and mentoring. The group brainstormed on a possible WIP Kenya chapter and possible cross-border program exchanges with WIP chapters in Latin America.
The Vance Center duo also met with deans of the University of Nairobi law school and Strathmore University and staff of the Kenya chapter of the International Commission of Jurists. In a meeting at the U.S. Embassy, they discussed with representatives of Power Africa a training of Kenyan government lawyers in the energy sector, supported by Power Africa alumni fellows and their host law firms. The Vance Center is supported by Power Africa, a U.S. Government initiative, coordinated by USAID and comprised of about 160 public and private sector partners that have committed $54 billion to double access to electricity in sub-Saharan Africa to support its effort in strengthening the overall enabling environment of the African energy sector through training, policy and regulatory reforms.
In Addis Ababa, the law firm Aman & Assefa Associates hosted Nyatta and Maynard in a discussion of a possible pro bono initiative with representatives of GeTS Law Office, Mesfin Tafesse & Associates, Tamrat Assefa Liban Law Office, Tadesse Kiros Law Office, and Mehrteab Leul & Associates.   Those attending agreed to set up a steering committee to review the modalities of the initiative.
Nyatta and Maynard also met Mizanie Abate Tadesse, Associate Dean of Addis Ababa University Law School, Debebe Hailegebriel, president of the Ethiopian Lawyers Association, and Eyerusalem Solomon, Acting Executive Director of the Ethiopian Women Lawyers Association to discuss collaboration with the Vance Center. At the U.S. Agency for International Development, they met with Samson Atsbha to discuss the legal landscape of the Ethiopian power sector and training of government lawyers in that sector.
Vance Center Committee member and Baker & McKenzie partner Emeka Chinwuba met in Nigeria with representatives of Olaniwun Ajayi, along with Vance Center Africa Program Manager Adaobi Egboka, to consider the proposed training of government lawyers in the power sector in Nigeria through the African Legal Fellows Program.
Vance Center Committee member and Norton Rose partner Ikenna Emehelu  organized and moderated a lunch conversation at the firm with the African/Power Africa Legal Fellows.  New York City Bar Association President Roger Maldonado and Norton Rose Co-Partner-in-Charge of the New York office Steven Suzzan made opening remarks to approximately thirty lawyers and other participants. The fellows discussed current trends affecting foreign direct investments and the legal landscape in Nigeria and South Africa.