Guatemalan Judges Visit the Vance Center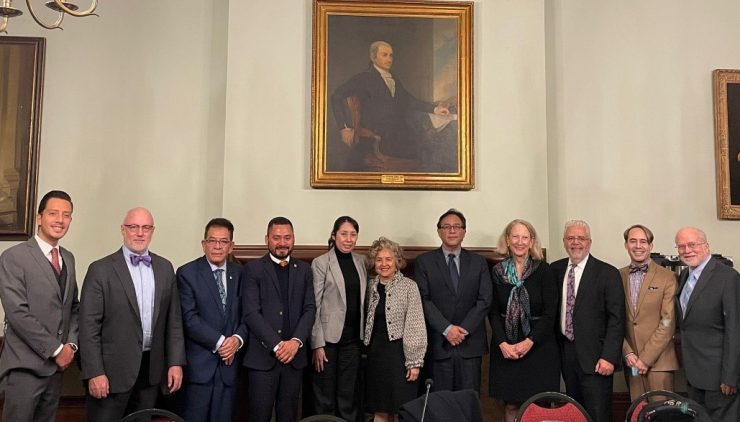 (Pictured Left to Right:) Jaime Chavez Alor, NYCBA Vance Center's Latin America Policy Director; Hunter Carter, Arent Fox; the visiting Guatemalan Judges, Hon. Miguel Angel Gálvez, Hon. Carlos Ruano, Hon. Erika Aifan; Federal District Court Judge Analisa Torres; visiting Guatemalan Judge Hon. Haroldo Vasquez; Antonia Stolper, Shearman & Sterling; Judge Walter Rivera; Judge Javier E. Vargas, and Prof. Douglass Cassell (King & Spalding).Photo Credit: Jaime-Chavez Alor)
Members of the Guatemalan Association of Judges for Integrity (AGJI) visited the New York City Bar Association building to meet with members of the Vance Center Committee, the Association's Inter-American Affairs Committee, and members of the Latino Judges Association.
The Vance Center's focus on the Guatemalan judiciary began in 2013 with a delegation examining the rule of law in light of the Guatemalan Constitutional Court's reversal of the conviction of Efraín Rios Montt and continues today. The Vance Center has been working for more than a year to support the efforts of AGJI to strengthen its institutional capacity and judicial independence in Guatemala.
Judges visiting included Hon. Erika Aifan, recipient of the 2021 U.S. Department of State's Women of Courage Award, AGJI president Hon. Carlos Ruano, Hon. Haroldo Vasquez and Hon. Miguel Angel Galvez.
As reported in the New York Law Journal, the visiting judges spoke of the challenges to their judicial independence that they face as part of systematic attacks by groups seeking impunity in cases of corruption and serious human rights violations, and the importance of the international community's support to highlight and denounce this situation.
Vance Center Committee Vice Chair for Latin America Antonia Stolper (Shearman & Sterling) and Latin America sub-committee member Hunter Carter (Arent Fox) asked questions about particular challenges and expressed support for their efforts. Stolper underlined the commitment of the Vance Center to continue supporting the efforts of the judges in Guatemala to strengthen judicial independence.
U.S. Federal District Court Judge Analisa Torres, New York State Court of Claims Judge Walter Rivera (President of the Latino Judges Association) and New York State Family Court Judge Javier E. Vargas expressed their solidarity and support to the judges in regard to the challenges that they face.
Participants in the meeting stressed the importance of using international and regional human rights mechanisms to defend judicial Independence. Prof. Douglass Cassel (King & Spalding) leads the pro bono team working on Judge Erika Aifan's petition to the Inter-American Commission on Human Rights (IACHR) seeking protective measures to address threats to her personal and professional safety.
With support from the National Endowment for Democracy, the Vance Center continues to support the work of AGJI, as well as other judicial associations in the region.