March at the Vance Center: A Month of Celebrating Women in the Legal Profession
The Vance Center's calendar this month was filled with events highlighting the role and perspectives of women in the profession, throughout Latin America and around the world.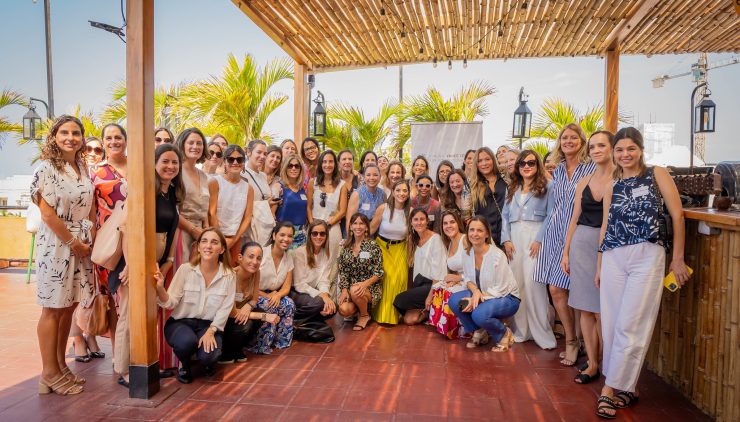 Attendees at WIP and WIP Colombia's event in Cartagena, Colombia, March 22, 2023. (Photo Credit: Tico Photography)
The series of March events kicked off in Colombia, where the Vance Center's Women in the Profession Program (WIP) officially relaunched its Colombian chapter on March 1 in the capital of Bogotá. WIP promotes the advancement of women in the legal field, with an emphasis on leadership both individually and within the profession. 
More than 100 guests attended the launch event, which had support from the Bogotá Chamber of Commerce and featured guest speakers Paola Lozano, co-chair of Skadden's Latin America Group, and Juan Pablo Velásquez, Global Human Resources Director, Consumer Business, at 3M. WIP Colombia's executive committee is made up of 20 Colombian lawyers from a range of firms, including Philippi Prietocarrizosa Ferrero DU & Uría (PPU), Brigard Urrutia, Baker McKenzie, DLA Piper, López & Asociados, Uribe Henao, DG&A, Gómez-Pinzón, and in-house lawyers from Corona, Grupo Éxito, Parabellum Capital, IBD Invest, and EPM. 
WIP Colombia president Diana Bogotá said, "We are very pleased to re-launch WIP in Colombia because it will facilitate the creation of very powerful networks that bring together many years of experience, as well as the opportunity to work with promising younger lawyers and support their professional development. This will, without a doubt, contribute to strengthening the legal profession in the country."
xxxx
Later in the month, WIP and WIP Colombia hosted a breakfast event in Cartagena entitled "Conozcamos Juntas la Visión de una Destacada Abogada en el Mundo," featuring a conversation with Maria-Leticia Ossa-Daza, partner at Willkie Farr & Gallagher and a Vance Center Committee member. The two moderators are leaders of the WIP Colombia chapter at two leading law firms in Colombia: Claudia Barrero, Partner at Philippi Prietocarrizosa Ferrero DU & Uria, and Natalia García Arenas, Partner at Gómez-Pinzón.  
Karina Benzaquen, the Vance Center's Senior Manager for Diversity and Pro Bono Programs, welcomed attendees with opening remarks and introduced the moderators. Barrero then introduced Ossa-Daza, who is also Founding Partner of her firm's Latin America practice. Responding to questions from both moderators, Ossa-Daza discussed her career path and insights drawn from her personal experiences, including the need for strong mentors who believed in her, the value of vulnerability and speaking out about fears, and the importance of leaders with empathy.  
Sixty women from more than 10 Latin American countries attended the event, which concluded with closing remarks from Vance Center Committee member Antonia Stolper, Of Counsel at Shearman & Sterling, followed by a networking session among participants.  
See more photos from the event here. 
xxxx 
Vance Center Africa Program Director Adaobi Egboka participated as a panelist in an event organized by the South African Women Lawyers Association and the International Federation of Women Lawyers (FIDA), co-sponsored by the Vance Center and Lexis Nexis. The hybrid event to celebrate International Women's Day, hosted in KwaZulu-Natal, South Africa, with a keynote address from Judge President Thoba Portia Poyo-Dlwati, addressed various innovations and technology that legal practitioners have developed or used in strengthening women's leadership in South Africa.
Following a presentation by FIDA International president Carolina Rios Villota, Egboka discussed the role of mentorship as a tool to elevate women's leadership, pointing to the approach to and lessons learned through the Advancing Women in the Workplace project, a two-year project launched by the Vance Center and the South African Legal Fellows Network in 2021 in South Africa. 
xxxx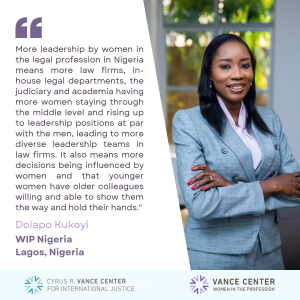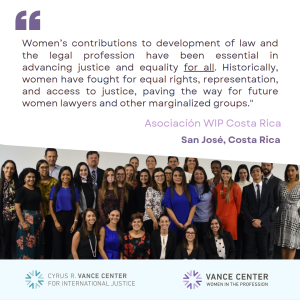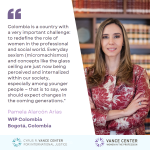 In the digital sphere, the Vance Center marked International Women's Day with a social media campaign drawing on insights from some of the women in the organization's international network and celebrating the achievements of WIP and other initiatives to support women's leadership within the legal profession.
Over two weeks in March, the Vance Center's LinkedIn, Instagram and Facebook accounts shared quotes from women in the Vance Center network about the significance of women's leadership, their own personal and professional experiences, and the importance of initiatives like WIP and mentorship programs to offer support and build connections with colleagues. The respondents included WIP chapter representatives, partners at law firms, law professors, students, and judges from more than a dozen countries, including Colombia, Costa Rica, Ecuador, Mexico, Bolivia, South Africa, and Nigeria.
See all of the responses on the Vance Center's LinkedIn, Instagram, and Facebook accounts.