The Lawyers Council Hosts Webinar on Anti-corruption Efforts in Latin America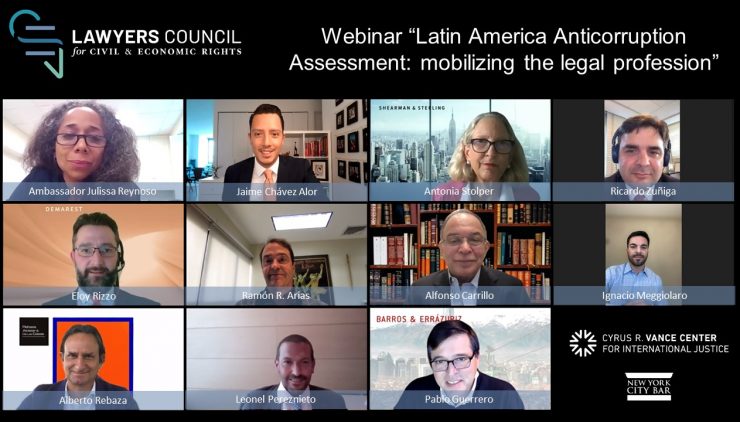 The Lawyers Council for Civil and Economic Rights in the Americas hosted a regional webinar to consider the main findings of the recently-published Anti-corruption Assessment in Latin America 2020, delineating legal efforts to prevent and combat corruption in Argentina, Brazil, Chile, Colombia, Guatemala, Mexico, Panama, and Peru. Top officials of the Biden Administration joined Lawyers Council members in presenting to approximately 170 attendees from 20 countries.
Vance Center Vice-Chair for Latin America Antonia Stolper in welcoming remarks observed that, while corruption is a global phenomenon undermining the rule of law and the protection of fundamental rights of individuals, it is a particular scourge in Latin America. The public, she said, identifies corruption as pervasive throughout society, impacting government administration and, significantly contributing to poverty and economic harm.
Panelists at the event included (in speaking order): Ambassador Julissa Reynoso (Assistant to the President and Chief of Staff to Dr. Jill Biden, and Co-Chair of the White House Gender Policy Council); Ricardo Zuñiga (Special Envoy for the Northern Triangle – U.S. Department of State), Jaime Chávez Alor (Vance Center Latin America Policy Director), Alfonso Carrillo (Carrillo & Asociados, Guatemala), Leonel Pereznieto (Creel, García-Cuellar, Aiza & Enríquez, Mexico), Alberto Rebaza (Rebaza, Alcázar & De Las Casas, Peru), Ignacio Martín Meggiolaro (MBP Partners Abogados, Argentina), Pablo Guerrero (Barros & Errázuriz, Chile), Eloy Rizzo (Demarest Abogados, Brazil), and Ramón Ricardo Arias (Galindo, Arias & López, Panamá).
Ambassador Reynoso emphasized the urgency and importance of the Lawyers Council assessment in identifying progress made but also challenges remaining. She stressed the Biden Administration's commitment to support the rule of law and fight corruption, protect the rights of people, and promote competitive economies. Ambassador Reynoso, formerly a partner at Winston & Strawn and member of the Vance Center Committee, also underscored the commitment of the private legal sector to pursue transparency.
Special Envoy Zuñiga highlighted the relevance of the rule of law and democratic governance to efforts to curtail massive irregular migration. He explained that the lack of political will to confront corruption and impunity represents a principal impediment to improving economic conditions in Central America by discouraging foreign and domestic investment.
Lawyers Council panelists discussed key findings of three categories of the assessment: legislation, authorities, and implementation in each of their countries. Panelists agreed that implementation of existing legislation and the capacity and independence of public authorities remain the most important challenges. The panelists concurred on the need for ongoing assessment of anti-corruption efforts and support of particular efforts in the region.
Panelists also underscored the importance of the work of law firms and other members of the legal community to prevent corruption in the public and private sectors.
The recording of the webinar is available here.