The Vance Center Supports South African Women Lawyers of Color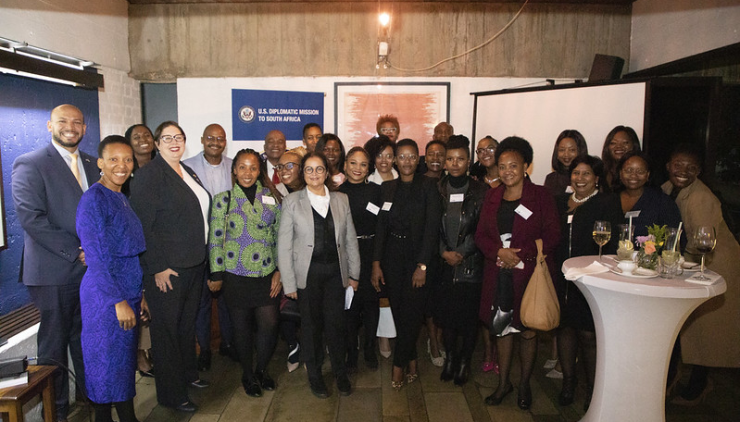 [Photo Credit- US Embassy in South Africa]
In partnership with the US Embassy in South Africa, the Vance Center and its South African Legal Fellows Alumni Network organized a training and cocktail event for program mentees and other legal practitioners in South Africa.
The training constituted part of the legal skills, leadership, and career advancement project -Advancing Women in the Workplace. This project recruited 20 South African women lawyers to receive mentorship support from 20 more senior colleagues, themselves trained and supported by women lawyers in the United States and Latin America, based on a model developed by the Vance Center's Women in the Profession program.  It will continue similarly for a second year.
At the training, held at the American Embassy Corner in Pretoria, Inbam Pillay, an independent legal and management consultant, focused the mentees on leadership style, leadership traits, self-mastery, and emotional intelligence. The mentorship program consists of similar training on different aspects of the law and leadership skills over the course of one year.
The US Embassy also hosted a cocktail networking event for mentors, mentees, and some project partners in South Africa on the value of leadership and mentoring in the workplace. Justice Kathree-Setiloane, currently a High Court judge and previously Constitutional Court and Supreme Court of Appeal judge, presented a keynote address, discussing the importance of mentoring and sharing her experiences as a woman in the legal profession.
The AWW Project is a two-year collaboration of the Vance Center and the Fellows Network to address the gender gap in legal leadership positions in South Africa through mentorship, a gender diversity and inclusion survey, and other activities. The US Embassy in South Africa has provided financial and other support to the project.