Vance Center co-hosts conversation on Cross-Border Legal Work in the Covid-19 Era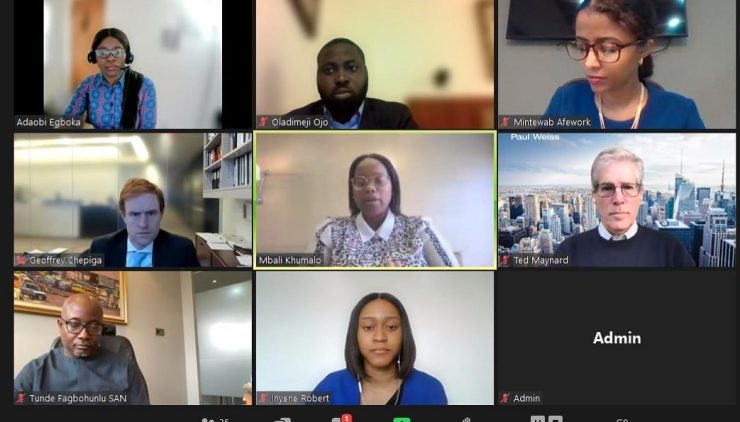 The Vance Center continued its African Legal Fellows bi-monthly webinar series, with Aluko & Oyebode and Paul Weiss hosting a discussion on Cross-Border Legal Work in the Era of Covid-19. African Legal Fellows Program alumnae/i from Nigeria and South Africa, along with the incoming fellow from Ethiopia and a Paul Weiss partner, explored how international legal work has changed — and will continue to change — in the post-pandemic world.
Ted Maynard, Of Counsel at Paul Weiss and Executive Chair of the Vance Center Committee, welcomed participants with an introduction to the Vance Center, the African Legal Fellows (ALF) program, and the webinar series. Tunde Fagbohunlu SAN introduced Aluko & Oyebode and its partnership with the Vance Center and the African Legal Fellows in Nigeria. Adaobi Egboka, Vance Center Africa Program Manager, and Inyene Robert, Senior Associate at Aluko & Oyebode, moderated the event, posing questions on how lawyers have continued to collaborate across borders, adjust their practices, and contend with new realities in the era of COVID.
Panelists spoke from the perspectives of four legal markets:
Geoffrey Chepiga, partner at Paul Weiss, shared his experience conducting virtual due diligence, investigations, and remote arbitration proceedings in the United States and internationally.
Mbali Khumalo, ALF alumna and Director at Cliffe Dekker Hofmeyr, reviewed trends and shifts that have affected the South African legal market.
Oladimeji Ojo, ALF alumni and Senior Associate at Aluko & Oyebode, analyzed the change to remote hearings in Nigeria for judges who mainly have not conducted their proceedings digitally in the past and expressed concern for litigants unable to access virtual hearings.
Mintewab Afework, incoming fellow at Paul Weiss, and Senior Associate at Aman Assefa and Associates discussed Ethiopia's legal practice amid the double instabilities of COVID and conflict. She described an unusual boom in legal work in Ethiopia, as many international clients depended more on local counsels' expertise and on-the-ground presence as a result of these instabilities.
Finally, the panelists explained adaptations for the training of new lawyers at their firms, the role of technology, and regulatory innovation that aided the COVID changes.
The Vance Center, in 2021, launched a bi-monthly webinar series to present the African Legal Fellows Program, discuss topical issues and set the pace for the program's upcoming 20th anniversary.