Vance Center Hosts Webinar on Beneficiaries of Pro Bono Clearinghouses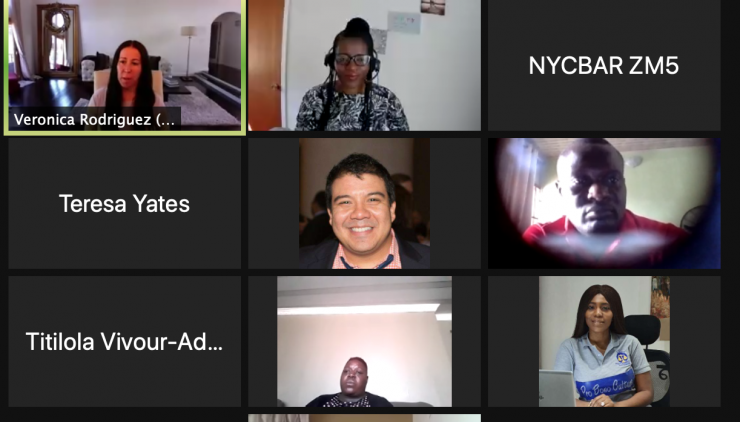 The Vance Center hosted the third installment of its Africa Pro Bono Series in partnership with its Africa pro bono clearinghouse partners, entitled "Pro Bono Clearinghouses: Global Experiences & Reflections for Beneficiaries." Civil society organizations and individuals benefitting from South Africa's probono.org and Nigeria's Public Interest Law Partnership (PILP) and the Pro Bono Clearing House, as well as the Vance Center, discussed the benefits of collaborating with pro bono clearinghouses in Nigeria, South Africa, and the United States.
Vance Center Latin America Sub-Committee Co-Chair and Paul Hastings Of Counsel Veronica Rodriguez moderated the event. Vance Center Africa Program Manager Adaobi Egboka and Director of Pro Bono Partnerships Jorge Escobedo, probono.org's National Director Teresa Yates, Public Interest Law Partnership's Executive Director Funmi Ayeni, and Pro Bono Clearing House's Counsel Madeezah Abanigbe presented introductory remarks.
The panelists, Dr. Marcos Orellana, the UN Special Rapporteur on toxics and human rights, and other beneficiaries, Martha Chauke (Dobsonville Human Rights Advice Centre, South Africa), Harmon Akoli (Nigeria), and Titilola Vivour-Adenyi (Lagos State Domestic and Sexual Violence Response Team, Nigeria), recounted the assistance that they received from the clearinghouses. They advised other civil society organizations and individuals how to take full advantage of pro bono clearinghouses.
The program concluded with the recognition that pro bono clearinghouses should find ways to advertise and otherwise create awareness of the opportunity for legal support to communities and individuals in Africa.
The Vance Center will conclude the Africa Pro Bono Series in June with a review of the regulatory framework and opportunities for possible policy alternatives for pro bono clearinghouses. The first installment of the series engaged the staff of clearinghouses and analyzed their internal structures. The second installment addressed why lawyers engage in pro bono work, what benefits they gain from it, and how they can build a pro bono culture in law firms. The third aimed to generate interest among civil society actors to collaborate with existing clearinghouses in sub-Saharan Africa and form partnerships with any clearinghouses that may be set up there in the future.