Vance Center Launches Africa Pro Bono Series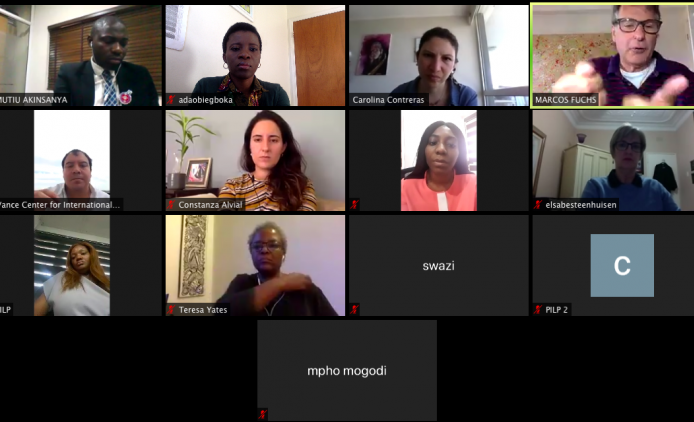 In partnership with South Africa's probono.org and Nigeria's Public Interest Law Partnership (PILP), and the Pro Bono Clearing House, the Vance Center began the first Africa Pro Bono Series, a cross-border discussion of pro bono practice in sub-Saharan Africa and Latin America.
The four-part series, scheduled from November 2020 to February 2021, engages Africa's three major pro bono clearinghouses' staff, lawyers, beneficiaries, and regulatory frameworks in an open dialogue among themselves and with their counterparts in Latin America through the Pro Bono Network of the Americas.
Vance Center Africa Program Manager Adaobi Egboka and Director of Pro Bono Partnerships Jorge Escobedo led the first installment in the series. Constanza Alvial, co-coordinator of the Pro Bono Network, Marcos Fuchs, executive director of Brazil's Instituto Pro Bono, and Nicolás Etcheverry Estrázulas, dean of the faculty of law at Universidad de Montevideo and director of Fundación Pro Bono Uruguay, joined to discuss their work in Latin America.
This first session reviewed clearinghouses' processes to filter and offer cases and projects to law firms, the impact of COVID-19 on pro bono practice, management of conflicts of interest, transnational pro bono matters, and funding models for clearinghouses. It also discussed the daily challenges that clearinghouses face in Africa and Latin America.
Upcoming sessions will feature law firm lawyers who participate in and support the pro bono clearinghouses in Africa and Latin America, including Vance Center Committee members. Topics will include why lawyers engage in pro bono work, what benefits they gain from it, and how to build a pro bono culture in law firms. The series also will bring together NGOs in Africa and Latin America to discuss how they work with pro bono clearinghouses and encourage more NGOs in Africa to work with clearinghouses. It will conclude by examining the legal framework and regulations for pro bono services in both regions.
The Vance Center and Fundación Pro Bono Chile manage the Pro Bono Network of the Americas, with members in eighteen Latin American countries, which regularly cooperate individually and collectively. The Vance Center pro bono representation program works with law firms worldwide on behalf of civil society organizations in the areas of human rights, the environment, and good governance. In Africa, the Vance Center provides pro bono representation to regional and national civil society organizations across the continent and engages law firms in Kenya and Ethiopia to pursue institutionalization of pro bono practice.