Vance Center Guatemala Webinar Receives Widespread Coverage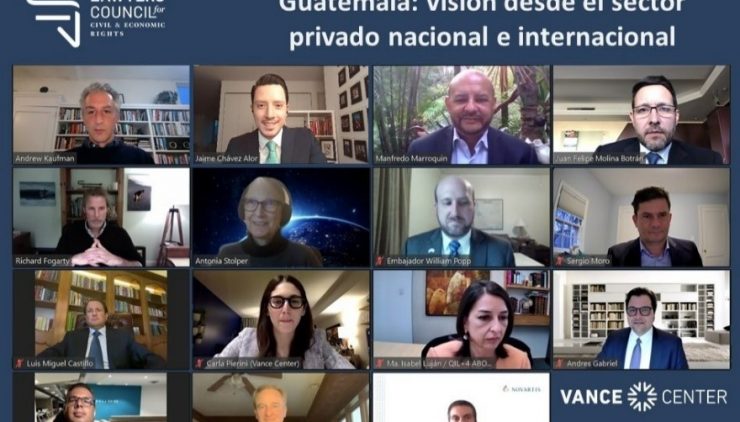 Guatemalan media reported extensively on the Lawyers Council for Civil and Economic Rights webinar "The Future of the Rule of Law in Guatemala: Perspectives of the National and International Private Sectors." Several publications—Prensa Libre, El Periódico, and La Hora—dedicated full-page coverage to the webinar. Additionally, La Hora featured it on the front page, an opinion piece, and an article about the participation of U.S. Ambassador to Guatemala William Popp.
The webinar aimed to encourage discussion among a wide array of the national and international private sectors on the importance of the rule of law in Guatemala in maintaining a prosperous business and investment climate. In her welcoming remarks, Vance Center Vice-Chair for Latin America Antonia Stolper pointed out that key rule-of-law elements, such as the fight against corruption, judicial independence, and strengthening of institutions, should be of paramount importance to the private sector.
The virtual event included approximately 200 participants. Panelists included (in speaking order): U.S. Ambassador to Guatemala William Popp; Todd Crider (Simpson Thacher); Sergio Moro (Alvarez & Marsal) Luis Miguel Castillo (CBC); Juan Felipe Molina Botrán (Grupo Hame); María Isabel Luján (QIL+4 Abogados); Luis Andrés Gabriel Bouscayrol (Corporación Centro Americano del Acero); Manfredo Marroquín (Acción Ciudadana); Omar Ortiz Bosch (Chubb); Jorge Romo (Novartis); Andrew Kaufman (SEKPC); and Richard Fogarty (Alvarez & Marsal). Vance Center Latin America Policy Director Jaime Chavez Alor delivered concluding remarks.
Lawyers Council and Vance Center Committee member Todd Crider emphasized how corruption pervades every sector of society, significantly contributing to an increase in poverty and economic harm, as well as the deterioration of public institutions. Various panelists discussed the important role that adherence to the rule of law plays in attracting foreign capital, expressing concern over the increase in corruption and organized crime in Guatemala. The panelists agreed on the urgent need for operating companies in Guatemala to implement compliance programs and pressure the government to enact legislation making such programs mandatory. Vance Center Committee member Richard Fogarty underscored that corruption is a regional challenge and that the private sector—which is uniquely positioned to leverage its pivotal role in national economies—must take action by setting anti-corruption standards that the public sector inevitably will have to follow.
This webinar is only the most recent of longtime efforts of the Lawyers Council and the Vance Center to support rule-of-law reforms in Guatemala, beginning in 2013. Last month, the Lawyers Council published the policy brief "2021 Selection Proceedings for Guatemala's Constitutional Court. Key to Protecting the Country's Rule of Law." The Vance Center is also providing support to the Guatemalan Association of Judges for Integrity.
A recording of the webinar is available here