Vance Center Joins Discussions on the Right to a Healthy Environment and COVID-19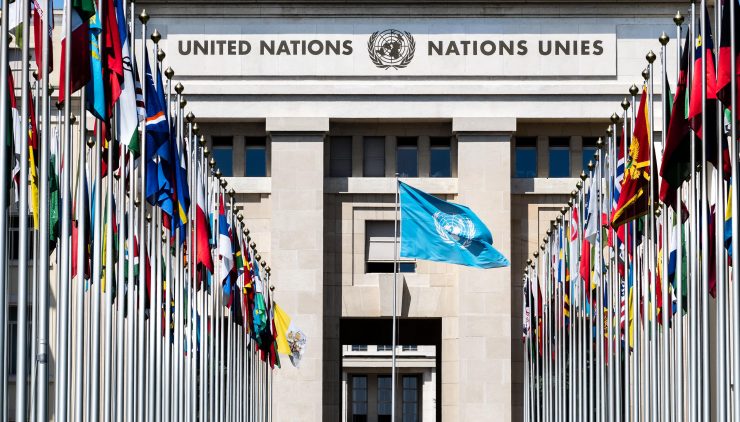 (UN Offices in Geneva | Photo Credit: Shutterstock)
Vance Center Environment Program staff participated in several high-level discussions about the relationship between the right to a healthy environment and the COVID-19 pandemic. Professor David Boyd, the UN Special Rapporteur on Human Rights and the Environment and a Vance Center client, held two consultations to prepare for his next report on human rights and healthy ecosystems. A primary focus of that report will be on how human activities, such as wildlife trafficking, factory farming, deforestation, and incursions into wildlife habitats, increase the risk of global pandemics.
Along with the Vance Center staff, participants exchanged views on good practices implemented across the globe to promote healthy ecosystems and improve outcomes for vulnerable communities. Many participants called for reform of international trade rules to include an ecosystem approach. Dr. Boyd's next report will be the third in a series of six reports on the six core elements he has identified as encompassing the right to a healthy environment: clean air, safe climate, healthy ecosystems, non-toxic environments, healthy and sustainable food, and clean water and adequate sanitation.
With support from the Office of the High Commissioner for Human Rights, Boyd issued a press release condemning the use of COVID-19 as an excuse for governments to roll back environmental protection. He observed that people with a higher risk of premature death due to COVID-19 live in areas with higher levels of pollution, including a lack of access to clean water. Providing a healthy environment that protects human rights is an effective strategy for preventing pandemics, Boyd said. "In light of the global environmental crisis that predates the COVID-19 pandemic, States should step up their efforts to protect the environment, not step back."
The Environment Program staff also attended an event hosted by the Global Network for the Study of Human Rights and the Environment – GNHRE that featured Professor John Knox, the former United Nations Special Rapporteur on Human Rights and the Environment, and Boyd. The discussion focused on the right to a healthy environment, the work of both UN Special Rapporteurs since 2012, the relationship between climate change and pandemics like COVID-19, and the application of an environmental justice framework to climate refugees.
Echoing Boyd, Knox expressed his concern with the current COVID-19 crisis: "I think one of the real dangers of the pandemic that we have seen in multiple countries, including the United States and Brazil, has been the use of the pandemic as an excuse to lower environmental protections or to greenlight destructive behavior". Boyd added that, "countries are using COVID-19 as a smokescreen for weakening environmental protection which is deeply disturbing".
While the global quarantine reportedly has led to reduced greenhouse gas emissions and some improvement in air and water quality, experts worry that the economic crisis will serve as a justification to restrict procedural and substantive rights that constitute the right to a healthy environment.  As Knox said, "[t]he government can't use [the pandemic] as an excuse to take away people's rights to participate in decisions that affect them". Addressing the impact on vulnerable people, Boyd stressed that, "the pandemic has really underscored the gross environmental injustice that exists in our world. […] How do you protect yourself from this virus when you don't have access to clean water? How do you practice physical distancing, if you live in one of these areas that are so densely populated that you literally cannot separate yourself from other human beings?"
In a call for global action, Dr. Boyd concluded: "I think there is an opportunity to take advantage of this global pandemic and [recognize that] at the root cause of this are human activities, like the illegal wildlife trade, like factory farming, deforestation, increased incursions into wildlife habitat that are increasing the risk of these global pandemics. This is not a one off, or a one shot deal, if we don't take action to deal with these root causes, these drivers of global pandemics, by addressing these environmental challenges, then we are going to subject humanity to increasing frequency and severity of these problems in the future."