Vance Center Launches Research Project in Sierra Leone on Women's Incarceration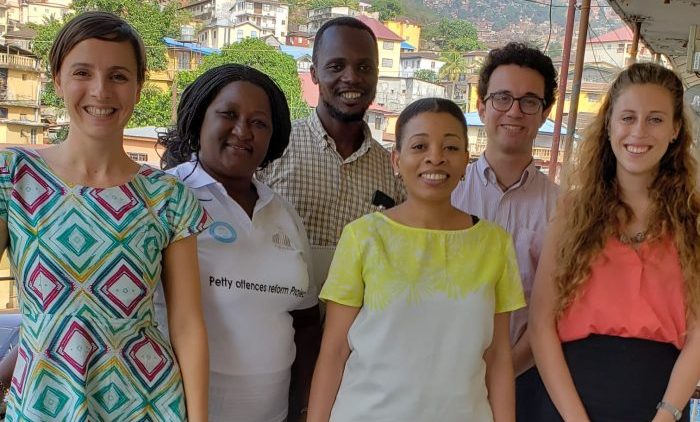 (Photo Credit: Advocaid) 
Vance Center Programs Director Marie-Claude Jean-Baptiste and Pro Bono Practice Fellow Sam Bookman traveled to Freetown, Sierra Leone, to kick off a research project on the causes and consequences of women's imprisonment in Sierra Leone. The research, which the Vance Center is implementing jointly with NGO Advocaid of Sierra Leone, is part of a global initiative addressing women's incarceration.
During the visit, Jean-Baptiste and Bookman met with the Advocaid team who will be working on the project, formerly incarcerated women, civil society partners, and government officials.  The discussions focused on the requirements and procedures for conducting interviews of women in prison, as well as the available tools for compiling and analyzing data from the interviews.
The number of women behind bars has dramatically increased around the world in recent years, yet little is known about the causes, conditions and consequences of women's incarceration. To address this knowledge gap, the Vance Center is pioneering a three-year program of training and capacity-building with civil society organizations focused on these issues.  It has established an international network of such organizations and convened a conference in Bogota in September 2018. Based on the consensus at the conference, the Vance Center is pursuing a demonstration project studying comprehensively the issues of women's incarceration which all network participants can follow and replicate. The Vance Center will also convene a gathering at the NGO Forum of the African Commission on Human and Peoples' Rights later this year in Banjul, The Gambia, to bring greater attention to this work.