Women in the Profession Program Launches Ethiopian Chapter
The Vance Center's Women in the Profession (WIP) program has expanded its network with the launch of a new chapter in Ethiopia.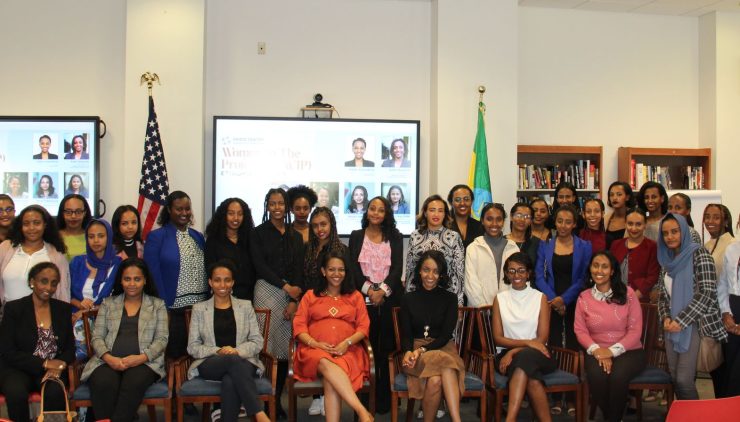 Attendees at the WIP Ethiopia chapter launch event, June 30, 2023, Addis Ababa. Photo credit: WIP Ethiopia
More than 50 participants attended a launch event on June 30 in the capital of Addis Ababa, marked by insightful discussions, networking, and a shared commitment to advancing the role of women in Ethiopia's legal sector. This exciting development makes Ethiopia the third African country with an active WIP chapter, joining Nigeria and Kenya. 
The launch event kicked off with a presentation introducing the Vance Center, the WIP program, its mission, scope, and major areas of engagement for the new WIP Ethiopia Chapter as it works to advance the role and visibility of women in the legal profession. 
The agenda also featured a panel discussion titled "Women in Corporate Legal Practice: Opportunities, Challenges and the Future," with five panelists: Mekdes Mezgebu, founder of Mekdes & Associates Law Office; Rahel Alemayehu, founder of Rahel Alemayehu & Associates Law Office; Mekdes Sahlemariam, Corporate Affairs Director at Heineken; Bethlehem Arega Asmamaw, Senior Legal Advisor at the African Continental Free Trade Area Secretariat; and Sisay Habte, Legal Advisor at sovereign wealth fund Ethiopian Investment Holdings.  
The panelists, representing diverse sectors and backgrounds, shared their expertise, inspiring stories, and aspirations, and showcased some of the many pathways for women in the sector. The speakers discussed the challenges of corporate legal practice, including identifying and pursuing career development opportunities, progressing toward leadership positions, and navigating social and cultural biases. They emphasized the wealth of opportunities for women to make their mark and gain recognition for their ethical, competent, and reliable legal expertise, while breaking down barriers and driving positive change. Looking ahead, they advised the audience to focus on visibility, continuous learning, professionalism, strengthening social skills, and always working to recognize their economic impact and navigate the evolving corporate law landscape.  
The new Ethiopian chapter joins nearly 20 existing WIP chapters in Africa and Latin America, all working to supporting women advancing in the legal profession, with an emphasis on individual leadership and leadership within the profession.  
WIP Ethiopia aims to become a learning and leadership resource center to support development of women lawyers through mentorship programs, networking platforms, and training opportunities. Led by steering committee members Atkilit Bekele, Senior Investment Facilitation Consultant at Veritas Consult; Bethel Genene, Associate at GST LLP; Mahlet Kassa, Senior Associate at Lidet Abebe Tizazu Law Office; Mekdes Mezgebu, founder and principal of Mekdes & Associates Law Office; and Mintewab Afework and Deborah Haddis, Senior Associates at Aman Assefa & Partners LLP, the world's newest WIP chapter is looking forward to a bright future full of opportunities.